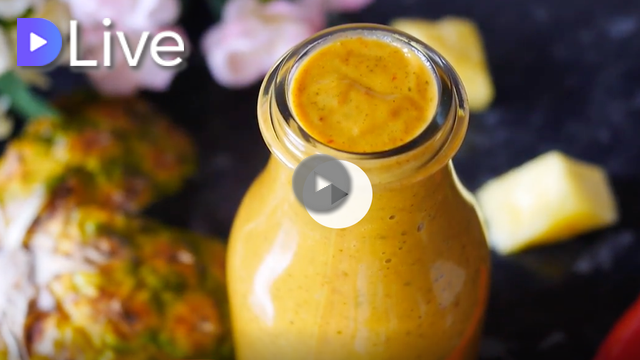 A sweet and spicy extra hot sauce recipe made with fiery chilli oil, fresh pineapple, fresh mango, lime juice and spices. It is perfect for chicken or fish. Will you dare try this? Hot sauces get poured onto everything.This sauce is not for the weak ones! Its spicy, flavourful and will keep you wanting more.
Ingredients
2-3 tbsp of chilli oil with peppercorn
1 cup freshly cut pineapple, chopped ( half a pineapple)
1 medium mango
1 squeezed lime juice
1 cup water
½ cup distilled white vinegar
Bunch of chopped cilantro
2 tsp sugar
1 tbsp paprika
1 tsp of Salt
Directions
Step 1 : Peel and chop your mango. Set aside. Peel and chop your pineapple and set aside.
Step 2 : In a large pan, add your chilli peppercorn oil. I am using this one here.
Step 3 : Add mango and then pineapple. Cook about 10 minutes to soften.
Step 4 : Add salt, sugar, paprika, lime juice, water and vinegar and bring to a boil. Then add cilantro. Reduce heat and simmer about 20 minutes. Remove from heat and cool.
Step 5 : Add to a food processor and process until smooth.
Step 6 : Pour into sterilised bottles and serve it up!
My video is at DLive