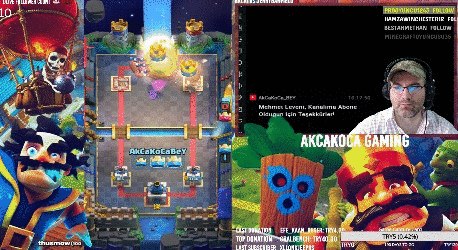 Fell Free To Come My Fanbase
https://dlive.io/fanbase/4c81d479-6328-4135-8d57-e91d2d9778da



Hi, I am Akcakoca Gaming. I have been live broadcasting on youtube and twitch before, I was introduced to Dlive by a friend of mine and started broadcasting here. I broadcast everyday.Although it's new, this platform is better than any other and developing everyday. I am pleased to be here and broadcasting. I am also very glad to be chosen Dlivestar. I'll work harder and do my best to set the bar high. I thank Dlive for enabling us to broadcast here.
Aşağıdaki Linklerden Bağış Atarak Destek Olabilirsiniz 1 TL ve üstü Bagışlar Ekranda Çıkar
BAĞIŞ LİNKİ ► https://www.bynogame.com/akcakocagaming
BAĞIŞ LİNKİ ►https://www.turkpin.com/d/akcakocagaming
BAĞIŞ LİNKİ ► https://www.oyunfor.com/twitch-donate...
BAĞIŞ LİNKİ ► https://www.durmaplay.com/tr/twitch/a...
NASIL BAĞIŞ YAPILIR?
►OYUNFOR, BYNOGAME, TURKPİN, DURMAPLAY SİTELERİNDEN BİRİNE GİRİP ÜYE OLDUKTAN SONRA, HESABINIZA BAKİYE YÜKLEYİP, ARDINDAN YUKARIDAKİ LİNKLER İLE İSTEDİĞİNİZ MİKTARDA BAĞIŞ YAPABİLİRSİNİZ! ^^

@dexterflux 5 SBD
@Synerqix 3 SBD
@datilla 4 SBD
@Redjepi 3.81 STEEM
@Curtaintwitcher 3 SBD 0.480 STEEM
@emrecubukcu 3.4 SBD
@imjohnnymill 2.410 STEEM
@Lakethefire 0.960 SBD + 1.16 STEEM
@runicar 1.5 STEEM
@Lakethefire 0.960 SBD + 1.16 STEEM
@lintenhinks 1.337 SBD
@muratgun 1.1 SBD
@vaderetro 1 STEEM
@Thetufan 1 SBD + 0.160 SBD
@deathblow 1 SBD
@jimmylin 1 SBD
@SelimZ 1 SBD
@umutkarakus 0.310 SBD
@deathblow 1.1 SBD


2

CPU: Amd Fx 8370 8 Core 4000 Mhz
MOTHERBOARD: Anakart: Asus 970 Pro Gaming Auro
GRAFIK CARD: Ekran Kartı : Asus Rog Amd Strix Rx 480 8 Gb
RAMS : 2*8 GB= 16 Gb DDR3 1600Mhz KINGSTON HYPERX FURY HX316C10F/8
SSD: Corsair 240GB LE200 CSSD-F240GBLE200 SSD
MONITOR: 27 ASUS MX279H 1920x1080 5MS 2HDMI D-SUB DVI MONITOR
MAUSE: Logitech G300s
WEBCAM: Logitech G922





My live stream is at DLive