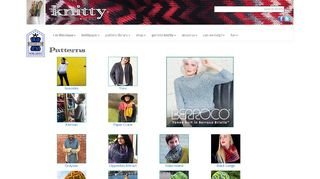 I always find it exciting when another issue of the Knitty magazine is published.   This time I'm once again not disappointed.
If you follow the link, you will see that this issue has something for everyone.  You can choose from one scarf, two shawls, three neck warmers, one headband, one pair of socks, one pair of fingerless mittens and one pair of mittens.   You can also choose from two  jumpers and one cardigan.
The names chosen for the garments were also very attractive to me and the first one that caught my eye was Spinal twist, which you can find here : http://knitty.com/ISSUEw18/PATTspinaltwist/PATTspinaltwist.php
This is a neck warmer that looks a bit tricky for someone like me to knit, but I may actually give it a go.     
The hats are also extremely tempting to tackle.  Take for instance 'Head' and 'Braineater' with names like that I am sure I would feel amused while struggling with the yarn floats of the intarsia technique.    
All in all I encourage you to read and support this online magazine which is apparently the longest-running free knitting magazine on the web - please notice that this is not an advert and I don't get anything from promoting Knitty apart from the satisfaction of trying nice free patterns :D
Source of shared Link
---