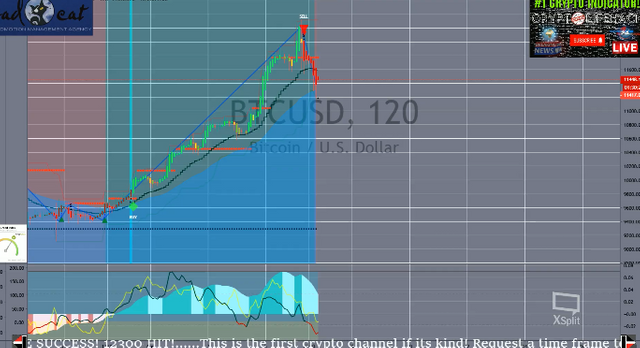 badcat bitcoin youtubechannel ; https://www.youtube.com/channel/UC-UEobcHyZhDmlZ-dRedHpw
badcat bitcoin ;
This is my lifehack Indicator layout I'm sharing to the public. 90% success win rate when used with common sense! Beginner or expert this is a must have life hack to get rich! Anyone can see at a glance whether to long or short. Don't pay thousands of dollars just to have a set up like this!
-Enter a long when the green diamond appears preferably after a big red wave and a small red wave. Watch the Market Cipher video below to learn the easy waves trick.
-Sell when the large red triangle appears, or at take profit point.
*Use the alerts in Tradingview. Get alerts every time a red triangle, green diamond or profit point is triggered.
After going threw thousands of indicators over the years cherry picking only the most accurate, I created this easy to use unity of 11 that makes massive gains on any timeframe. These compare directly to:
Blue Sky Day $299 https://www.blueskydaystrategy.com/
Market God $150 https://marketgod.io/purchase/
Market Cipher $1000+
...
Martins Indicators $200-$1000
https://sellfy.com/tradeindicators
My layout Combines all of these together, is more accurate, and easier to use!
No repainting! Check out my videos on my channel for backtesting!
MY LIFE HACK:
1: TRENDCANDLES - Green diamonds and green candles mark the beginning of new uptrends and best possible times too long. The large red triangle and red candles mark the beginning of a downtrend. These trend codes are more accurate then Martin trend candles that cost $200. Please watch his videos.
2: MOMENTUM WAVES - The green and red waves at the bottom. Watch "Proof Market Cipher is the Best Scalping Tool Ever". Line up the top of a big wave to smaller one and once it switches color (cipher's it cuts in) the majority of the time it marks a very profitable long or short signal combined with a green diamond to verify the entry.
3: TOPS AND BOTTOMS - The black and yellow candles show the tops and bottoms. Extremely useful and better then martins drop and rise coming indicators that cost hundreds.
4: TAKE PROFIT POINTS - The small green and small red triangles are take profit and or re-entry points. If you missed a good entry signal and want to re-enter this is the best place to do it.
5: BULLISH BEARISH ZONES - The green and red background colored sections mark the beginning and end of bullish and bearish zones, making it easy to see the direction. It's superior to Blue Sky Day and Martin Trend Zones which are very similar but less accurate and cost hundreds.
6: BULLISH BEARISH BARS - The vertical purple and baby blue bars are basically the same as the bullish or bearish colored zones in the background. These mark the beginning and end of bullish and bearish zones.
7: PROFIT LINES - The blue zone that looks like water with the green line running along with it clearly and accurately shows real-time momentum and when to enter trades. It's the same but more accurate to Martin's version called Profit Lines.
8: BUY AND SELL LINES - The green and red line in the bottom section are the most accurate buy and sell lines on Tradingview. It beats Martin's buy and sell lines that cost hundreds. They find the correct tops and bottoms with the least "false positives" better than any MADC or RSI. Use the regular RSI on the exchange itself.
9: AUTO SUPPORT AND RESISTANCE LINES - The black and red automatic support and resistance lines are more accurate and are also permanent they don't just show up for the last day or few hours, like Martin's that he is charging hundreds for.
10: MONEY FLOW - The yellow line in the bottom section is a super accurate money flow line.
11: PATTERN LINE - The blue trend line shows clear patterns for pattern breakouts.
Do not gamble! Use all time frames and narrow in on life-changing trades.
Time frames recommend with this: 5min 15min 30min 2hour 4hour
Don't underestimate the black bars!
Win big! And don't forget to tip :)
BTC: 1MopEmjcEHJnogJDVSWf71mZuJDD1gLs79
ETH: 0x11b2C6D3064b8C80801bc6D15FD61a063566c6F7
If you want this exact layout on your Tradingview donate 0.01 BTC to the channel for easy to understand step by step instructions to set up this life hack up in less than 5 minutes! All these indicators are yours forever, no annual payments, no restrictions and most importantly they more accurate than the expensive ones!
Watch Tom Crowns 24/7 live stream along with mine for accurate human drawn trend lines, predictions, great music and chat!
I am not a financial advisor. You must use common sense with this strategy.
BADCAT http://www.badcatpromotions.com
Source of shared Link
---