Leasing and Delegating SP on DLease - Explained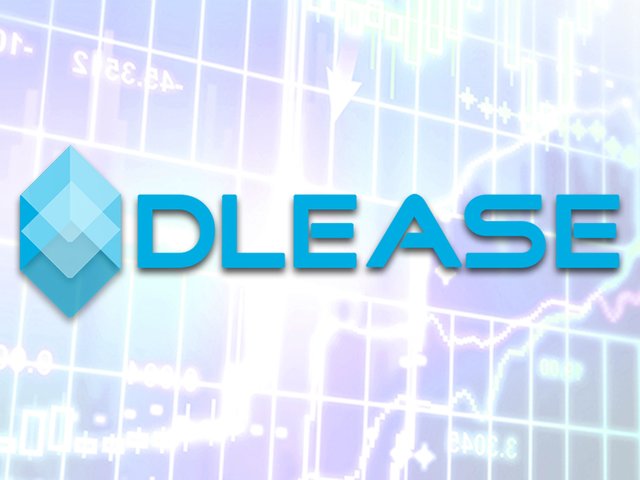 The popularity of our STEEM POWER leasing service DLease is rising, as more and more users either lease or delegate STEEM POWER using its marketplace.
But how does it actually work?
Requesting a Lease
When you go to the DLease website and log in, you will find a "Request a Lease" button.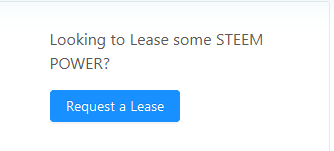 After deciding which account to lease for (you don't have to only lease for yourself, you can also gift a SP delegation to a friend!) and which account to pay from, you're asked to choose how much SP you want (1), what you're willing to pay per week (2), and for how many weeks you want to lease for (3).
These are the three factors you can adjust to your liking.
Below your leasing options, your total payment is displayed.
Once you confirm your order, your lease offer will appear on the P2P marketplace as the nett STEEM per week amount after the 10% DLease facilitation fee has been applied; which is what prospective delegators will see, and the formula for that is:
Weekly delegator payout = (STEEM per week paid) * 0.9

You also see the APR (Annual Percentage Rate) you're offering to the person delegating to you.
The APR cannot be directly adjusted, it is calculated from the combination of SP leased, STEEM paid, and duration of the lease. The initial lease period and subsequent renewals are contracted at the same fixed STEEM payment rate you decided.
The displayed APR is merely a cosmetic performance indicator for the delegator to compare all leases on an annualised basis nett of fees and cooldown period, the APR will increase for the delegator as the lease gets renewed, however the contracted STEEM price payable by the lessee will always remain the same and paid out daily in arrears from escrow based on the simple fixed weekly cost, remaining constant even on renewal.
Why the duration?
As per Steem blockchain rules, STEEM POWER (SP delegation takes 5 days to return upon cancellation and undelegation. During that time, neither the lessee nor the delegator have access to the SP.
No payouts are done during the cooldown period, with the last payment being made at the end of the lease period prior to cooldown. The impact of this cooldown period is less if the lease is longer, which results in an overall better return.
As it stands, the APR is intended purely as additional information and not part of the lease contract. The lease is primarily for a fixed STEEM/Week rate, not APR, regardless of it being renewed.
Paying for the lease
Once you're happy with your chosen amount of SP and payment rate, you can continue to pay via either Steemconnect or Steem Keychain.
As you can see in the image below, your total payment is transferred to @minnowbooster. This is done to ensure a smooth process and avoid missed payments.
Note that DLease currently uses the MinnowBooster backend, hence why payment is effected to the @minnowbooster account. DLease should have it's own account and backend engine during the course of 2019.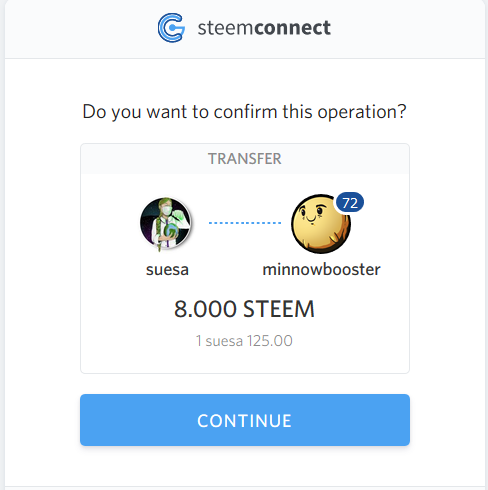 We do not immediately pay out the full amount of STEEM to the delegator, to avoid premature delegation cancellations and thus a loss of funds for the lessee.
Instead, we keep the STEEM in our esrow wallet and transfer a daily payout in arrears to the delegator as long as the lease is active.
If a delegator chooses to cancel the delegation earlier than agreed upon, the leftover amount of STEEM will immediately be returned to the lessee.
Renewing a lease
Are you happy with your current rate of STEEM/week? Is your lease running out, but you'd like to keep the STEEM POWER a little bit longer?
On your dashboard, you will find the option to renew your current leases to the same rate of STEEM/week you originally agreed upon.
As we're only factoring in the cooldown period of 5 days once, the APR displayed to you and your delegator will slightly increase. This does not change anything about your weekly payments, but increases the likelihood of your delegator agreeing to continue leasing SP to you.
You do have the option to terminate and place a new lease offer on the market with lower weekly paymentsbut there are no gaurantees that your new offer will get filled and there is a risk the original delegator may be put off that you did not renew in the first place and overlook your new offer.
Filling a Lease
If you have a lot of unused STEEM POWER and want a good return on it, simply fill leases found on the DLease marketplace.
You can see the whitelist status of the person requesting the lease (checkmark to the left), their Steem account name, the amount of SP requested, the lease duration, the nett daily payout, the total payout, and the projected APR.
As mentioned earlier, the payout is shown nett of DLease facilitation fees, so WYSIWYG - what you see is what you get!

The APR can help delegators compare leases to each other off an annualised base, but is not part of the official contract, the contract is for a fixed amount of STEEM per week.
If the lessee decides to renew the delegation, the APR will slightly rise, to reflect the new ratio of cooldown period to lease period. The STEEM payout itself is not influenced by that.
While it makes sense to accept such a lease renewal, you are not forced to accept it. Your dashboard has a "Cancel" button next to renewed leases, that you can use any time. You will be forwarded to a confirmation page with Steemconnect and Steem Keychain authorisation options and can easily cancel your delegation if it no longer suits you.
Your daily payouts will stop, and your Steem Power (SP) will automatically return to you after the 5 day, blockchain governed, cooldown period.

Any Questions?
We understand that the process might be confusing for some people, especially with factors like the cooldown period and APR.
It's our aim to be as transparent as possible, so if you have any questions feel free to contact our Discord support channel or direct message our CEO - thecryptodrive#8144 on Discord!
---
| Visit our website for more! | Subsribe to our YouTube Channel |
| --- | --- |
| | |
Set it up today and contribute to building a better tomorrow!


( Want an easier way? Use our SteemConnect proxy link! )
Get support and connect with us and other BuildTeam fans!



---
This is a @steemvoter subscription payment post. Thank you to Steemvoter customers for allowing us to use your Steem accounts to upvote this post by virtue of your free subscription to the Steemvoter.com bot service. @steemvoter is proudly a @buildteam subsidiary and sister project to @dlease, @tokenbb, @ginabot, @steemsports and @minnowbooster.