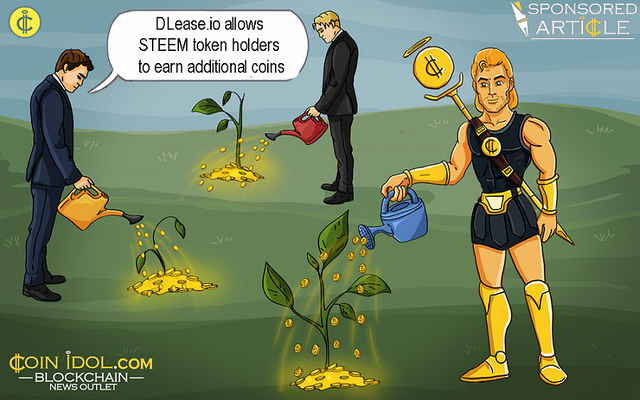 Nos complace anunciar que DLease.io se encuentra actualmente en la página principal de Coinidol.com. Este es un comunicado de prensa que fue elaborado por @taskmaster4450 y BuildTeam, en un esfuerzo por obtener una exposición externa para DLease y Steem.
https://coinidol.com/offering-passive-returns/
DLease.io es una plataforma que permite a las partes interesadas obtener rendimientos pasivos al arrendar su poder STEEM; facilitado por el mercado DLease de igual a igual,y que presentó retornos de dos dígitos desde su inicio en 2017 en una comunidad beta de Steem cerrada.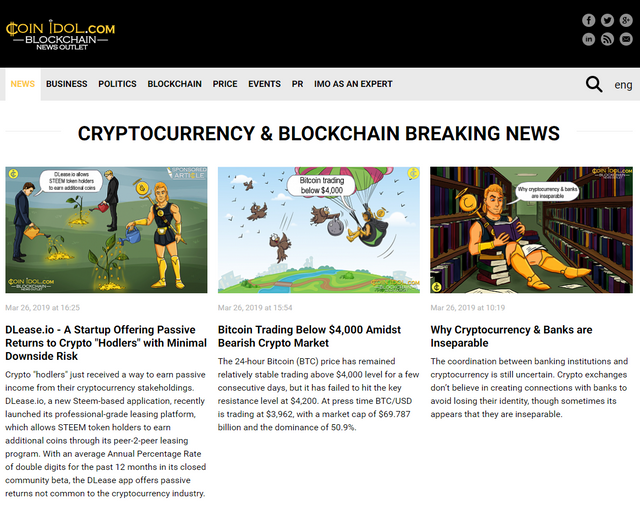 DLease.io es ahora un producto comercializable, listo para ser exhibido fuera de Steem.
En este momento, le pedimos a la comunidad que presente una "demostración de fuerza" visitando el Coinidol article y dejando comentarios. La comunidad Steem es una de las comunidades criptográficas más fuertes, así que demostrémosle a las personas de Coinidol de lo que somos capaces.
Además, dado que se presta atención externa a DLease, pedimos a los desarrolladores de aplicaciones y otros líderes de la comunidad Steem que tienen uso para delegaciones arrendadas, que hagan pedidos de arrendamiento para mantener el mercado completo.
El objetivo es crear interés en Steem fuera de nuestro ecosistema. Pocas criptomonedas ofrecen un medio de retorno pasivo por simplemente "hodling", esto es algo que creemos que se puede aprovechar al ritmo de cryptos más amplio.
En BuildTeam creemos que esta será una plataforma importante en el futuro; A medida que más empresas se sienten atraídas por Steem, la capacidad de operar se volverá más difícil a medida que crezca la demanda de Créditos de Recursos. El arrendamiento ofrecerá a las empresas una forma económica de que sus usuarios interactúen en la cadena de bloques.
¡El objetivo de BuildTeam es expandir el alcance de Steem más allá del status quo!
---
Imagen del artículo enlazado arriba.
---
---
Vamos visiten DLease.io today and take it for a spin!
---
Encuentra DLease en el BuildTeam App Store!
---

| Visite nuestro sitio web para más información! | Suscríbase a nuestro Canal de YouTube |
| --- | --- |
| | |
Configúrelo hoy y contribuya a construir un mañana mejor!


( ¿Quieres una forma más fácil? Utilice nuestro SteemConnect proxy link! )


Únase a nuestro Chat de Discordia
Obtenga apoyo y conéctese con nosotros y con otros fans de BuildTeam!



---
Este es un puesto de pago de suscripción de @steemvoter. Gracias a los clientes de Steemvoter por permitirnos utilizar sus cuentas de Steemvoter para votar en a favor de esta publicación en virtud de su suscripción gratuita al servicio botSteemvoter.com. @steemvoter es orgullosamente una filial de @buildteam y un proyecto hermano de @steemsports, @tokenbb, @ginabot, @quicksteem, @minnowbooster y @minnowmonsters.
---
Disclaimer: This is a commissioned Spanish translation post authored by @lanzjoseg. Although this content has been checked with Google Translate, we cannot confirm it is 100% accurate, please feel free to verify against our original Steem post in English.
Descargo de responsabilidad: Esta es una publicación en español responsable de la traducción escrita por @lanzjoseg. A pesar de que este contenido ha sido verificado con Google Translate, no podemos confirmar que sea 100% preciso, no dude en verificar nuestra publicación original de Steem en inglés.