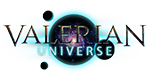 https://dkv2.com
The Valerian Realm continues in this next installment of the Dragon Knights of Valeria games.
Step into the Valerian Universe and begin your next journey today. Planets, Battle Cruisers, Drones, Rebels, and more await you in this turn-based space strategy game brought to you by Crypto Database.
Dragon Knights of Valeria 2: Universe follows a similar path as Dragon Knights of Valeria 2 did in allowing players to earn cryptocurrencies as they play. The currencies currently supported are Bitcoin, Litecoin, Dogecoin, HYPER, GoldPieces, and Honey. Each of these currencies can be traded between players, withdrawn, deposited, earned, or used in our in-game Exchange.
DKV2:U has passed the Beta stage and is now officially launched. If you do encounter any bugs please let me know as soon as possible so that it can be fixed.
Supported Currencies
Bitcoin
Litecoin
Dogecoin
HYPER
GoldPieces
HONEY
Anti-Matter (DKVU Currency)
Unique In-Game Currency
Valerian Universe contains it's own unique currency called Anti-Matter (AntiM) which functions similar to how a cryptocurrency functions. Whenever Dark Matter is exchanged for AntiM, AntiM is sent or burned, or AntiM is used to purchase in game items a new transaction is created. These transactions will be assigned a Transaction ID and will require 10 Verifications before it can be included in a block.
AntiM transactions are automatically verified by players as they explore the Valerian Galaxies. Whenever a transaction is verified it will display a message on the Universe screen informing you of your verification. Once a transaction has been verified 10 times a new block can be created. If a new block hasn't been created within the last 5 minutes it will automatically create a new block when the 10th verification is completed.
The block finder will be rewarded with 0.001 AntiM plus the fees collected for the verified transactions included in it.
Each user can also generate their own unique AntiM address and share it with other users in game to receive AntiM.
Anti-Matter Explorer
https://dkv2.com/explorer
Anti-Matter Specifications
Total Coins: 1,000,000 (non-static)
Block Time: 5 Minutes
Block Reward: 0.001
Min. Verifications: 10
Transaction Fee: 0.001 AntiM/kb
In-Game Multi-Currency Exchange
DKV2:U provides an easy to use exchange built directly into the game. Players can trade cryptocurrencies offered in game with each other as well as in-game items such as Drones and Genesis Seeds. This exchange does not have any trading fees. There is an 0.2% withdrawal fee.
Massive Universe
The Valerian Universe consists of over 25,000,000 fully explorable and buildable galaxies and 20,000 space ports. The Universe can be expanded to even greater limits with only a few tweaks of the code. Each of these galaxies can have up to 1 planet built in them.
Upgradeable Planets and Ships
Players can level up parts of their ships and make it more powerful than it is. The cost to upgrade each part grows exponentially as your ship gets more powerful.
Planet buildings can also be upgraded to improve it's performance. Each player starts out with 1 Genesis Seed that can be used to create new planets. Players can have up to 10 planets each and will be able to purchase new seeds in any port or on the exchange from other players.
Partnerships
BitcoinPRBuzz is a press release and news company. They will be providing monthly news releases for DKV2: Universe.
TheCryptoChat will be providing support chat services for DKV2: Universe
Honey: is a cryptocurrency that supports the Bee community and preservation. A portion of all VIP Upgrades made using HONEY will be donated towards a charity that helps feed and shelter those in need.