A really (s)crap wood table - a first for us!
A few months ago I posted about a scrap wood table we were hoping to make. More back story in my post!
Just to add a few details. All the wood you can get here is really scrap but without the S. I see videos of people in USA talking about scrap wood and showing pieces that are better than the furniture we have in the house... That's not scrap, it's amazing material that someone threw away for unknown reason. I'm forever stumped by what people throw away in an over satisfied nation! 😕
Also, working with wood is not something is done frequently here. I read blogs of homestead families, they build houses themselves. Amazing! Here there are no wooden houses, that is considered a joke, like the 3 piggies story. All houses are concrete and bricks. So working with wood is not a very common thing. For small structures people prefer welding and metal.
So before last year me and hubby had no experience with wood working in any way. At least now we have a table to show for our basic skills!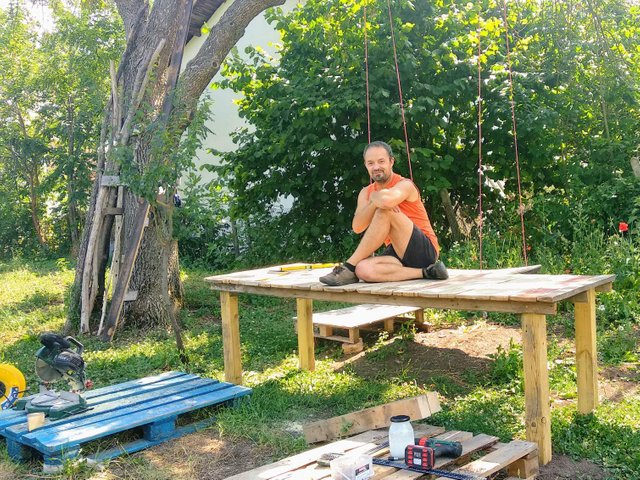 @bobydimitrov posing on top!
It was very interesting experience! First, almost no two planks were the same thickness. Second, a few broke when we tried to cut or screw them. Third, we forgot to oil the wood before putting the table together.
All in all we were destined for failure but somehow succeeded!
We tested the table for sturdyness by making 6 friends climb on top and each had a beer! And it held! Yay!
Just as reminder, here is where it all started!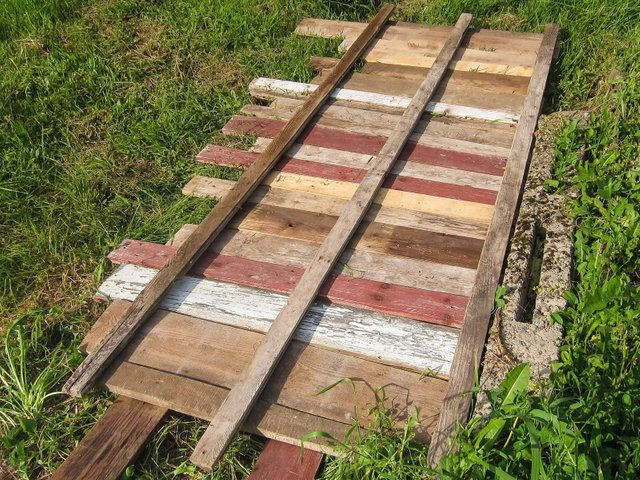 Posted using Partiko Android