nightdive: Morey Eel hunts and kills at night!!!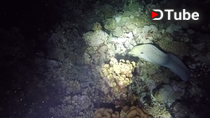 ---
During a nightdive while at liveaboard on the Red Sea following the 'deep south' route me and my buddy followed a big morey hunting at night.
During the day we often see morey's but they are always laying in a crack or hole just with there head visible. But at night they are extremely active and hovering over the reef in search of a prey. We couldn't have been more surprised when we saw the sudden snap and the fish jiggling in it's mouth.
It's one of those moments you're in the right place at the right time and you won't forget easily.
---
▶️ DTube
▶️ IPFS