FOMO POT AND PAYDAY POT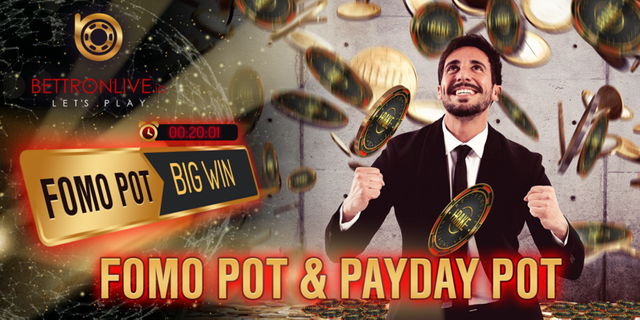 The BetTronLive protocol and platform underpin an entire decentralised gaming ecosystem that offers multiple benefits for a wide range of users. Not only do we want to bring the iGaming experience to the next level, but we also want to give players a new way to earn and play!
BetTronLive was created with the community in mind, hence we wanted to share revenues to our active and loyal players.
FOMO POT
What is it?
FOMO Jackpot is not a game that you can just play and win. It is an all-or-nothing competition with other players to be the last one to place a bet.
It is an additional challenge for players with an appetite for high risk to bag more RAKE.
5% of all generated revenue from our in-house games goes directly into the FOMO Jackpot in real-time!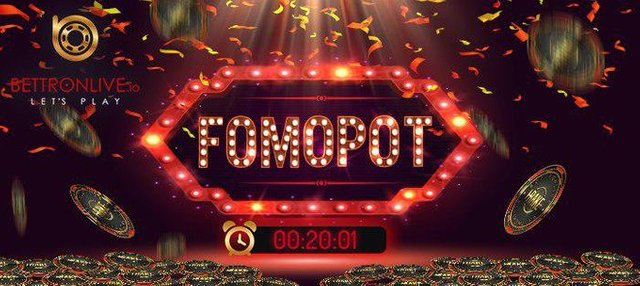 How Does It Work?
The smart contract rules are set to a strict protocol of 5 minutes which is displayed in the FOMO Jackpot countdown. Once the timer hits zero, the last person in control of the timer wins.
Rules:
When a player places a bet of 300 TRX or more, that player will take control of the countdown, adding 10 seconds to the countdown clock in real-time (the timer will never go above 5 minutes, per the smart contract rule).
When the timer hits zero, the last player to bet the minimum 300 TRX wins 60% of the FOMO Jackpot.
There is no limit to how many times you can bet.
Once the FOMO Jackpot has been won, another pot is filled and the cycle is repeated.
PAYDAY POT
To ensure the success of the platform and continuous expansion of its userbase, BetTronLive will introduce a community Payday Pot that is set to withdraw every week. The Payday Pot is a bonus for all RAKE holders created from our weekly revenue.
There will also be a random release on occasion, depending on the algorithm. This will give RAKE token holders extra incentive to hold onto their tokens which will further drive its value.
BetTronLive gives more earning opportunities for RAKE holders, so make sure you are one of them so you can RAKE it all in!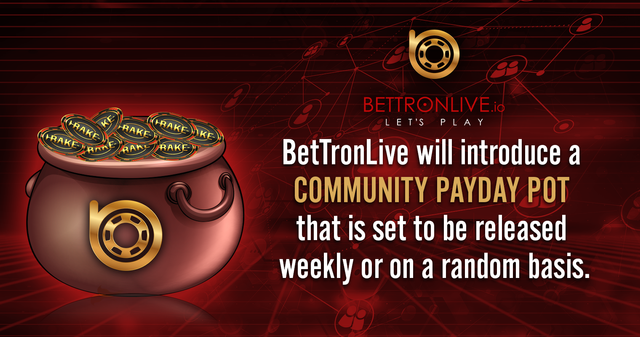 BetTronLive offers you more ways to earn and play!
You play, and you earn RAKE through mining.
You watch ads, and you earn RAKE.
You hold onto RAKE, and you earn more RAKE!
Come visit and join our active community: https://t.me/BetTronLive
Keep updated on announcements: https://t.me/BetTronLiveANN
Visit our Website: https://bettronlive.io/
Whitepapers & Summaries (Multilingual): https://bettronlive.io/documents.php
Follow us in our social media:
Twitter: https://twitter.com/bettronlive
Reddit: https://www.reddit.com/r/BetTronLive
Facebook: https://www.facebook.com/bettronlive/
Instagram: https://www.instagram.com/bettronlive/
Medium: https://medium.com/@bettronlive
Pinterest: https://www.pinterest.co.uk/bettronlive/
Youtube: https://www.youtube.com/channel/UCxNpc_WniZ7iFYSTW1ppJ7g
BTT Ann: https://bitcointalk.org/index.php?topic=5155822
BTT Bounty: https://bitcointalk.org/index.php?topic=5159675.msg51639765#msg51639765
#BetTronLive #RAKE #bounty #trondapp #TRON #trx #casino #onlinecasino #gaming #onlinegaming #onlinebetting #sportsbetting #Lambodice #PKR #dice #slotmachine #baccarat #bingo #poker #FOMO #jackpot #mining #wager #btc #alts #bitcoin #altcoins #cryptocurrency #blockchain #livedealers #dealers #players #winner #model #dividends #earn #2M #prize #payday #incentives #revenue #extra #bonus