Broccoli Revolution restaurant: Bangkok (Vegan)
I'm not vegan. I am normally quite the opposite as I feel as though meat keeps me full longer and ends up being a better value as far as food choices are concerned. I do, however, realize that this is the trend these days and vegan restaurants are all the rage. I was staying with a vegetarian and someone who only eats seafood so I figured I'd go with them and try this place out!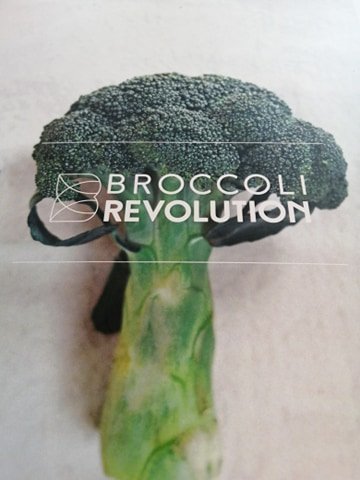 First off, they have a lot of options that are traditionally meat-oriented meals and of course I was going to order those. I settled on their premier burger after looking at the menu for just a bit because I didn't know what the hell most of the things actually were.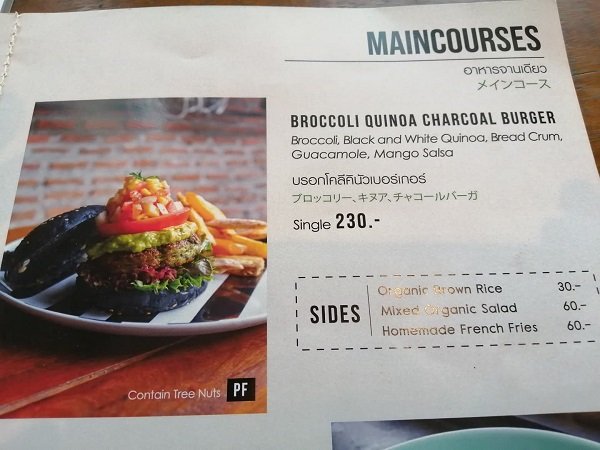 I've heard of quinoa in the past and how it is a superfood or something plus for me anyway, a burger can be made without meat and be wonderful if the sauce is done well. This was true with a "chicken sandwich" that I had at a vegan burger joint in Singapore and to this day that is my favorite chicken sandwich I have ever had despite the fact that it contained no chicken at all.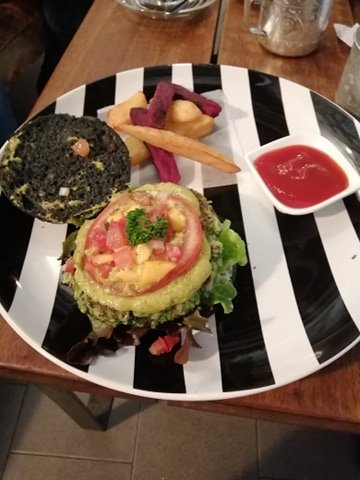 Compare my picture to the one on the menu: I think they are close enough and I was happy with the presentation. The taste on the other hand....ehhhh, I wasn't terribly impressed. Despite the guacamole and mango salad, it was just really dry. It also fell apart and made a real mess so it was necessary to hover over my plate or wear it. Plus the fact that I paid $2 for 8 "homemade french fries" is a bit nuts in my mind.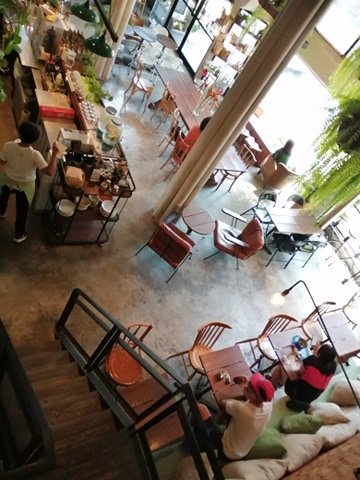 The ambiance of the restaurant is good and has an "industrial" look to it that appeals to me a great deal. The staff were really friendly and the service was fast and efficient.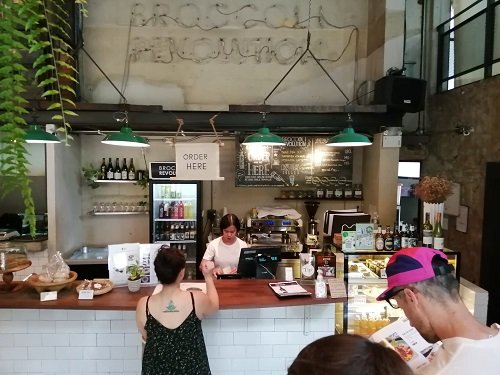 My cappuccino was garbage because (and i should have seen this coming) they don't have actual milk or cream in this place (totally my fault for not realizing that) so the soy milk really ruined it for me. It did look nice though :)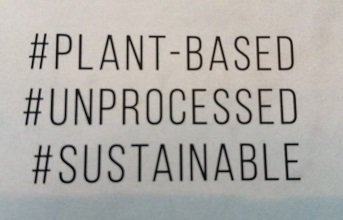 Now I know that this information is relatively new and very well could be funded by the dairy and meat industries but I have been reading lately that the vegan alternatives to meat aren't really as "sustainable" as they would have us believe. I have read that almond milk uses some crazy amount of water in its production and global quinoa and avocado demand is having negative effects on the areas that generate it. I'm not going to jump on the propaganda bandwagon though. Instead I'll just focus on my overall opinion of the restaurant from an omnivore perspective.
---
Overall opinion
The ambiance is great, the food was delivered quickly and the staff were friendly. These are all great things that factor tremendously into where I choose to eat. However, it is also one of the most expensive meals I have had in a long time and while I realize this has a lot to do with the popular location you can't tell me that this isn't at least in part because of the fact that vegan food is trendy right now and it is very possible to take advantage of customers.
My burger was just "ok" - and according to my friends that were there as well their food was just average also. Therefore, unless you actually are vegan, I would say that it Broccoli Revolution isn't really worth going out of your way for.