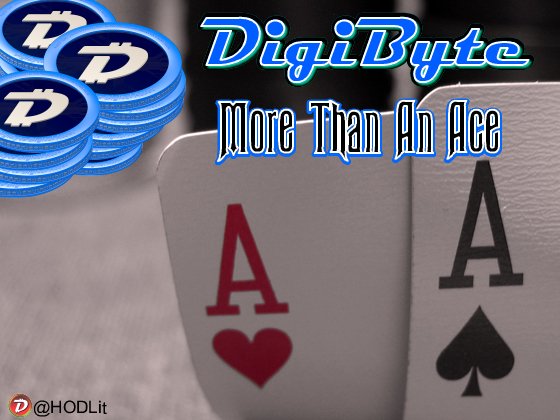 I was recently tweeted this on one of my post and it made me think the same thing. How can I explain Digibyte to someone who has not experienced what Digibyte already does for me?
Being in this crypto space, I noticed that moving your cryptos around from wallet to wallet from exchange to exchange took lots of time in the beginning. When I used other crypto coins to take care of business, I was very impressed at first. The old way of money changed for me. Now using an asset as Bitcoin was so much faster than dealing with my own bank. This was a different and faster way of doing things.
But time changed all that. As I started to get used to sending cryptos from wallet to wallet depending on what crypto coin I used, I started to see how some coins are very slow compared to other coins. This is where I fell in love with Digibyte.
Everybody uses Bitcoin when you first get into this space. Bitcoin is the standard. The problem with Bitcoin is if you don't know any better, you realize eventually that it really is a slow blockchain. The blocks are 10 minutes. Fast if you are comparing with old fashion bank transfers. Slow as hell if you are dealing with other coins like Digibyte which has 15 second blocks. You get your coins in seconds with Digibyte and up to 10 minutes with Bitcoin.
I have moved around many different crypto coins and I must say, Digibyte is as instant and as secure as any blockchain out there. It also has 5 different mining algorithms. What? Yes 5. All major blockchains only have 1. You can overtake a blockchain if you can gain 51% of the mining hashpower. Yes you would need major amounts of worldwide hashing to overtake Bitcoin. That's why it is secure. It would be hard to pull off that feet today but not impossible.
The reason Digibyte has 5 different algorithms is because if anyone overtook one of the algorithms with an attack, they couldn't do it because each algorithm controls 1/5 or 20% of the mining only. You could take all the Bitcoin miners in the world and point it over to Digibyte and you would not be able to attack the blockchain. You would only take over 20% of the mining power. If this did happen, Digibyte can handle the hashing power without a problem. That is how strong this blockchain is.
Another reason I love this project is because it is decentralized. Digibyte is one of the most decentralized projects out there. It would be hard to find another more decentralized blockchain out there. Yes there are levels of decentralization in this space. Some projects call themselves decentralized but are you really? Today there are people building DAPPs decentralized applications on the Digibyte blockchain.
Digibyte has working products today. Companies are building DAPP's on top of the blockchain. Digibyte has Digi-id which is a decentralized identification system. They also have Digu-sign for digital signatures that real estate DAPP's are using today. You will be able to build ICO's on top of the blockchain layer starting in Q1 2019. The Facebook hack that just happened could have been averted if they were using our Digibyte products.
The founder Jared Tate built a top notch blockchain. He already built into the blockchain the scaling solutions. The top blockchains like Bitcoin, Litecoin, Ethereum have major scaling issues right now. All those major blockchains have to go backwards before they can go forward. Not Digibyte. The founder was forward thinking and fixed it before it needed to be fixed. He foresaw the other blockchains limitations and built Digibyte the right way.
Everyone is starting to build on top of this decentralized blockchain. It is one of the most undervalued projects out there because there was no hype from this project that never had an ICO. It is one of the oldest projects out there and has a great following. You can never measure network effect but what I can say is Digibyte is growing on a grass roots level.
There is no Digibyte company but there is a very large Digibyte community. The good thing about the community is most were converted like me. We realized how fast and great the products were compared to everything else out there. We all now volunteer our time and effort to let the world know what we already know. Digibyte is everything what Bitcoin wishes it was today.
In closing why Digibyte? You should Digibyte because it has first mover advantage in the spaces it's in. It's into real estate, shipping, logistics, medical, finance, security, identification and on and on and on. Most blockchains have scaling problems. Not Digibyte. We are not only a currency, we are also a platform to build decentralized ideas. Digibyte is ready to take on the world.