So, I have squirrel cheeks, deal with it.
Here I am with Hekka and Keksi sitting on the couch playing. They are pretty good players and generally do what I tell the to do, although, Hekka falls a sleep a lot - that is his thing though. Lately I have been playing a lot by myself, not because there is no one to play with it is just that I have really been enjoying telling stories. The other day, I sat in a box for an hour and took my toys for a ride to visit people.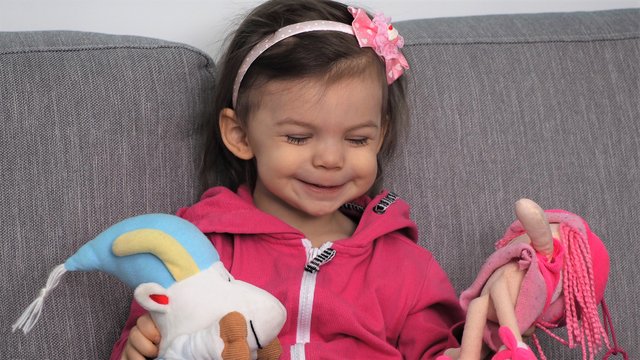 Today has been a busy day though and I got to talk to both Uncle @galenkp and my aunty who called as I was waling up. I don't get to talk to her very often so that was a really nice surprise and I got to show her my big girl bed and the new Snake that Mummi knitted for me. Oh, remind me to show you my new snake sometime. I have two! They come in really handy at night so I don't bang my head quite as often on the end of the bed. Unlike the old man though, I always get up in the morning.
Daddy and I have been doing the chores around the house today, vacuumed, mopped, did the laundry and even organised the towel cupboards a bit. Mummy is terrible at folding towels. There is a fair bit still to do but we also have to run off to the shops and pick up some food since Daddy will be gone for a few days again early in the week. What I am hoping is that we can perhaps sneak in a coffee too.
Yes, we had coffee yesterday also but I don't think there are any rules saying you can only go once in a weekend to have a coffee - are there? Who knows, adults make up lots of silly rules that make no sense but they believe they are really smart. Most of them are the type that stops people from having fun. We have some rules here too... mostly Daddy's.
I am still very flu-ey unfortunately though so there won't be too much running around because it makes me sicker and aggravates my asthma meaning, I don't end up sleeping well and it becomes a cycle of torture. I am also looking forward to going to daycare tomorrow and if sick, I won't be able which happened last week. Other kids go to daycare sick though, one of the parenting rules I guess.
Well, back to the housework with my feather duster.
<3
Smallsteps