Almost passed the Alps
For the last three days we have been crossing Austria along the Alps in the depths of winter, making our way past amazing glaciers, mountains and green valleys where snowy peaks line all sides and winter tourists abound. It's been quite the ride on our ever-progressing quest to finally escape the winter's clutch in Northern Europe, a quest that has now started a good 4 weeks ago when we left our old life in Northern Germany, late but with a fully equipped van and all our things we need to live life on the road.
The car has been doing great, my lady and I work well as a team and we have taken the occasional hurdles with faith and conviction in where it is we are going, even when things get dicey now and then.
Tonight we have barely escaped a snowy onslaught of ice on the highway, parking for the night in a park4night parking spot that seems to allow vans for a night provided they don't set up camp and get going the next day. The Austrian laws sound rather strict for public parking spot stays overnight but we've had no issues and everybody seemed genuinely welcoming.
Temperatures have been lower again the last 24 hours, going below freezing at night, but we do have our array of awesome blankets that let us sleep great - it's all cozy and sweet under the blankets even if we still wear hoodies or beanies during the night because the air around our heads gets too chilly - even with an insulated car interior.
Tomorrow we hope to exit Austria Southwards to Slovenia and eventually catch up with the far reaches of the mediterranean climate on the Adriatic sea. We chose not to hurry but at the same time we feel we desperately want to reach a place where temperatures allow a somewhat easy daily life atfter living through winter all these past weeks and months - where doing the dishes is not overly painful, where few people would be annoyed by us staying the night there and where the overall speed of life is drastically slower in a more nature-based surrounding where we can come back to ourselves and focus on the arts, our work and our greater projects we started this van-life for.
A lot of things have to be rearranged in the van and we feel all we have been doing lately is try to finally progress out of the winter zone, with most other things falling short. I have done my best to steem regularly with mobile wifi but since our data limit for the month is pretty much used up I feel I have to postpone some articles, sadly - like the third part of the virus-hypothesis counter proposal - onto early March when we have bandwidth again. I thank you for all your comments lately, please know that I read all of them and that I will do my best to get back to you as soon as my travel circumstances allow me to do so.
Music-production has halted completely as the guitars are under the bed and aren't fun to play at freezing temperatures. Nor is it much fun to try to do an amazing new track on the laptop as long as we still have our priority on getting South. But we feel the deeper the valley, the more awesome the next peaks will be! And boy oh boy will they be some amazing peaks once early signs of Spring come back to our lives. We cant WAIT!!!!!*
I think we're mere days away from it now, wish us luck <3 <3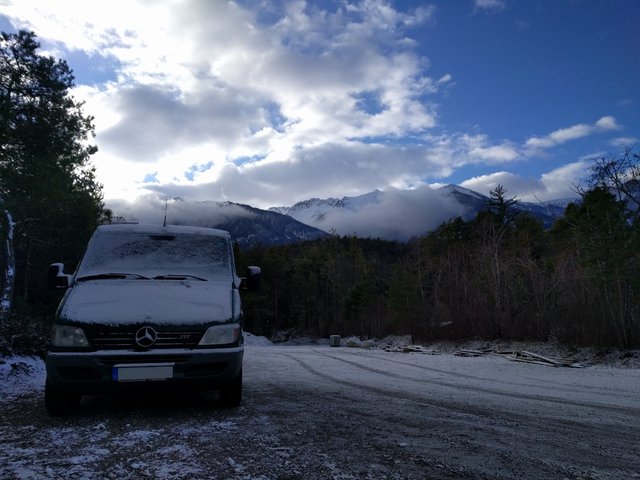 Img srcs:
All images by us ;)
Thanks for stopping by <3