Aloha Steemians!
Today I would like to share only one of many reasons why I absolutely love #DGB #DigiByte blockchain. DigiByte's main focus is on cyber security aside from its other amazing abilities such as speed, cryptocurrency and numerous ways to validate files/documents. Lets focus on the topic of decentralization for now.
I first fell in-love with DigiByte because of it's 100% decentralization concept. As a person who have just awaken to the truth that we are all at some level slaves to our great nation; controlled by big banks, unbanking the banks is a concept I hold dear to my heart.
Did you know that as Bitcoin #BTC is 1 algo; 100% Sha256, Litcoin #LTC is 1 algo; #100 Scrypt, DigiByte #DGB has 5 mining algorithms. This makes it impossible for a 51% attack.
Here's a graph of DigiByte's 5 mining algorithms;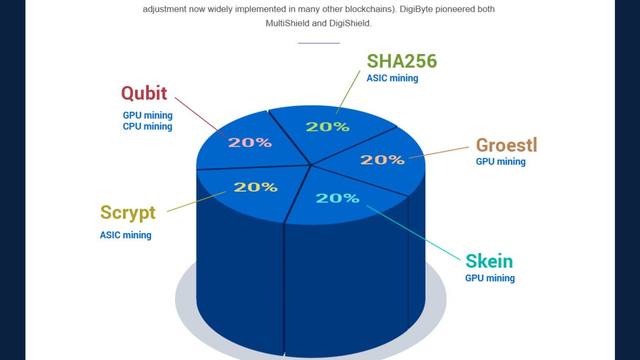 Ain't that a beauty?!!! If you would like more information about this amazing blockchain, you can visit @digibat (digibyte awareness team), RudyBowman, Josiah at @dgb_chilling and Stephen P Kendal.
Thank you for your visit. And as always, until we meet again, have a wonderful day!
Aloha!