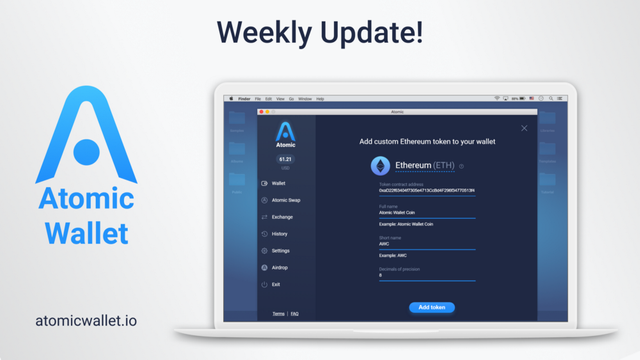 Hello, dear Atomic Wallet user!
There's a great news below:
We updated the application to version 0.1.16, you can download it here: https://atomicwallet.io
New Top-30 coins added
Welcome new coins in Atomic Wallet! Now we supports QTUM, Digibyte, Stellar, DASH and XRP. Manage your portfolio without any third-party risks!
Adding Custom Token for any ERC20-based assets
You can select the Add token function on the main app screen. In the appeared window, you will see the lines that you need to fill:
Blockchain
Token contract address and other required data
After those steps token will appear in wallet, and you can manage it the way you want!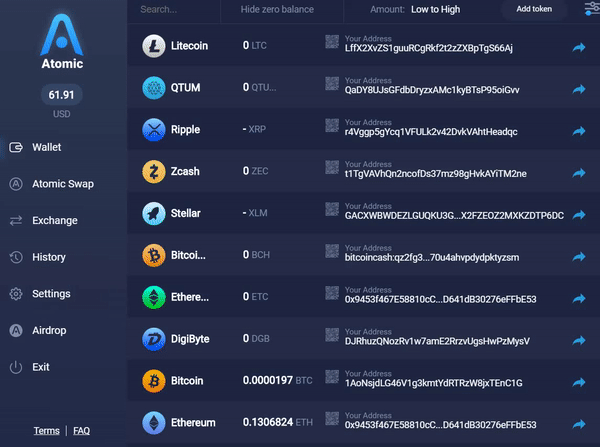 Custom Token feature
Updating of Atomic Swaps User Interface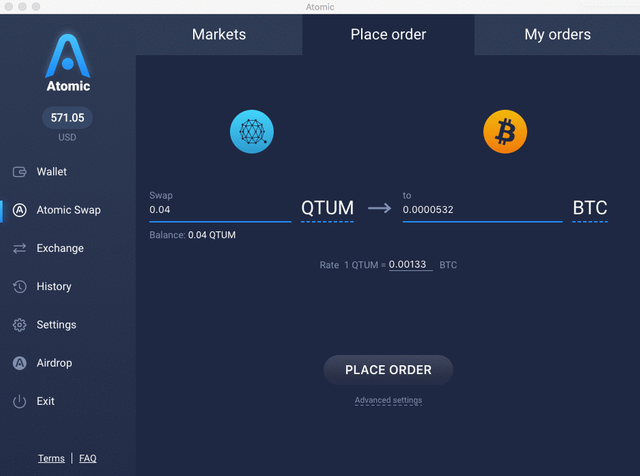 Atomic Swaps UI
Atomic Swaps updates:
Atomic Wallet works with built-in Atomic Swap Exchange - cross-chain swaps avoiding third-party risks. Also it's completely custody-free solution: you don't have to pay intermediary fees, and the wallet itself does not require any payment for transactions.
Our main feature is available for any BTC-LTC-QTUM pair.
You can change any amount of this currencies with remarkable low fees!
Check our special blog article to know more about cheapest way to exchange your assets.
Market order
Now the orders rate is updated every 5 minutes. The data is requested automatically from www.coinmarketcap.com. Your order will always be traded at an up-to-date price. Also you can set the margin to speed up the order execution or to get a better price: this data will be added or subtracted from the Coinmarketcap rate.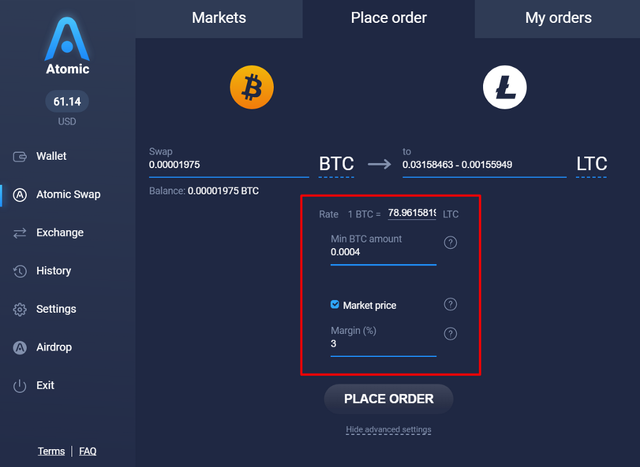 Market order in Atomic Wallet UI
Performance improvment
We've increased the speed of placing and receiving atomic exchange orders!
---
Download latest version of Atomic Wallet here: https://atomicwallet.io
Stay tuned and follow us on:
Medium: https://medium.com/@atomicwallet
Facebook - https://facebook.com/atomicwallet
Twitter - https://twitter.com/atomicwallet
Join our Telegram chat: https://t.me/atomicwalletchat