Today word of God exposure
Live On The Word Of God!
And they continued stedfastly in the apostles' doctrine and fellowship, and in breaking of bread, and in prayers. Acts 2:42 (KJV)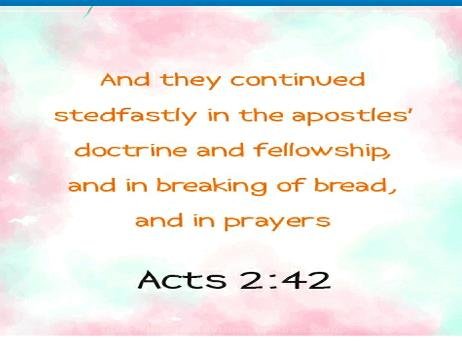 A doctrine is simply defined as teaching; it is a set of ideas or beliefs that are taught or believed to be true. The doctrines of the apostles are repentance, faith, baptism, laying on of hands, resurrection, and eternal judgment, Hebrews 6:1. As a child of God, you should be rooted in these doctrines and be able to teach others to know them. They are the foundation of the Christian faith and you must know them and build upon them. Fellowshipping with believers of like faith goes a long way to strengthen your faith, motivates you to do greater works for God, and those in need are supported to stand. In fellowship you learn how to pray, intercede for others, and also enhance your personal prayer life and your relationship with the Lord. Therefore do not forsake the assembling of the saints, Hebrews 10:25. Enjoy fellowship with your fellow Christians and be blessed.
You Have An Expected End!
For I know the thoughts that I think toward you, saith the Lord, thoughts of peace, and not of evil, to give you an expected end. Jeremiah 29:11 (KJV)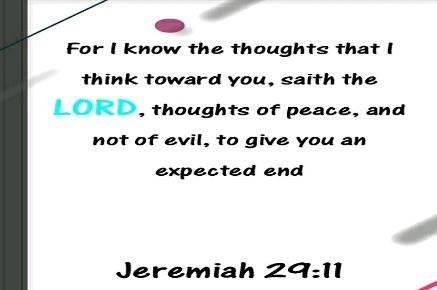 The kind of thoughts you entertain will eventually manifest in your life. Thoughts are ideas, plans, opinion, picture, etc., that is formed in your mind. Entertaining good thoughts in your mind will eventually move you to execute good works for God and humanity. On the other hand, harbouring evil thoughts will cause you to be influenced to sin against God and become a stumbling block to humanity. Dear beloved, consider the thoughts that our heavenly Father Has for you, they are thoughts of peace to give you an expected end. The New International Version quotes the opening Scripture as, "For I know the plans I have for you," declares the Lord, "plans to prosper you and not to harm you, plans to give you hope and a future." Cooperate with God, have patience with Him, fellowship with Him in His Word, execute His good thoughts He puts on your mind, and you will become prosperous.