2 Corinthians 12 :9-10 @ A Better Choice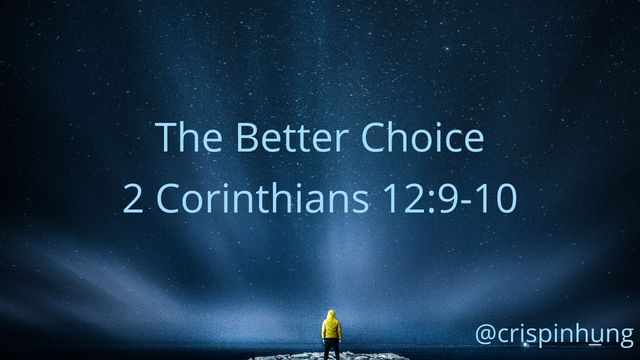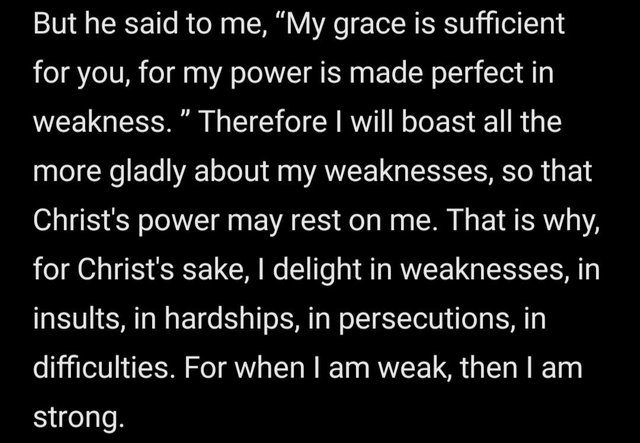 [2 Corinthians 12:9-10]
Sometimes, I wished that when I wake up, I am awaken from a dream that I have never wanna be in. Sometimes I wished that time could turn back to a time where I can do something for a change. Sometimes I wished that with a snap like Thanos, things will dissappear and all will be alright.
Well things happen and if its one that i can't accept, should I choose to become anxious and keep dwelling into the remorse or worse? But like a coin of two sides, I can always choose the other side which is better:
I choose to start praying and not worry
I choose to trust in God's strength, be thankful for the lesson and not continue the blame and guilt
I can choose to count my blessings daily by living in the present and not worrying about what is yet to come
I can choose to captivate the truth in God's word instead of the negative thoughts in my mind.
I cannot say this is something easy to do, but I believe with practice and His guidance, gradually it will become part of my life. He says "My grace is sufficient for you, for my power is made perfect in weakness." I know that I can trust God that He will meet all my needs. I have also seen that whenever I need His strength, He is there for me. I also have dreams and visions, but I choose to live out my life day by day, a day at a time, in which I live confidently and thankfully as He lives in me.
That is why, for Christ's sake, I delight in weaknesses, in insults, in hardships, in persecutions, in difficulties. For when I am weak, then I am strong.
Dear Heavenly Father, I pray that you will always give us the confidence to trust you in any situation be it high or low. In any stages and challenges, may you help us to not rely on our own capabilities but in your strength alone. In the name of Jesus Christ we pray, Amen.
Posted using Partiko Android