Calling all sha256 miners - DeVault (DVT) WANTS YOU!!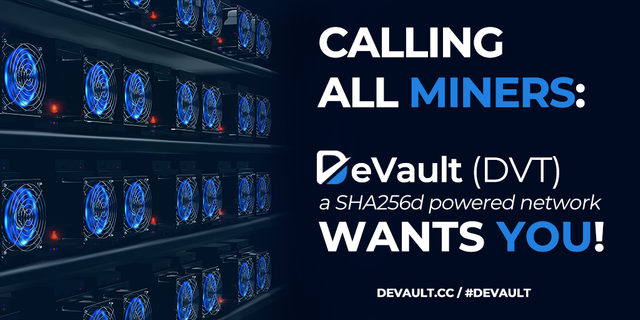 DeVault is a SHA256d proof-of-work powered crypto-currency and decentralized platform with a heavy focus on community engagement and decentralized governance. You can find out more about DeVault here!
Seeking dedicated miners to join our community!
We're looking for miners who want to have an impact on the community/network they support. Miners that are here not only to make a profit but also have a desire to make an impact and be appreciated by the network they hash for. DeVault is still a very young network that launched only 5-6 weeks ago and while we have an amazing volunteer team of crypto experts and dedicated developers, we still have one glaring problem: Almost all of the hash power supporting our network has never even heard of DeVault or downloaded our wallet much less engaged with our community in a meaningful way. We remain one of the most profitable sha256d coins to mine fairly consistently and this brings a lot of hash but it's almost all from "auto-switching" pools where the miners are not aware of what they're mining and the pool automatically exchanges the mined coins for BTC to payout workers. This is to be expected on some scale but we're pretty sure if those miners knew more about our network and were engaged, they'd be much more interested in mining DVT directly and holding some of those coins (most likely for ColdRewards)...
So this is it, the call-to-action for any miner, mining farm or future mining enthusiasts that want to do more than hash blindly into the auto-switching abyss. Help us build an inclusive dynamic and most importantly decentralized network fit for all! We're ready to build the future, are you?
Pools & Mining information
Below are a list of great pools available to mine with. If you're interested in setting up your own pool whether it be for public or private use please do not hesitate to contact me for help! (Discord user: Proteus#2089)
Mining Pools: (We do not endorse any single pool, please spread the hash)


AltCoinsPOOL https://acpool.pro/


BSOD Pool https://bsod.pw/


CoinMiningPool https://coinminingpool.org/


KievPool https://kievpool.net/


LuckyAltCoin https://luckyaltcoin.com/


MineDvt https://minedvt.com/
More DeVault links
Main:


Website http://www.devault.cc/


Forums https://devaultchat.cc/


Github: https://github.com/devaultcrypto


CMC: https://coinmarketcap.com/currencies/devault/


Coingecko: https://www.coingecko.com/en/coins/devault


CoinCodex https://coincodex.com/crypto/devault/news/


CoinPaprika https://coinpaprika.com/coin/dvt-devault/


CoinMarketDaddy https://coinmarketdaddy.com/currencies/devault/
Exchanges


SouthXchange: https://www.southxchange.com/Market/Book/DVT/BTC


Escodex: https://wallet.escodex.com/market/ESCODEX.DVT_ESCODEX.BTC
Wallets:


Wallet(s) under Assets: https://github.com/devaultcrypto/devault/releases


Wallet(s): https://devault.cc/wallets.html
Social:


Bitcointalk: https://bitcointalk.org/index.php?topic=5148351.0


Telegram: https://t.me/devaultcrypto


Reddit https://www.reddit.com/r/DeVault


Facebook https://www.facebook.com/devaultcrypto/


Medium: https://medium.com/@devaultcrypto


Instagram: http://www.instagram.com/devaultcrypto


Twitter: https://twitter.com/@devaultcrypto
Explorers:


Explorer1: https://exploredvt.com/


Explorer2: https://www.coinexplorer.net/DVT