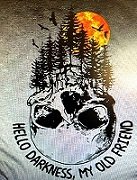 Hallo liebe Steemians ,
die ganze Welt (also ich)-(ganz und garnicht von
mir eingenommen :-)) bescäftigt sich mit dem
Ableben von Jeffrey Epstein , hoffentlich nicht mit
der "Katja" verwandt , denn die fand ich in meiner
Jugend "rattenscharf" :-)) Aber verlassen wir die
Träume meiner Kindheit und wenden uns ernsteren
Dingen zu :-)) Ich hatte Gestern einen Artikel von
@jeyf123 gelesen und mir meine Gedanken dazu
gemacht . Da ich YT fast nur dazu nutze um meine
eigenen Links zu´r Bearbeitungen bei Steemitfilmchen
ein zu stellen (Daraus ergeben sich meine "nur Paar
inne 80 Abo´s") will ich dort keine Toten einstellen .
(Ich weiß nicht einmal ob es hier erlaubt ist) Also falls
es hier verboten ist , löscht das "Ding" . Fangen wir
harmlos an : Mit der Zelle (ihr wisst schon : "Die
kleinste Einheit unseres Zusammenlebens" :-))
Hello dear Steemians ,
the whole world (ie me) - (not at all from
taken me :-)) deals with the
Death of Jeffrey Epstein, hopefully not with
the "Katja" related, because I found in my
Youth "rattenscharf" :-)) But we leave the
Dreams of my childhood and turn to us more serious
Things too :-)) Yesterday I had an article from
@ jeyf123 read and my thoughts about it
made . Because I almost only use YT for mine
own links to edits to Steemitfilmchen
to make one (this results in my "only couple
I do not want to hire any dead people there.
(I do not even know if it's allowed here) So if
it is forbidden here, delete the "thing". Let's start
harmless to: With the cell (you know already: "The
smallest unit of our coexistence ":-))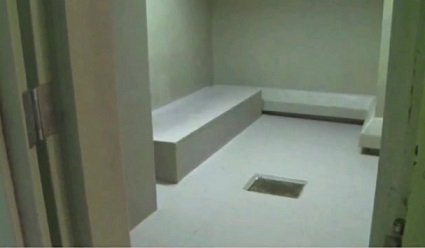 In einer Solchen soll er sich befunden haben .
Um sich hier auf zu hängen hätte er den
Gefängnisdirektor um eine "HILTI" , 8er Dübel
und einen Deckenhaken bitten müssen :-)) Man
hat mir leider kein besseres Foto zugeschickt ,
ich habe mir aber versichern lassen , dass die
Decke vollkommen eben ist :-))
He should have been in one of those.
To hang up here he would have the
Prison director around a "HILTI", 8 dowels
and have to ask for a ceiling hook :-)) Man
unfortunately did not send me a better photo,
But I let me assure you that the
Ceiling is completely flat :-))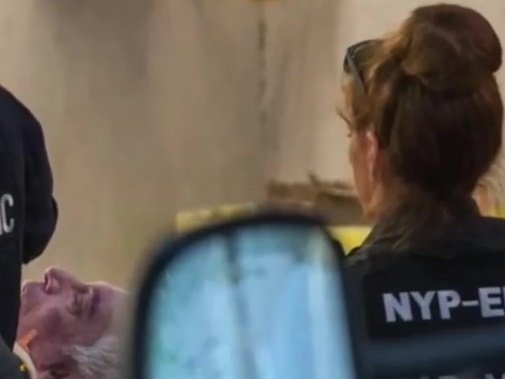 Hier ist er auf dem Weg zum "Coroner" (Quincy
wird´s schon rauskriegen :-)) Die Älteren unter euch
müßten ihn noch kennen :-)) Die hübsche Frisur
musste unbedingt noch ins Bild :-))
Jetzt grasiert natürlich die Theorie , dass es garnicht
Epstein war , sondern ein "Lookalike" (Ich liebe dieses
Wort :-)) Auch hier habe ich keine besseren Bilder
bekommen , die Quellen waren wie "zugenagelt"
Here he is on the way to the "Coroner" (Quincy
It'll get out :-)) The older ones among you
would have to know him yet :-)) The pretty hairstyle
absolutely had to go into the picture :-))
Of course, the theory that it does not graze at all
Epstein was, but a "lookalike" (I love this
Word :-)) Again, I have no better pictures
get the sources were like "nailed down"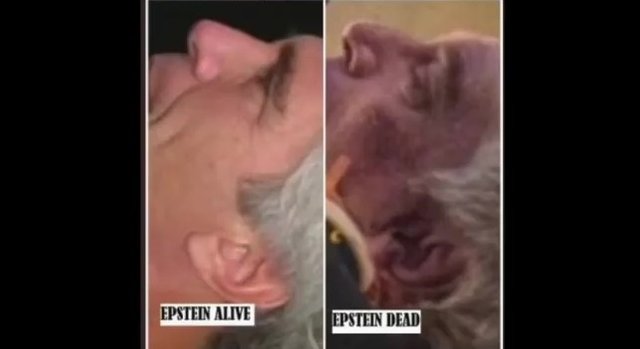 Wie ich gehört habe sollen die Ohrmuschelabdrücke
genau so unverwechselbar sein wie Fingerabdrücke :-))
Und jetzt kommt meine "Verschwörungstheorie" zum
Zuge :-)) Wer einige Milliarden und eine bestimmte
Herrscherin im Sack hat , der ist schell aller Sorgen
ledig : "So oder so" :-)) Schließlich hat es damals
auch ein gewisser Herr Mengele geschafft trotz seines
bekannten Gesichtes unter zu tauchen :-((
Ich kann nur hoffen , dass die Papiere und die restlichen
Zeugen (falls sie nicht auch zu früh versterben)
uns tiefer in den "Kanninchenbau führen :-))
Viel Spass beim lesen und (Verschwörungs) - Theoritisieren
:-)) unsuwe
As I have heard the ear impressions
just as distinctive as fingerprints :-))
And now comes my "conspiracy theory" to
Train :-)) Who a few billion and a certain
Ruler in the bag has, who is quick of all worries
unmarried: "One way or another" :-)) Finally it did
Even a certain Mr. Mengele managed despite his
known face to dive: - ((
I can only hope that the papers and the rest
Witnesses (if they do not die too soon)
lead us deeper into the "rabbit building :-))
Have fun reading and (conspiracy) - theorizing
:-)) unsuwe