Gun Fight / Boot Hill - Arcade Game Midway 1975/1977 - MAME Emulator (DE / EN)
Gun Fight / Boot Hill - Arcade Game Midway 1975 / 1977 - MAME Emulator
Gun Fight und Boot Hill sind Arcade(Automaten) Spiele. Gun Fight wurde 1975 veröffentlich. Boot Hill ist die Fortsetzung und erschien 1977. In beiden Spielen geht es um ein klassisches Western Duell zwichen zwei Gegnern mit Revolvern. Das ältere, Gun Fight kann nur mit 2 Personen richtig gespielt werden. Ein Spiel Computer gegen Mensch ist erst im neueren Boot Hill möglich. Beide Gegner steuern ein Figur, diese können sie auf ihrer jeweiligen Seite des Spielfelds frei Bewegen. In der mitte des Spielfeld tauchen je nach Spielrunde Hindernisse (Planwagen, Kackteen, Bäume) auf die sowohl Schutz für einen selbst aber auch Hinderniss beim Schiessen sein können..
Ich habe beide Spiele im MAME Emulator gespielt einen original Automaten wird man heutzutage nur noch im Museum finden, wenn überhaupt. Beim Start des Emulator wird angezeigt das beide Spiele damals auf einem Mainboard gelaufen sind die mit 1 Intel 8080 Prozessor bestückt war. Dieser war mit 1.9968MHz getaktet. Der Sound wurde mit diskreten elektronischen Bauteilen erzeugt. Die Auflösung war 260x224 Pixel. Die Roms für MAME heissen gunfight.zip und boothill.zip man findet sie über google.
Beide Gegner verfügen in jeder Spielrunde über 6 Patronen, wenn ein Spieler den anderen Getötet hat beginnt eine neue Runde. Das geht solange bis die Zeit abgelaufen ist. Aufgrund des Alters ist die Grafik seehr reduziert und Pixelig. In Gun Fight bleiben die Grafiken dabei immer gleich gross, typische 2D Grafik. Bei Boot Hill wird ueber die grösse der Sprites so etwas wie Entfernung Simuliert.
d.h wenn sich die Spieler nach oben bewegen werden sie kleiner als ob sie sich vom Sichtpunkt entfernen.
Beide Spiele sind im Emulator Spielbar. Gun Fight ist aber explizit auf 2 Spieler ausgelegt was heutzutage in einem Emulator etwas unpraktisch sein kann.
Boot Hill kann sowohl mit 2 Spielern als auch 1 Spieler gegen Computer gespielt werden. Die Steuerung ist bei beiden allerdings ein wenig problematisch.
Es war mir bei boot Hill weder mit der Tastatur noch mit einem Joystick möglich die Pistole gerade bzw flach(ca 22.5Grad) auszurichten. Wenn die Figur einmal Bewegt wurde ist die Pistole des Spielers immer etwa 45Grad ausgericht und lässt sich nur von unten nach oben oder von oben nach unten ausrichten. Das erschwert das Treffen des computergesteuerten Gegners erheblich. Der hat die Einschränkung nicht. Auf dauer macht das Spiel im Emulator deshalb keinen Spass.
Das gilt in etwas anderer Form auch für das ältere Gun Fight. Zwar fängt man hier mit gerade ausgerichteten Pistolen an, wird die Pistole aber erstmal nach unten oder Oben bewegt kommt man nicht mehr in die gerade Position.
Wegen der Menge der Screenshots poste ich diese hinter den englischen Text.
Hier findet ihr eine weitere sehr umfangreiche Beschreibung der Spiele.
http://www.honestgamers.com/14067/arcade/boot-hill/review.html
Laut der Website:
https://www.arcade-museum.com/game_detail.php?game_id=7193
war das Spiel oder der Spielautomat im Film "Dawn of Dead" von 1977 (Deutsch: "Zombie") ziemlich in der Mitte des Films zu sehen. Die Shopping Mal in der sich die fliehenden verschanzt hatten, hatte anscheinend auch eine Spielhalle. Obwohl ich den Film mal gesehen habe ist mir das nicht aufgefallen. Heutzutage sind solche Streifen nichts mehr für mich. Sollte jemand von euch den Film nochmal schauen, lasst mich Wissen obs stimmt.
---
English Version
Boot Hill - Arcade Game Midway 1975 / 1977 - MAME Emulator
Gun Fight and Boot Hill are arcade games. Gun Fight was released in 1975. Boot Hill is the sequel and was released in 1977. Both games are about a classic western duel between two opponents with revolvers. The older Gun Fight can only be played properly with 2 people. A game of computer vs. human is only possible in the newer Boot Hill. Both opponents control one figure, which they can move freely on their respective side of the board. In the middle of the playing field, depending on the game round, obstacles (covered wagons, poop tees, trees) appear which can be both protection for you and an obstacle when shooting.
I played both games in the MAME emulator, an original machine is nowadays only found in museums, if at all. When starting the emulator it shows that both games were running on a mainboard with 1 Intel 8080 processor. This was clocked with 1.9968MHz. The sound was generated with discrete electronic components. The resolution was 260x224 pixels. The roms for MAME are called gunfight.zip and boothill.zip you can find them via google.
Both opponents have 6 cartridges in each round, when one player has killed the other a new round starts. This goes on until the time runs out. Due to its age, the graphics are very reduced and pixelated. In Gun Fight the graphics stay the same size, typical 2D graphics. In Boot Hill the size of the sprites simulates something like distance.
i.e. if the players move upwards they become smaller as if they move away from the point of view.
Both games are playable in the emulator. Gun Fight is explicitly designed for 2 players which can be a bit impractical in an emulator nowadays.
Boot Hill can be played with 2 players as well as 1 player against computer. However, the controls are a bit problematic with both.
It was not possible for me to aim the gun straight or flat (about 22.5 degrees) with either the keyboard or a joystick. Once the character is moved, the player's pistol is always pointed at about 45 degrees and can only be pointed up or down. This makes hitting the computer-controlled opponent much more difficult. He does not have this restriction. This makes the game in the emulator no fun in the long run.
This also applies in a slightly different form to the older Gun Fight. You start with a straight pistol, but if you move the pistol up or down, you can't get into the straight position anymore.
Here you can find another very extensive description of the games.
http://www.honestgamers.com/14067/arcade/boot-hill/review.html
According to the website:
https://www.arcade-museum.com/game_detail.php?game_id=7193
the game or the arcade cabinet was in the movie "Dawn of Dead" from 1977 . Pretty much in the middle of the movie, the shopping mall the fugitives were holed up in, apparently also had an arcade. Although I saw the movie once I didn't notice that. These days such Films are nothing for me. If any of you watch the movie again, let me know if it's true.
Gunfight: Ein Treffer
Gunfight: a hit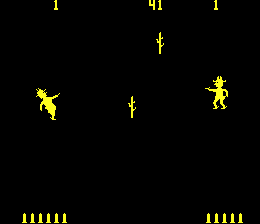 Gunfight: Da liegt er der Gegner
Gunfight: There he lies the opponent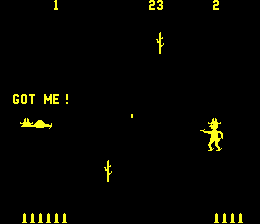 Gunfight: In den späteren Runden taucht auch ein Planwagen auf.
Gunfight: In the later rounds, a covered wagon also appears.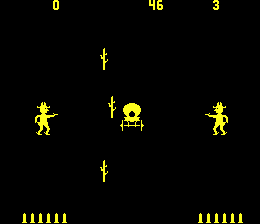 Boot Hill: Hier sieht man die grössenunterschiede der Sprites mit der die Entfernung kenntlich gemacht werden sollte.
Boot Hill: Here you can see the size differences of the sprites with which the distance should be made known.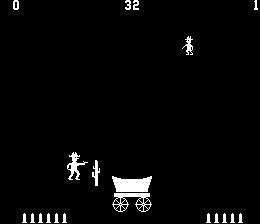 Boot Hill: Treffer, der Gegner Stirb
Boot Hill: Hit, the opponent dies