Galaga - Arcade Game - Namco 1981 - MAME Emulator (DE / EN)
Galaga - Arcade Game - Namco 1981 - MAME Emulator
Galaga ist ein Arcade(Automaten) Spiel das 1981 von Namco entwickelt und veröffentlicht wurde. Es ist die Fortsetzung von Galaxian(1979). Der Spieler kontroliert ein Kampfschiff das die Aufgabe hat die Feinde zu zerstören die in jeder Rund auftauchen. Dabei muss der Spieler vermeiden durch die Gegner und deren Geschosse getroffen zu werden. Einige dieser Gegner sind in der Lage das Schiff des Spielers mit einem Traktor Strahl einzufangen. Wenn das Passiert ist es möglich das der Spieler ein Doppelraumschiff mit erhöhter Feuerkraft erhält. Whärend des Spiels bleibt das Raumschiff immer am unteren Rand des Bildschirms.
Ich habe das Spiel im MAME Emulator gespielt einen original Automaten wird man heutzutage nur noch im Museum finden, wenn überhaupt. Beim Start des Emulator wird angezeigt das Spiel damals auf einem Mainboard gelaufen ist das mit 3 Zilog Z80 Prozessoren mit 3.072 Mhz und 1x Fujitsu 8843 und 1x Fujitsu 8844 Bestückt war, die beiden letzteren jeweils mit 1.536Mhz getaktet. Der Sound wurde mit diskreten elektronischen Bauteilen erzeugt. Die Auflösung war 288x256 Pixel. Das Rom für MAME heisst galaga.zip man findet es über google.
Der Spieler steuert ein einzelnes Kampfschiff am unteren Ende des Bildschirms. Das Ziel jeder Runde ist die komplette Zerstörung aller Gegner. Die Feinde greifen in Formationen von oben und von der Seite ein. Dabei versuchen die Feinde den Spieler mit Bomben und durch Rammen zu vernichten. In jeder Welle sind vier grosse Schiffe. Diese Schiffe verfügen über einen Traktorstrahl mit dem sie das Schiff es Spielers einfangen können. Wenn das Schiff des Spielers eingefangen wurde fliegt es in Formation mit den Feinden in deren Formation und greift mit diesen gemeinsam den Spieler an. Hat der Spieler ein weiteres Schiff zur Verfügung kann er versuchen sein Schiff zu befreien indem er das grosse feindiche Schiff vernichtet. Aber vorsicht wenn man dabei versehentlich das eigene gefangene Schiff trifft dann wird es vernichtet. Kann man das grosse Schiff zerstören an dem das eigenen Schiff hängt dann werden die beiden Schiff zu einem doppelten Kampfschiff zusammengefügt. Dieses Doppelkampfschiff ist wegen seiner breite zwar vielmehr gefährdet als ein einzelnes aber die verdoppelte Feuerkraft entschädigt dafür.
Die Feuergeschwindigkeit des eigenen Raumschiffs ist im Vergleich zum Vorgänger "Galaxian" verdoppelt. Es Können immer 2(bzw 4) Schüsse gleichzeitig auf dem Bildschirm sein. Über die Tastatur spielt sich das Spiel im Emulator sehr gut.


Ganz unten am Bildschirm wird die Anzahl der Spielrunden angezeigt. Die 3 Spielrunde und danach jede 4 Spielrunde(also 7,11 usw) sind "Challenging Stage". Dabei fliegen die Gegner in Formationen ueber den Bildschirm werfen aber keine Bomben ab. Das Ziel dieser Runden ist es möglichst alle Feinde zu zerstören. Dafür gibt es dann entsprechende Bonuspunkte. Wenn man zum Zeitpunkt einer "Challenging Stage" ein doppeltes Schiff hat ist man wegen der doppelten Feuerkraft klar im Vorteil. Die Vernichtung aller Gegner in einer "Challenging Stage" ist mit einem Einzelschiff kaum möglich.
Hier noch ein paas Screenshoots aus dem Emulator:
Aufgrund der Anzahl der Screenshoots poste ich die nur einmal im Anschluss an den englichen Text.
---
English Version
Galaga - Arcade Game - Namco 1981 - MAME Emulator
Galaga is an arcade game developed and published by Namco in 1981. It is the sequel to Galaxian (1979). The player controls a battleship that has the task of destroying the enemies that appear in each round. The player must avoid being hit by the enemies and their projectiles. Some of these enemies are able to trap the player's ship with a tractor beam. When this happens, it is possible for the player to get a double spaceship with increased firepower. During the game the players spaceship always stays at the bottom of the screen.
I played the game in the MAME emulator, an original machine is nowadays only found in museums, if at all. When you start the emulator it shows that the game ran on a mainboard with 3 Zilog Z80 processors with 3.072 Mhz and 1x Fujitsu 8843 and 1x Fujitsu 8844, the latter two clocked with 1.536Mhz each. The sound was generated with discrete electronic components. The resolution was 288x256 pixels. The rom for MAME is called galaga.zip you can find it via google.
The player controls a single battleship at the bottom of the screen. The goal of each round is the complete destruction of all enemies. The enemies attack in formations from above and from the side. During the game the enemies try to destroy the player with bombs and by ramming. There are four large ships in each wave. These ships have a tractor beam, with that they can capture the player's ship. When the player's ship is captured, it flies in formation with the enemies in their formation and attacks the player. If the player has another ship available, he can try to free his ship by destroying the large enemy ship. But be careful if you accidentally hit your own captured ship, it will be destroyed. If you can destroy the large ship your own ship is attached to, then your two ships will be joined together to form a double battleship. This double battleship is more vulnerable than a single one because of its width, but the doubled firepower makes up for it.
The firing speed of the own spaceship is doubled compared to the predecessor "Galaxian". There can always be 2(or 4) shots on the screen at the same time. The game plays very well via the keyboard in the emulator.


At the very bottom of the screen the number of game rounds is displayed. The 3 game round and then every 4 game round(so 7,11 etc) are "Challenging Stage". Here the enemies fly in formations over the screen but do not drop bombs. The goal of these rounds is to destroy as many enemies as possible. For this you get bonus points. If you have a double ship at the time of a "Challenging Stage" you have a clear advantage because of the double firepower. The destruction of all enemies in a "Challenging Stage" is hardly possible with a single ship.
Here are some screenshots from the emulator: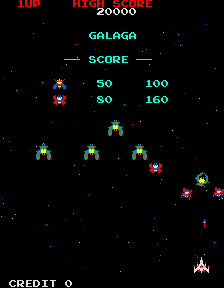 Demo screen showing the enemies and the player's ship.
Demobildschirm auf dem die Gegner und das Schiff des Spielers zu sehen sind.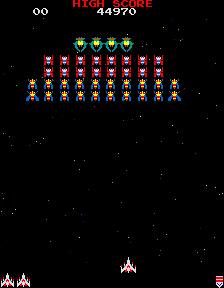 Here is the enemy still in complete formation.
Hier ist der Feind noch in der kompletten Formation.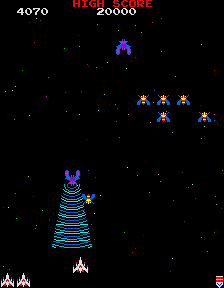 Attack with the tractor beam.....
Angriff mit dem Traktorstrahl.....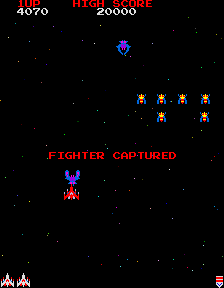 Now your own ship is flying for the time being for the enemy....
Jetzt fliegt das eigene Schiff erstmal für die Gegenseite....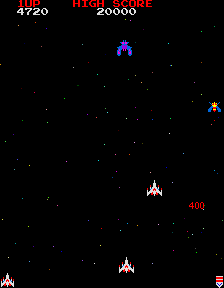 After shooting down the hijacker, the own ship returns.
Nachdem Abschuss des Entführers kehrt das eigene Schiff zurück.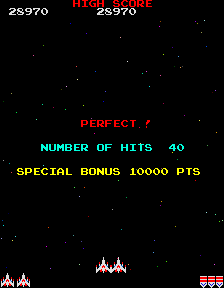 This makes it easier to get a bonus in the Challenging Stage.
Das macht es bei den "Challenging Stage" einfacher einen Bonus einzufahren.
But even a double ship is no guarantee for success. Most of the time it looks like this:
Aber auch ein Doppelschiff ist keine Garantie für Erfolg. Meistens sieht es so aus: