Dig Dug - Arcade Game - Namco 1982 - MAME Emulator (DE / EN)
Dig Dug - Arcade Game - Namco 1982 - MAME Emulator
(English Below / Enlisch Unten)
Dig Dug ist ein Arcade(Automaten) Spiel das 1981 von Namco entwickelt und 1982 veröffentlicht wurde. Der Spieler steuert die Spielfigur "Dig Dug" eine Art Bergman der in der Lage ist seine Gegner aufzupumpen bis sie Zerplatzen. Er hat die Aufgabe alle Gegner einer Runde zu besiegen indem er sie entweder Aufbläst und Zerplatzen lässt oder dafür sorgt das sie von einem Stein erschlagen werden. Auch wenn man es auf den ersten Blick nicht sieht es handelt sich um eine Art Labyrinthspiel. Das eigentliche Labyrinth entsteht erst whärend des Spiels. Das Raster fuer die Gänge die Dig Dug Graben kann ist dabei vorgegeben.
Ich habe das Spiel im MAME Emulator gespielt. Beim Start des Emulator wird angezeigt das Spiel damals auf einem Mainboard gelaufen ist das mit 3 Zilog Z80 Prozessoren mit 3.072 Mhz und 1x Fujitsu 8843 und 1x Fujitsu 8844 Bestückt war, die beiden letzteren jeweils mit 1.536Mhz getaktet. Das Mainboard war anscheinend Identisch mit dem das auch fuer den galaga Arcade Automaten vewendet wurde. Der Sound wurde mit diskreten elektronischen Bauteilen erzeugt. Die Auflösung war 288x256 Pixel. Das Rom für MAME heisst digdug.zip man findet es über google.
Zum Start jeder Runde befinden sich die Gegner in Höhlen die über den ganzen Bildschirm verteilt sind. Um diese Höhlen ereichen zu können muss er sich selber durch das Erdreich Graben. In den Höhlen gibt es 2 verschiedene Monstertypen:
die Pookas - rot-gelbe Monster
Fygar - feuerspeiende Drachen.
Dig Dug kann sowohl die Pookas als auch die Fygars aufblasen. Er muss 4 Mal Pumpen um ein Monster Platzen zu lassen. Monster die nur 1-3 Mal Aufgeblasen wurden erholen sich nach kurzer Zeit wieder. Im aufgepumten Zustand sind die Monster bewegungsunfähig und für Dig Dug nicht Schädlich. Auf dem Spielfeld verteilt sind ein paar Steine die wenn Dig Dug die Erde darunter entfernt herunterfallen. Die fallenden Steine sind sowohl fuer Dig Dug als auch für die Monster tödlich wenn sie davon getroffen werden. Es bringt zusätzliche Bonuspunkte wenn ein und insbeondere mehrere Monster mit einem Stein "abgeschossen" werden. Nachdem 2 Steine zum fallen gebracht worden sind tauchen in der mitte des Spielfelds "Früchte" auf, die Bonuspunkte bringen. Mit jeder weiteren Spielrunde die der Spieler überlebt werden die Monster Zahlreicher und Schneller. Wenn bis auf eins alle Monster in der Spielrunde erledigt sind dann versucht das letzte Monster nach oben Links vom Spielfeld abzuhauen. über die Tastatur spielt sich das Spiel im Emulator sehr gut.
Hier noch ein paar Screenshots aus dem Emulator: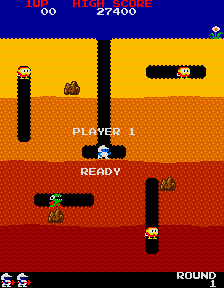 Der Startbildschirm.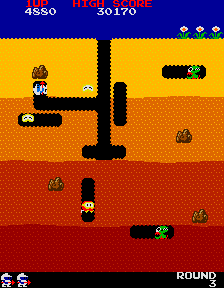 Auf der Lauer um einen Pokas mit einem Stein abzuschiessen.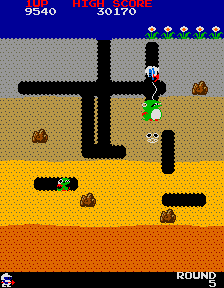 Ein Fygar Aufgepumt.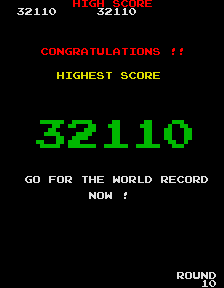 Highscore.... Die Liste funktioniert bei diesem Rom.
---
English Version
Dig Dug - Arcade Game - Namco 1982 - MAME Emulator
Dig Dug is an arcade game developed by Namco in 1981 and released in 1982. The player controls the character "Dig Dug" a kind of miner who is able to pump up his opponents until they burst. He has the task of defeating all the opponents in a round, either by inflating them and making them burst, or by making them get hit by a rock. Even if you don't see it at first sight it is a kind of labyrinth game. The actual labyrinth is created during the game. The grid for the corridors that Dig Dug can dig is predefined.
I played the game in the MAME emulator. When starting the emulator it shows that the game was running on a mainboard with 3 Zilog Z80 processors with 3.072 Mhz and 1x Fujitsu 8843 and 1x Fujitsu 8844, the latter two clocked with 1.536Mhz each. The mainboard was apparently identical to the one used for the galaga arcade machine. The sound was generated with discrete electronic components. The resolution was 288x256 pixels. The rom for MAME is called digdug.zip you can find it on google.
At the start of each round the enemies are in caves which are spread all over the screen. To reach these caves dig dug has to dig himself through the ground. In the caves there are 2 different types of monsters:
the Pookas - red-yellow monsters
fygar - fire-breathing dragons.
Dig Dug can inflate both the Pookas and the Fygars. He must pump 4 times to burst a monster. Monsters that have only been inflated 1-3 times recover after a short time. When inflated, the monsters are immobile and not harmful to Dig Dug. There are a few stones scattered around the playfield that fall down when Dig Dug removes the earth underneath them. The falling stones are deadly to both Dig Dug and the monsters if they are hit by them. It brings additional bonus points if one and especially more monsters are "shot down" with a stone. After 2 stones have been dropped, "fruits" appear in the middle of the screen, which bring bonus points. With each round that the player survives, the monsters become more numerous and faster. If all but one monster in the game round are killed, then the last monster tries to run away to the top left of the playing field. via the keyboard, the game plays very well in the emulator.
Here are some screenshots from the emulator: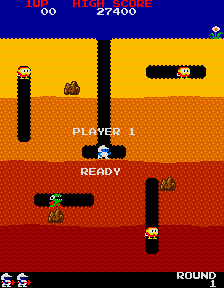 The Start Screen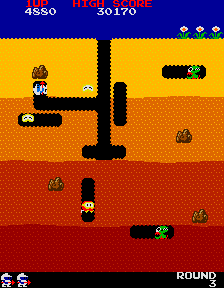 Lying in wait to shoot a Pokas with a stone.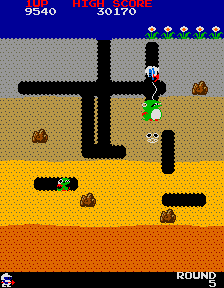 A Fygar pumped up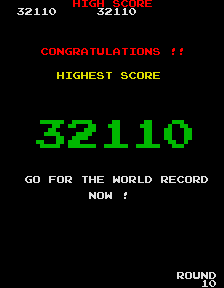 Highscore... The list works for this rom.