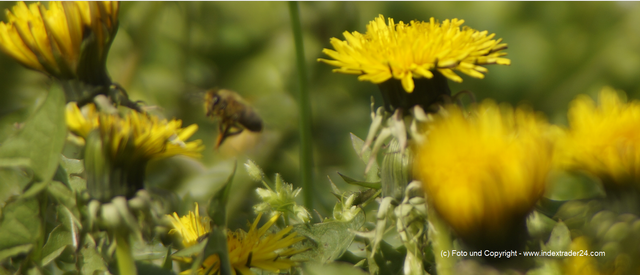 Location: Campus of Heinrich Heine University Düsseldorf - 7 April 2019 - 15:00 MESZ
Camera Sony SLT-A58, ISO 100 Aufnahme 1/320 Sek. f/6,3 200 mm
Dear friends of freedom and peace,
this beautiful moment was photographed last sunday at the Campus of the University of Düsseldorf. As you see is a bee flying to a blossom of a dandelion (Taraxacum officinale).
Taraxacum officinale has many healthy effects. Some ingredients of this plant and his root has liverprotective effects and extracts of its root are blocking the spreading and invasion of breast-, uterus cancer cells and leading to programmed cell death (apoptosis) of liver-cancer cells, prostate cancer cells, leucemia cells and pancreatic cancer cells.[1-4[
Further the plant has a lot of potassium which is responsible for its diuretic effects, which are able to prevent the development of kidney stones. Don´t eat parts of the plant, if you have diseases of the biliary tract or electrolyt imbalances - for example high potassium levels in your blood. In doubt ask your doctor in order to find out if there is any risk to your health, if you have diseases or take any kind of drugs, which are propably incluencing the electrolytes of your bood and the function of your kidneys.
Enjoy the beauty of this flower and your life.
Stay healthy and happy days!
-
----------------------------------------------------------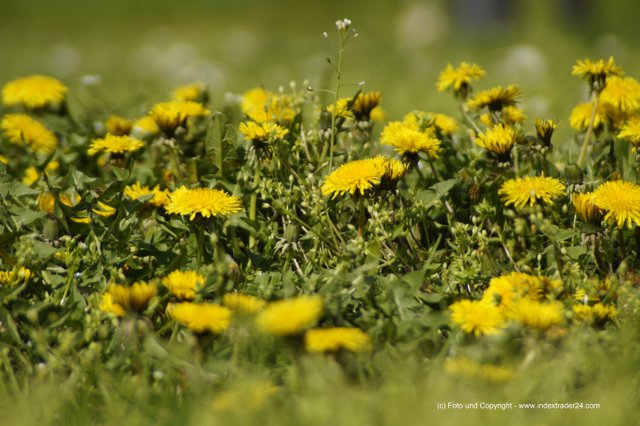 Location: Campus of Heinrich Heine University Düsseldorf - 7 April 2019 - 15:00 MESZ
Camera Sony SLT-A58, ISO:100 Aufnahme: 1/320 Sek. f/6,3 200 mm
Liebe Freunde des Friedens und der Freiheit,
die Natur ist voller zauberhafter Momente. So auch am vergangenen Sonntag als ich eine Biene auf dem Campus der Heinrich Heine Universität bei ihrem Anflug an eine Löwenzahnblüte (Taraxacum officinale) fotografieren konnte.
Taraxacum officinale ist eine mehr als bemerkenswerte Pflanze und Blume, die bereits in den 90´er Jahren die Rückseite des 500 DM Scheines zierte. Dem Löwenzahn werden neben antimikrobiellen Eigenschaften, die vor allem in seiner bis zu 2 Meter tiefen Wurzel beheimatet sein sollen unter anderem eine krebshemmende Wirkung auf Leberkrebszellen, Bauchpeicheldrüsenkrebszellen, Brustkrebs und Prostatakrebs, sowie bei Leukämie zugeschrieben, wobei auf Löwenzahnextrakte aus der Wurzel der Pflanze zurück gegriffen wurde.
Die kaliumreiche Pflanze besitzt zudem einen ausgeprägten harntreibenden (diuretischen) Effekt, welcher bei der Prävention von Nierensteinen in den ableitenden Harnwegen hilfreich sein kann.
Gleichwohl ist die Pflanze trotz aller positiven Effekte, nicht für jeden Menschen zum Verzehr geeignet.
Wegen der Galletreibenden Wirkung ist trotz des leberschützenden Effekte der Pflanze bei Gallensteinen oder Operationen an den Gallenwegen oder ander weitigen Gallenwegserkrankungen vom Verzehr der Pflanzenbestandteile dringend abzuraten, um nicht weitergehende gesundheitliche Nachteile zu erleiden.
Dies gilt auch für Patienten auf Grund einer Vielzahl an Erkrankungen Medikamente nehmen müssen, die in Wechselwirkung mit dem Elektrolyhaushalt des Körpers treten und somit Reizleitungsstörungen des Herzens hervorrufen können, sofern diese durch Entgleisung der Kaliumwerte verursacht werden. Im Zweifel sollte vor der Anwendung oder dem Verzehr von Löwenzahn, Löwenzahnblüten oder der Einnahme von Löwenzahnextrakten ihr Arzt befragt werden.
Erfreut Euch an der Schönheit dieser fabelhaften Pflanze und an den Geschenken des Lebens.
Bleibt gesund und munter!
Happy days.
Source - Quellen:
1. S. C. Sigstedt, C. J. Hooten, M. C. Callewaert, A. R. Jenkins, A. E. Romero, M. J. Pullin, A. Kornienko, T. K. Lowrey, S. V. Slambrouck, W. F. Steelant: Evaluation of aqueous extracts of Taraxacum officinale on growth and invasion of breast and prostate cancer cells. In: International Journal of Oncology. 32, 2008, S. 1085–1090. PMID 18425335.
2. H. N. Koo, S. H. Hong, B. K. Song, C. H. Kim, Y. H. Yoo, H. M. Kim: Taraxacum officinale induces cytotoxicity through TNF-alpha and IL-1alpha secretion in Hep G2 cells. In: Life Sci. 74, 2004, S. 1149–1157. PMID 14687655.
3. P. Ovadje, S. Chatterjee, C. Griffin, C. Tran, C. Hamm, S. Pandey: Selective induction of apoptosis through activation of caspase-8 in human leukemia cells (Jurkat) by dandelion root extract. In: J Ethnopharmacol. 133, 2011, S. 86–91. PMID 20849941.
4. P. Ovadje, M. Chochkeh, P. Akbari-Asl, C. Hamm, S. Pandey: Selective induction of apoptosis and autophagy through treatment with dandelion root extract in human pancreatic cancer cells. In: Pancreas. 41, 2012, S. 1039–1047. PMID 22647733.