Es hätte so schön sein können - It could have been so beautiful (DE/EN)
Der Tag hat so schön begonnen, die Sonne war hinter dem Horizont zu erahnen. So friedvoll kann eigentlich jeder Tag beginnen. Doch leider wurde die Ruhe und die Schönheit der Natur wieder einmal gestört.
---
The day had started so beautifully, the sun could be seen behind the horizon. Every day can begin so peaceful. But unfortunately the peace and beauty of nature was disturbed once again.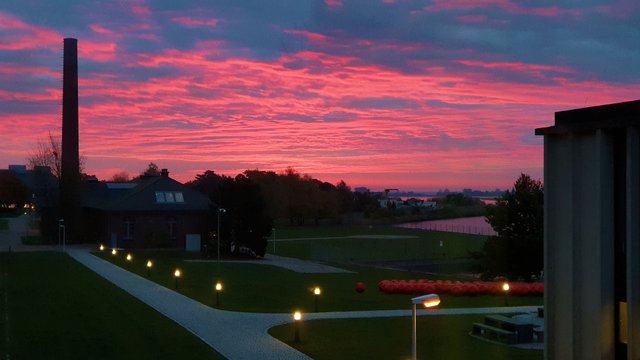 ---
Und wer ist schuld?
Corona und seine Zahlen, in Vorpommern Greifswald sind die Zahlen so hochgeschossen, das sich mein Arbeitgeber entschlossen hat, was zu ändern. So ist ab morgen im Gebäude Masken Pflicht angesagt, ich freu mich ☹.
---
And whose fault is it?
Corona and its numbers, in Vorpommern Greifswald the numbers are so high that my employer decided to change something. So starting tomorrow, masks will be compulsory in the building, I am looking forward to ☹.
Nun für die im Büro, ist es kaum hinderlich, aber da bin ich nicht. Ich bin echt gespannt wie es morgen wird. Wenn ich körperlich anstrenge arbeiten, schwitze und dann diese Maske im Gesicht. Ich weiß noch nicht, wie es sein wird 8h nur mit Maske zu arbeiten.
---
Well for those in the office it is hardly a hindrance, but I am not there. I am really curious how tomorrow will be. If I work physically hard, I sweat and then this mask on my face. I don't know yet what it will be like to work 8 hours only with a mask.
Schauen wir mal, trotzdem ein Lieben Gruß von mir
---
Let's see, nevertheless a dear greeting from me
Hornet on tour