🌈 Winterschlaf │ Hibernation 🦋
Auf unserer Tour am vergangenen Sonntag, sind wir an einer Schutzhütte im Wald vorbeigekommen. Überwinternde Tagfalter suchen sich solche Plätze für ihren Winterschlaf aus. Dort können Sie an einer dunklen und vor allem geschützten Stelle, den Winter überstehen. Während dieser Zeit nehmen sie keine Nahrung zu sich. Sie verfallen in eine Winterstarre und wachen erst wieder auf, wenn die Temperaturen ansteigen. Im hinteren Teil der Schutzhütte konnten wir gleich drei Tagfalter entdecken. Die nachfolgenden Schmetterlinge wurden mithilfe einer Taschenlampe fotografiert. Um die Falter möglichst natürlich und farbecht zu fotografieren, habe ich eine Lampe mit einer hohen Farbtreue (Colour Rendering Index) verwendet. Bei normalen Taschenlampen hat man meistens unschöne Farbverschiebungen, welche in der Fotografie unerwünscht sind.
On our tour last Sunday, we passed a refuge in the forest. Overwintering butterflies choose such places for their hibernation. There they can survive the winter in a dark and especially protected place. During this time they do not eat any food. They fall into a state of rigor mortis and only wake up again when the temperature rises. In the rear part of the hut we could discover three butterflies. The following butterflies were photographed with a flashlight. To photograph the butterflies as natural and colourfast as possible, I used a lamp with a high colour rendering index. With normal flashlights one usually has unsightly colour shifts, which are undesirable in photography.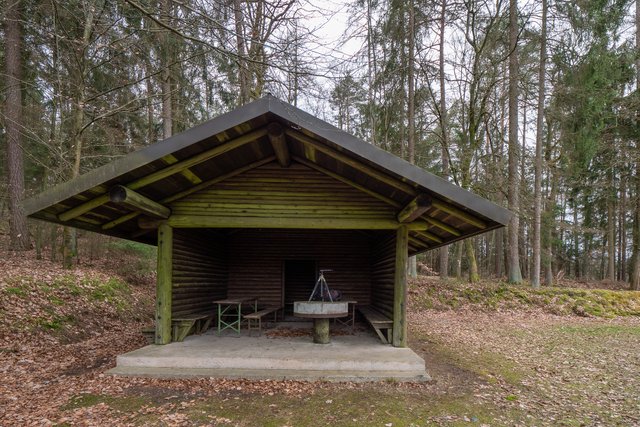 ▲ Click on the image for full resolution ▲
〰️
🦋 Großer Fuchs │ Large tortoiseshell
Nymphalis polychloros (Linnaeus, 1758)
Der große Fuchs hat es sich an einem Teppich Rest gemütlich gemacht. Ein durchaus ansprechender Ansitz, welcher für eine Makroaufnahme ein besonders farbenfrohen Hintergrund bereit stellte. Es gibt schlechtere Stellen um den Winter zu verbringen. 😁
The large tortoiseshell has made himself comfortable on a carpet rest. A quite attractive hide, which provided a particularly colourful background for a macro shot. There are worse places to spend the winter 😁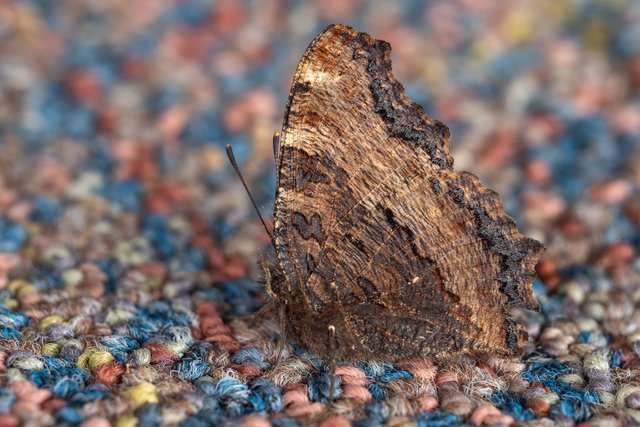 ▲ Click on the image for full resolution ▲
〰️
🦋 Tagpfauenauge ■ European Peacock
Inachis io (Linnaeus, 1758)
Die beiden nachfolgenden Falter gehören ebenfalls zur Familie der Edelfalter. Es handelt sich bei den beiden um das Tagpfauenauge. Auch diese beiden warten auf wärmere Tage, um sich auf die Suche nach Blüten und Nektar zu begeben. Ihren Ansitz hatten die beiden nicht ganz so elegant und farbenfroh wie der große Fuchs ausgesucht. Meine ersten Aufnahme, zeigt den Falter auf einer Sitzbank. Bei dem zweiten Exemplar war eine Holzwand aus Balken die Auswahl für das Winterquartier.
The following two butterflies also belong to the family of Nymphalidae. These two are peacock butterflies. These two also wait for warmer days to go in search of flowers and nectar. The two had not chosen their hide as elegantly and colourfully as the large tortoiseshell. My first picture shows the butterfly on a bench. In the second one, a wooden wall of beams was the choice for the winter quarters.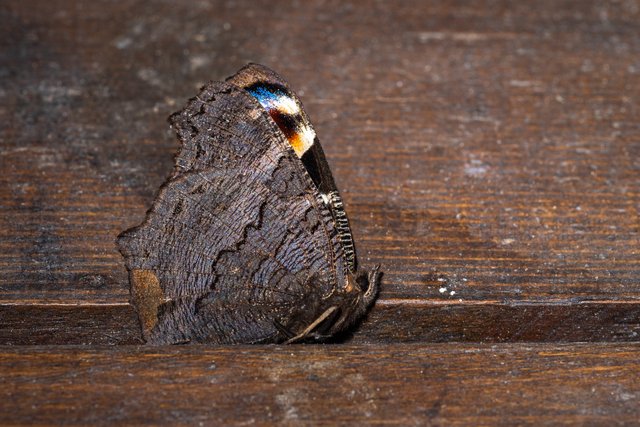 ▲ Click on the image for full resolution ▲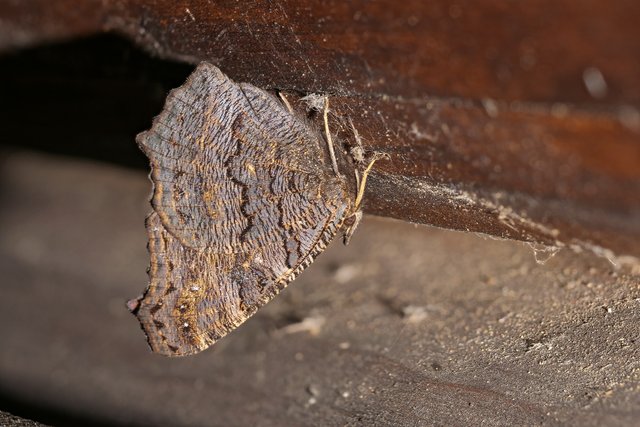 ▲ Click on the image for full resolution ▲
〰️
Wenn man die Stellen kennt, an denen Schmetterlinge übernachten, erfordert ist nicht viel Aufwand um nach ihm zu suchen. Meistens habe ich eine Taschenlampe dabei um die dunklen Stellen auszuleuchten. Mit etwas Glück bilden sich sogar Schlafgemeinschaften mit anderen Schmetterlingen. Einen Falter im Schlaf zu fotografieren ist kein Problem. Allerdings sollte man den Schmetterling von seinem Ansatz nicht entfernen. Wacht er auf und fliegt, benötigt er Energie die ihn unnötig schwächt. Bei zu großem Energieverbrauch verhungert der Falter. Ihm fehlt einfach die Kraft, den langen Winter ohne Nahrung zu überstehen.
_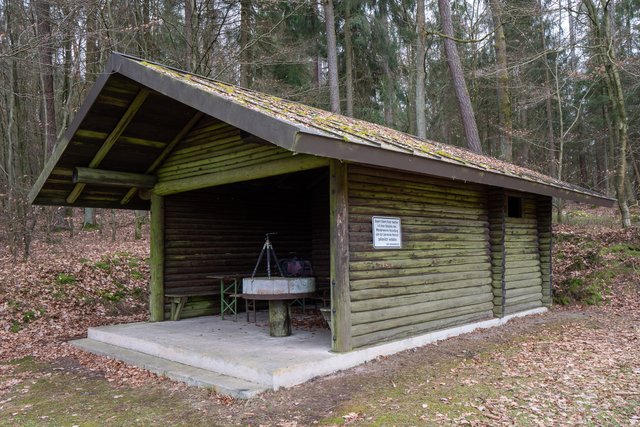 ▲ Click on the image for full resolution ▲
In einem meiner früheren Beiträge, habe ich den Schmetterling schon vorgestellt. Dort findet ihr auch ein Bild von der Raupe.
https://steempeak.com/deutsch/@faltermann/die-waffen-des-tagpfauenauge
In one of my earlier contributions, I have already introduced the Butterfly. There you will also find a picture of the caterpillar.
https://steempeak.com/deutsch/@faltermann/die-waffen-des-tagpfauenauge

〰️
| | |
| --- | --- |
| Category: | Macro |
| Camera: | Panasonic Lumix DC-G9 |
| Lens: | Olympus M.Zuiko Digital ED 60mm 1: 2.8 Macro │ Panasonic Leica DG 8-18 mm F2.8-4 ASPH |
| Location: | Germany, Bavaria, Lower Franconia, Spessart |
Wenn dir mein Beitrag gefällt, freue ich mich über deine Nachricht.
Herzlichen Dank und viele Grüße vom @faltermann 🐛
If you like my contribution, I am looking forward to your message.
Many thanks and greetings from Germany 🦋
🔴 SteeamPeak (Best user interface for the Steem Blockchain)🔴
🔴 SteemWorld 🔴
🔴 eSteem Search 🔴
🔴 eSteem mobile app 🔴