Helmknabenkraut │ Military orchid
Orchis militaris
Bei uns in Unterfranken, ist das Helmknabenkraut noch häufig anzutreffen. Im Taubertal konnte ich an zahlreichen Stellen große Bestände dieser Orchidee finden. Es macht einfach Spaß, wenn man Schmetterlinge und Orchideen in ein und demselben Gebiet finden kann. Für das Fotografieren ist das natürlich besonders einfach. Man hat kurze Wege und alles direkt auf einer Wiese.
Im letzten Sonnenlicht kommen die Orchideen besonders gut zur Geltung. Ist die Sonne hinter dem Horizont verschwunden, suche ich meistens nach Schmetterlingen auf ihrem Ansitz. Sogenannte Schlafplätze findet man oft an windgeschützten Stellen in der Nähe von Hecken und buschreichen Saumbiotopen.
With us in Lower Franconia, the Helmknabenkraut is still frequently to be found. In the Tauber valley I could find large populations of this orchid in numerous places. It is simply fun to find butterflies and orchids in one and the same area. Of course, this is particularly easy for photographing. You have short distances and everything directly on a meadow.
In the last sunlight the orchids come into their own. When the sun has disappeared behind the horizon, I usually look for butterflies on their hide. So-called sleeping places can often be found at sheltered places near hedges and bushy border biotopes.
▲ Click on the image for full resolution ▲
Als eine Besonderheit ist die sehr seltene weiße Variante Orchis Militaris Var. alba. Sie kommt nur vereinzelt vor und ich hatte Glück, ein Exemplar zu entdecken.
A special feature is the very rare white variant Orchis Militaris Var. alba. It occurs only sporadically and I was lucky to discover a specimen.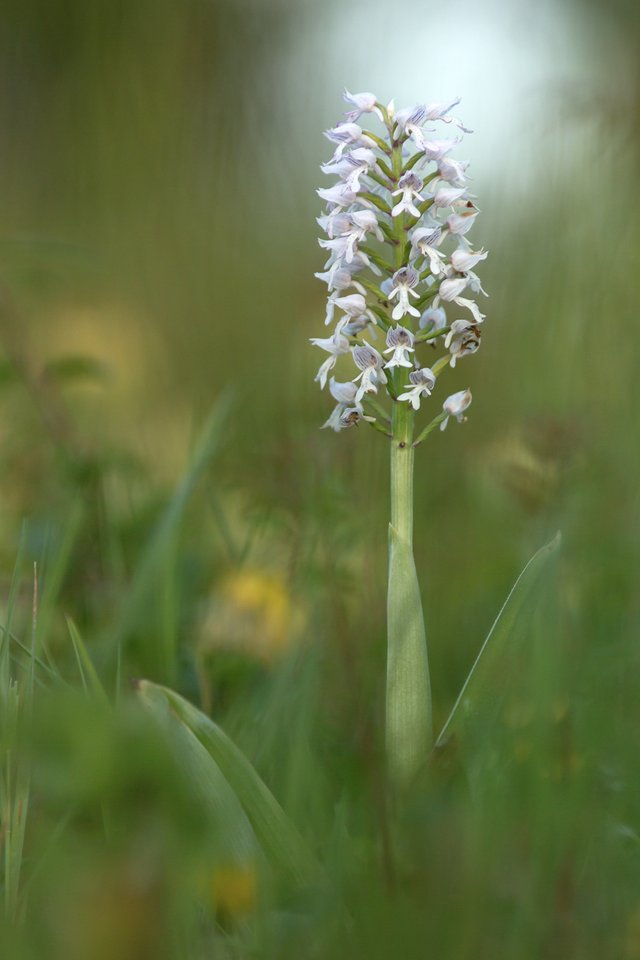 ▲ Click on the image for full resolution ▲
Dieser kleine Feuerfalter (Lycaena phlaeas), hatte sich mit einer Kartäusernelke (Dianthus carthusianorum) einen besonders schicken Ansitz für die Nacht ausgesucht.
This small small copper (Lycaena phlaeas), with a Carthusian Pink (Dianthus carthusianorum), had chosen a particularly chic residence for the night.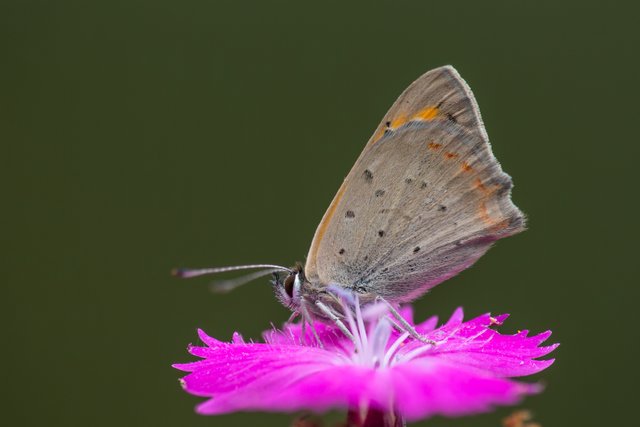 ▲ Click on the image for full resolution ▲
| | |
| --- | --- |
| Kategorie | Orchideen |
| Camera | Canon EOS 60 D |
| Objektiv | Canon EF 200mm f2,8 L │ Canon Macro EF 100 mm f2,8 L |
| Standort | Deutschland, Baden Württemberg, Unterfranken, Taubertal |
Wenn dir mein Beitrag gefällt, freue ich mich über deine Nachricht.

Herzlichen Dank und viele Grüße vom @faltermann 🐛
If you like my contribution, I am looking forward to your message.
Many thanks and greetings from Germany 🐛