DyDx catches up on losses!/DyDx holt verluste auf!
Deutsch/English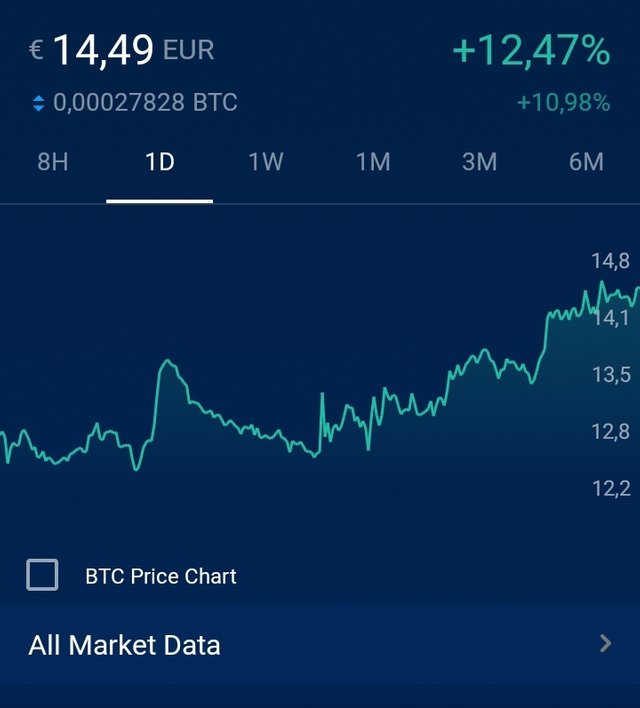 Was zeichnet DYDX aus?
dYdX ist wie erwähnt ein dezentraler Exchange, also eine Krypto-Börse, bei der Anwender Kryptowährungen direkt miteinander traden – ohne Mittelsmann, wie es bei zentralisierten Börsen der Fall ist (z.B. bei Coinbase oder Binance). Nutzer haben auf dYdX außerdem die Möglichkeit, Assets zu einem variablen Zinssatz zu verleihen. Der wiederum hängt vom Angebot und der Nachfrage auf der Plattform ab.
Der DYDX-Token fungiert hierbei als Governance-Token. Er ermöglicht es der dYdX-Community, das dYdX-Layer-2-Protokoll zu steuern und über Änderungen abzustimmen.
DYDX bietet ein Ökosystem rund um Governance, Belohnungen und Staking. Den Entwicklern zufolge soll jedes dieser Elemente das zukünftige Wachstum und die Dezentralisierung von dYdX vorantreiben. Staking-Pools wiederum haben das Ziel, die Liquidität und Sicherheit des Protokolls zu fördern. Außerdem das Wachstum und die Akzeptanz von dYdX fördern sollen beispielsweise Belohnungsprogramme fürs Trading oder die Bereitstellung von Liquidität.
dYdX (DYDX) Prognose 2021 – 2028
Digitalcoinprice.com hält dYdX in einer aktuellen Prognose für ein profitables Investment. Demnach steigt DYDX noch 2021 auf bis zu 37,97 Dollar. 2022 gelingt DYDX dann der Anstieg auf 42,87 Dollar, und 2023 könnte der dezentrale Exchange Digitalcoinprice.com zufolge auf bis zu 52,60 Dollar steigen.
Hier macht der Aufwärtstrend des Coins nicht Halt. Auch in den Folgejahren erwartet die Vorhersage ein kontinuierliches Wachstum: 2024 könnte DYDX demnach bereits 60,26 Dollar wert sein. Das Knacken der 60-Dollar-Marke beflügelt dann den Kurs: 2025 steigt DYDX auf 75,83 Dollar, und 2026 erreicht der DEX-Token 86,28 Dollar. Für 2027 sagt die Prognose einen DYDX-Kurs in Höhe von 97,10 Dollar voraus, und 2028 könnte DYDX schlussendlich auf 108,23 Dollar steigen.
Ich zitierte aus folgenden Artikel..
https://www.google.com/amp/s/coincierge.de/2021/dydx-token-dydx-artex-coin-artex-neue-kryptowaehrungen-mit-potenzial-und-starkem-kurs/amp/
Mein persönliches Fazit :
Momentan nutze ich die dydx Plattform nicht. Nachdem ich vor ca. 6 Wochen etwas Geld in diesen Token investierte verlor die Währung 1/3 an WERT , jetzt allerdings scheint diese ihre Korrektur vollzogen zu haben um meine verluste wieder auszugleichen.
Es kommt halt immer darauf an, zu welchem Zeitpunkt man anfängt in ein Projekt zu investieren.
Somit habe ich einen weiteren Favoriten meiner Kryptoinvestitionen abgearbeitet...
Bitcoin
Ethereum
Ripple
Stellar Lumens
Cardano
Aave
Solana
Polkadot
Maker
MLT von Welt der Wunder
Uniswap
Basic Attention Token
Yearn.finance
Compound
Chainlink
Axie Infinity
Filcion
Cro Token
dydx
Helium
Atom
Civic
Power Ledger
Tron
Steem ,Hive, Leo
VeChain
Ontology
Algorand
Tezos
Neo
English
! [Screenshot_20211123-195606_Cryptocom.jpg] (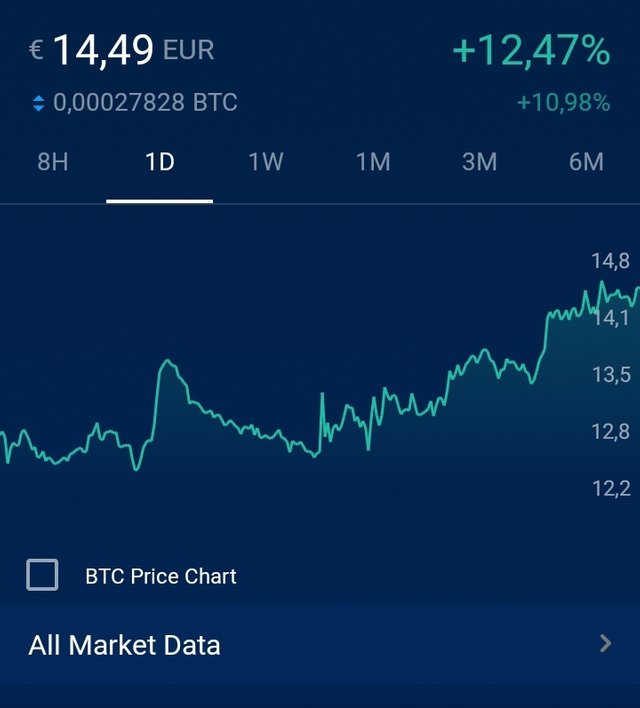 )
What distinguishes DYDX?
As mentioned, dYdX is a decentralized exchange, i.e. a crypto exchange where users trade crypto currencies directly with one another - without a middleman, as is the case with centralized exchanges (e.g. Coinbase or Binance). Users also have the option of lending assets at a variable interest rate on dYdX. That in turn depends on the supply and demand on the platform.
The DYDX token acts as a governance token. It enables the dYdX community to control the dYdX Layer 2 protocol and to vote on changes.
DYDX offers an ecosystem around governance, rewards and staking. According to the developers, each of these elements is intended to drive the future growth and decentralization of dYdX. Staking pools, in turn, aim to promote the liquidity and security of the protocol. In addition, reward programs for trading or the provision of liquidity are intended to promote the growth and acceptance of dYdX.
dYdX (DYDX) forecast 2021 - 2028
In a current forecast, Digitalcoin Genealogie considers dYdX to be a profitable investment. Accordingly, DYDX will rise to as much as $ 37.97 in 2021. In 2022, DYDX will then succeed in rising to 42.87 dollars, and in 2023 the decentralized exchange Digitalcoin Genealogie could rise to 52.60 dollars.
The upward trend of the coin does not stop here. The forecast also expects continuous growth in the following years: In 2024, DYDX could already be worth 60.26 dollars. Breaking the $ 60 mark then spurs the price: In 2025, DYDX will rise to $ 75.83, and in 2026 the DEX token will reach $ 86.28. In 2027, the forecast predicts a DYDX price of $ 97.10, and in 2028 DYDX could eventually rise to $ 108.23.
I quoted from the following article ..
https://www.google.com/amp/s/coincierge.de/2021/dydx-token-dydx-artex-coin-artex-neue-kryptowaehrungen-mit-potenzial-und-starkem-kurs/amp/
My personal conclusion:
I am currently not using the dydx platform. After I invested some money in this token about 6 weeks ago, the currency lost 1/3 of its VALUE, but now it seems to have made its correction to compensate for my losses.
It always depends on when you start investing in a project.
So I've worked through another favorite of my crypto investments ...
Bitcoin
Ethereum
Ripple
Stellar Lumens
Cardano
Aave
Solana
Polkadot
Maker
MLT from World of Wonders
Uniswap
Basic Attention Token
Yearn.finance
Compound
Chainlink
Axie Infinity
Filcion
Cro Token
dydx
Helium
Atom
Civic
Power ledger
Tron
Steem, Hive, Leo
VeChain
Ontology
Algorand
Tezos
Neo