Can you give me five minutes of your time? [ENG|Ger]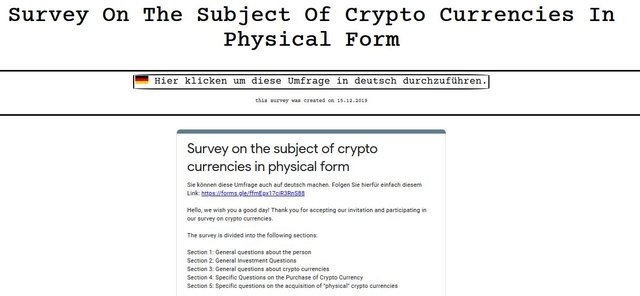 ---
SCROLL DOWN FOR GERMAN VERSION
---
Hello, everyone,
I have a little favor to ask you today. A colleague and I are conducting a small survey on the subject of crypto currencies and storing them in physical form.
Although I have no quid pro quo, I would be happy if one or the other takes 5 minutes to participate in our survey.
The link to the English version of the survey is here:
https://forms.gle/ZQrtRj8SPEiMuJew9
We hope to gain insights for the general acceptance of the direct purchase of so-called wallets. The aim is to develop a system that enables the secure creation of wallets for a customer and the sending of the wallet to this customer without any security risks for the customer.
I would like to thank you in advance for any support!
You are also welcome to leave general comments on the survey in the comments.
Yours sincerely BS
---
Hallo Zusammen,
ich wende mich heute mit einer kleinen Bitte an euch. Ein Kollege und ich führen eine kleine Umfrage zum Thema Kryptowährungen und das Verwahren dieser in physischer Form.
Obwohl ich keine Gegenleistung zu bieten habe, würde es mich freuen, wenn sich der ein oder andere 5 Minuten nimmt um an unserer Umfrage teilzunehmen.
Der Link zur deutschen Version der Umfrage ist hier:
https://forms.gle/ffmEpx17ciR3RnS88
Wir erhoffen uns Erkenntnisse für die allgemeine Akzeptanz zum direkten Erwerb sogenannter Wallets gewinnen zu können. Ziel ist es ein System zu entwickeln, dass das sichere Erstellen von Wallets für einen Kunden und die Zusendung des Wallets an diesen ohne Sicherheitsrisiken für den Kunden ermöglicht.
Ich möchte mich im Vorhinein für jegliche Unterstützung bedanken!
Gerne könnt ihr auch allgemeine Anmerkungen zu der Umfrage in den Kommentaren hinterlassen.
LIebe Grüße BS