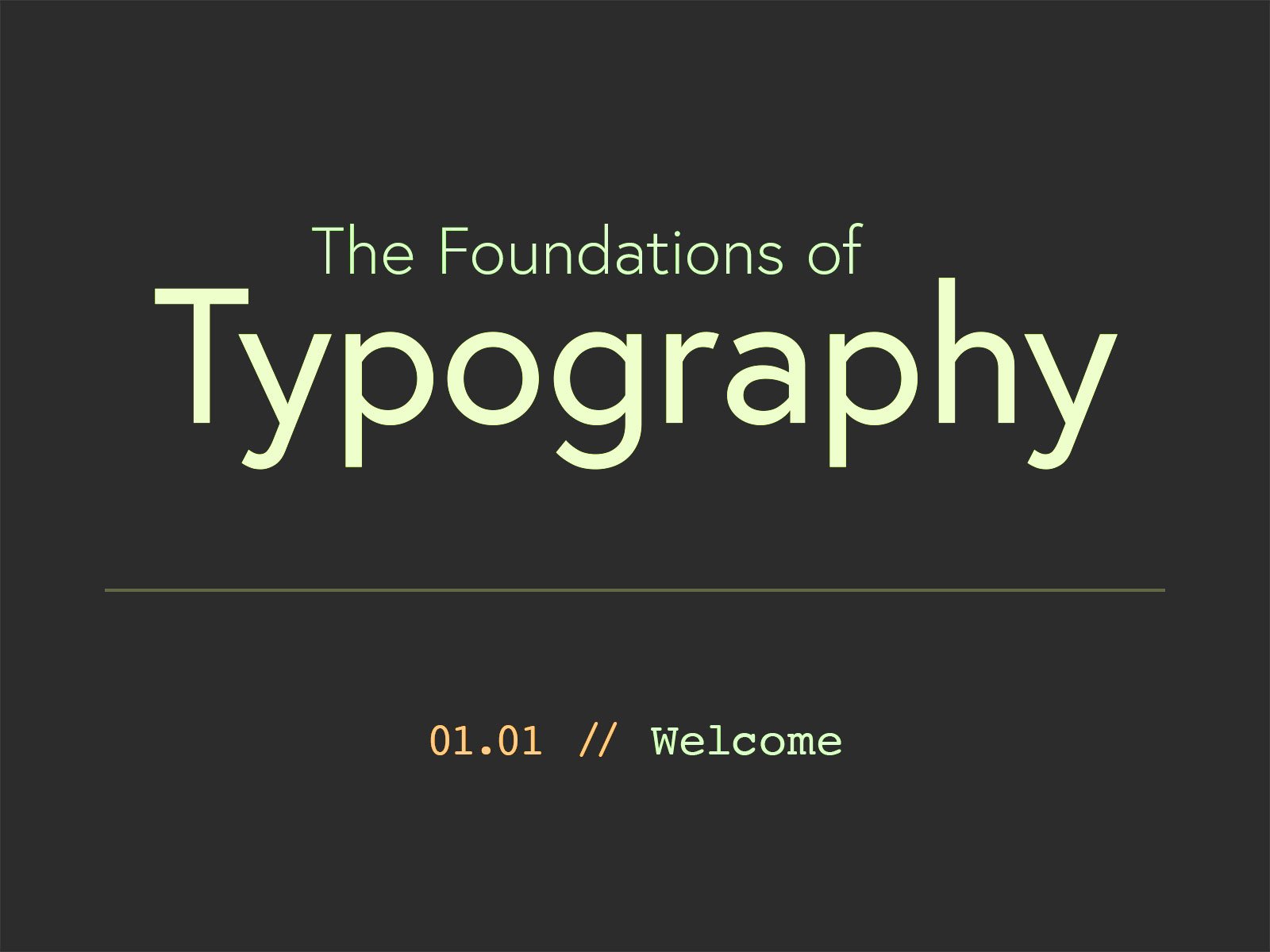 Chapter 01 - Introduction
Lesson 01 - Welcome
---
Typography is one of the most fundamental (and often overlooked) aspects of graphic design. Not only is it an extremely useful tool in the designers arsenal, but it is also an inspiring and rewarding field to work and create in. As with every creative field, the world of typography is constantly changing, growing and evolving. Today, in this age of constant information overload, making your message stand out has become more important than ever before. The advent of the personal computer, along with the power of the Internet allows anyone to arrange, design and even create and distribute their own typefaces. This is really a golden age of typography, and there has never been a better time to learn than right now!
My name is Colin, and I would like to welcome you to my series on the fundamentals of typography! If you don't know anything about typography, this series will give you all of the basic knowledge you require to help you make better, and more confident decisions when it comes to using type. If you are not new to typography, I think you'll find this series to be an excellent recap, and you will likely learn new concepts and practices that will improve your use of typography.
I am very passionate about typography (as you can probably already tell) and I have been a graphic designer and art director for the last 10 years. I'm a Grant MacEwan University graduate with a diploma in Design Studies where I have had 2 university courses that were solely on typography.
Full disclosure: before Steemit, I had intended on releasing this series as a paid video course on Udemy, but only finished half of the videos. I'd much prefer to foster a community here, as Steemit is just a dream. I have worked very hard compiling this series from over 50 various sources and I am very proud of the final product. I can't wait to share with you the foundations of typography!
By the end of this series, you will have full comprehension of the basic concepts, theories and elements of typography. You'll understand the history and importance of type. You'll be able to categorize and distinguish typefaces with an understanding of various styles and classifications. You will gain skills essential to a range of applications and media such as branding, publication design, web design, kinetic type, and more. We will go over the most common mistakes and misuses of type. And, most importantly, you will develop a 'typographic eye' which will enable you to make confident decisions when it comes to not only choosing and combining the right typefaces but arranging and composing them in your project. I say this is the most important aspect, because making quick, confident decisions is what allows a professional to excel at what they do. As important as it is to experiment with different typefaces, you don't want to spend hours and hours looking through your font library, second guessing yourself.
---
As my series grows, I will continue to document the "table of contents" here on this post for easy access. I am happy to answer your questions along the way, so if you're unclear on anything, just comment on the post, and I will do my best to respond promptly!
Before my first post, I'd love to hear WHY YOU would like to learn about typography.