What is Rainmeter?
Rainmeter allows you to customize the Windows look to your liking.
The desktop tool can show you about exciting system data such as the current CPU and hard disk space utilization on the desktop, but also the weather report, calendar, your e-mail input, time, battery life and current news from any web page.
A likewise included program launcher allows the quick start of your most important applications. Browser, Messenger or Mediaplayer: From now on one click is enough to start the program. The Rainmeter Skin Packager has some effects and updates for many built-in features.
It's free to use and can be downloaded from here ( https://rainmeter.net)
Here an example of what you can achieve with Rainmeter: System Monitoring Theme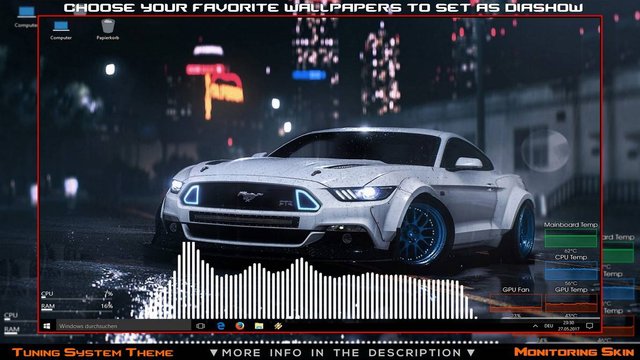 optional features;
hexagon based skin (you need Sigma 1.0 Skin by surre4l)
live visualization of the audio output (you need Lano Visualizer by MarcoPixel)
shows total CPU and Ram usage as percentage (you need Flat Blue Theme Skin by DD-921)
Related Collections:
BMW Wallpaper Tuning Collection
Lamborghini Wallpaper Tuning Collection
FORD Mustang Wallpaper Tuning Collection (coming soon)