DentaVox (Alpha Release): Voice Your Opinion and Get Rewarded with Dentacoin
DentaVox is a new customer intelligence tool, developed by Dentacoin, which actively seeks for users' opinions on dental health topics and thus gathers valuable market research data. In return, users get rewarded with Dentacoin (DCN) which has a real-world value and can be used for paying for dental services, dental assurance fees in future, or it can be stored and exchanged to other currencies, expecting future value multiplication. DentaVox is the the 3rd tool of the Dentacoin Foundation, after the successfully launched Trusted Review Platform (with over 5000 users on board) and Dentacare Mobile App (with more than 1000 installs in the first week).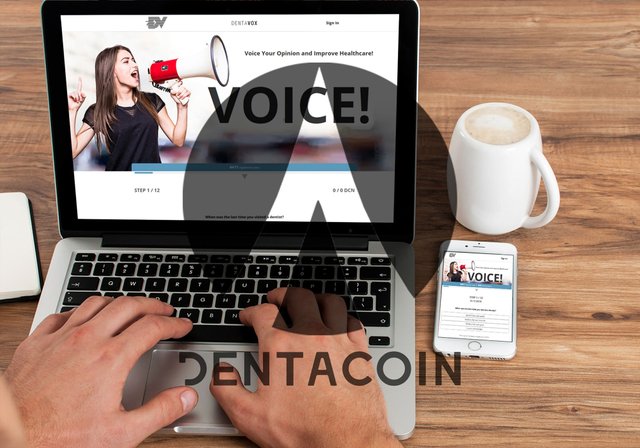 DentaVox consists of questionnaires on variety of Healthcare topics with different length – from 8 to 100 questions, placed in an engaging interactive environment. The rewards in DCN are allocated according to the user efforts*. Smart mechanism detects the concentration of the users when filling in the surveys in order to guarantee high-quality results and prevent manipulations.
DentaVox is a tribune for users to speak out, give their honest opinions, get rewarded and have a strong influence on the industry, as no one could ignore, delete or manipulate their true opinions. The statistics from each open questionnaire are visible to all registered users. They could then be used by dentists, suppliers, manufacturers, media as up-to-date, extremely valuable market research data and as a tool for constant service/ treatment/ product/ process improvement. Thus, DentaVox provides benefits to all Dentacoin network participants.
"This is not the wisdom of the crowd, but the wisdom of someone in the crowd. It's not that the network itself is smart; it's that the individuals get smarter because they're connected to the network." – Steven Johnson
A simple question on DentaVox Opinion Platform would be "Would you consider wearing braces?" or "How likely are you to travel 200 km to visit a dentist?". There are no right or wrong answers. You just give your honest opinion, make an impact and get rewarded.
,b>These opinions, gathered in large quantities, form valuable collective customer intelligence which undoubtedly is the most important asset of every service industry. Modern companies have already realized the utmost importance of bringing this collective intelligence into all business processes. The aim is to develop a co-creation process, where real and potential customers work together with the service/product providers to create and optimize products, services, certain activities and processes on a daily basis. Only those providers remain relevant in the long term as they value the voice of the people who actually give them meaning. There is only one requirement for properly using this valuable feedback: It requires willingness to change. But as we have already witnessed many times in history – only the most adaptive survive.
"Success in management requires learning as fast as the world is changing." – Warren Bennis
As a collective customer intelligence tool, DentaVox can be used for companies to learn more about the likeliness of clients to try a new product, the fears, the communication, payment options, referral likeliness, etc. These "details" are what makes or breaks a business. What's more, in the near future DentaVox will offer options for businesses to conduct custom surveys, based on a pre-targeted audience. For example: Wondering if you should expand your dental practices to another city? Create a survey and take the feedback and needs of people living in this exact region. How likely are your patients to buy a new product for a slightly higher price? Conduct a custom survey to people who are already using your product. Thinking about including a referral bonus? Ask people to see what they would prefer to get in return to their efforts to promote your brand/business.
The opportunities are immense. One thing is for sure: No matter how strong is the institutional control over a certain industry, nobody can control the customer experience and its tremendous impact on the industry. No regulatory authority, no central institution, no powerful organization or individual could control the industry better and stronger than the customer community.
READY TO SPEAK OUT? Go to dentavox.dentacoin.com.