Delicious: Series Three - DVD review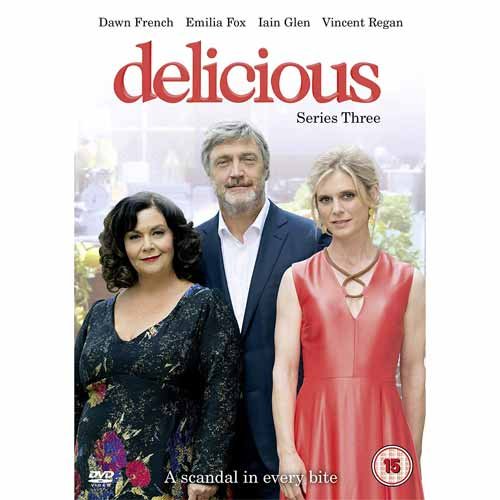 Passionate cook Gina was once married to Leo Vincent, a successful entrepreneur, chef and hotel owner in Cornwall. Leo owes much of his success to Gina's exceptional cooking, but since leaving her for the glamorous Sam, his business has continued to thrive. When Sam has suspicions that Leo is having an affair, she confides in Gina but the secrets and scandals that spill out are proof that sleeping with another woman's husband is never a good idea even if he was your husband first. After Leo dies the two women go into business together, Gina running the kitchen while Sam is front of house...
Series three of Delicious opens at the Penrose hotel, where Sam (Emilia Fox) and Gina (Dawn French) are hosting a glamourous charity auction. Still working and living together, not quite as best friends, following Leo's adulterous legacy, the two ex-wives appear united but have very different visions for their future. How long can this harmony last?
When Teresa (Tanya Reynolds) arrives home from travelling unexpectedly and without Michael, she trusts Mimi (Sheila Hancock) with a secret…but it turns out Mimi is guarding one of her own. The arrival of charismatic chef and restauranteur, Mason Elliott (Vincent Regan) might just throw a grenade right at the heart of Sam and Gina's relationship.
Even if you haven't seen the first two series of Delicious (I'll come clean here and admit that I hadn't - but I have now) it's not overly difficult to pick up who is who and how they are related. The producers manage to introduce the characters to newcomers, without making it seemed forced for those that have been following the show from episode one.
What's intriguing about the show is how the audiences views of characters can change from episode to episode. Is newcomer Mason Elliott a scheming, womaniser who hates to lose? Or a misuderstood enterpenuer who is just trying to get his business off the ground? Michael, who is absent this series, likewise is painted in a bad light to begin with...
While it's a short show, only four episodes a series, what it packs into its run time is incredible. Even more impressive is how Dawn French and Emilia Fox, while the main stars of the show, don't hog the limelight. This season all of the characters get to step forward with impressive and engaging story arcs. Mimi's storyline is particularly moving, especially when you consider that Sheila Hancock lost her husband (the great John Thaw) prematurely in a similar way. It can't have been easy revisiting such a painful memory.
There's a single extra, Behind the Scenes Interviews with Cast and Crew. However the press information indicates that there will also be a Gallery on the finished release.
An entertaining and well written and acted show. The short run of four episodes means that the show doesn't outstay its welcome and certainly leaves you wanting more.
8/10
---
Delicious: Series Three
Starring: Dawn French, Emilia Fox, Iain Glen, Vincent Regan, Tanya Reynolds and Sheila Hancock
Distributor: Acorn Media International
RRP: £19.99
AV3503
Certificate: 15
Release Date: 28 January 2019
http://www.reviewgraveyard.com/00_revs/r2019/dvd/19-01-28_delicious3.html