First Round Delegation Application Renewal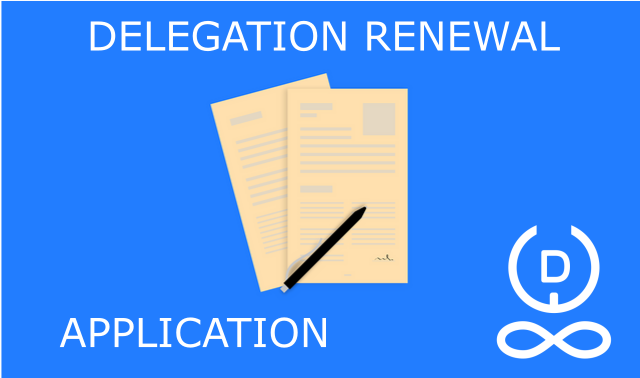 Payment
100 SBD Paid
Transaction ID: Tx [email protected]
Image: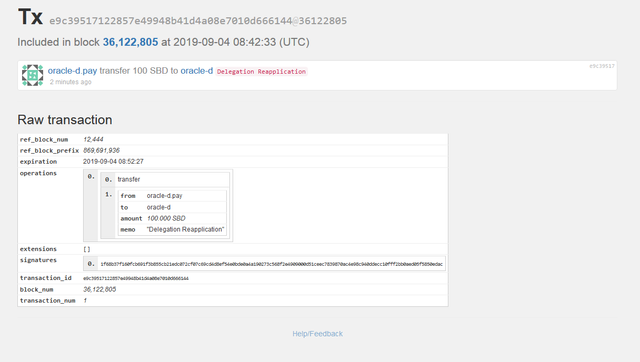 ---
Project Information
Place of Incorporation: London, UK

Token name: Ninja (NINJA), Invite (INV), Oracle-D, Speak (SPK)

Token Type: Steem Engine + SMT

Project Type: For Profit + Steem Infrastructure (account creation)
---
Existing Delegation Received
When did you get the delegation? Sept 2018

Under what terms did you receive the delegation?
To build applications and bring in investment into the Steem blockchain

What was the intended purpose for the delegation?
To build applications and bring in external investment into the Steem blockchain from clients wishing to invest and delegate Steem Power in exchange for services

How have you applied your delegation for that purpose?
Yes, We have build 3 MVP's and have 2 major clients who have invested significantly into steem (480K SP + 146K SP), with a third client (KMG Capital Markets Hedge fund) about to purchase 337K SP to fund their D-Core project

How long are you requesting the continuation with the delegation?
12 Months
---
Market
Allows clients to delegate stake for use in exchange for services, without risking the ownership of their assets. So far, 480K SP ($182K) and 146K SP ($175K), future client purchase is 337K SP ($54K at current Steem prices) –Also our projects work to provide a clear return on the Steemit Inc. delegation (ROD) at the same time, We have returned 63% of a top tier delegation. Markets include gig economy, Video On Demand and blockchain technology analysis and blockchain infrastructure
---
Core Team Details
Matt Starkey @starkerz
A chartered mechanical engineer and project manager, he has lived and worked all over the world managing large scale multibillion dollar industrial projects for over 10 years. Matt became a blockchain and crypto currency investor and enthusiast in April 2013. Having made successful investments in blockchain and the crypto currency markets. He has applied blockchain technology to Co-create the world's first decentralized promotional network, Promo-steem as well as the Oracle-D platform, Andre Gray Football Academy, DCO-RE digital asset review platform and 3Speak video platform.
https://www.linkedin.com/in/matt-starkey-90ba2719/
Dylan Leighton @anarcotech:
A polymath, inventor and radical speaker on a range of futurist issues, having spent many years in the field of both technology and psychology and philosophy. His general interest is in posing questions relating to the rapid acceleration and escalation of technology.
He has spoken all around the globe on issues relating to how emerging technological advances raise questions about how emerging technologies are fundamentally disrupting not only commerce and communication, but also the very nature of how societies organise themselves, and about how these issues are impacting on our psychology and the philosophical questions they raise for individuals, nations and the planet as a whole.
https://www.linkedin.com/in/anarcotech/
https://3speak.online/user/anarcotech
Nico Wehmoen @wehmoen:
wehmoen aka Nico is a self taught developer who joined steem in late 2017. Since then he has been involved in many large and small projects like Steem.Ninja, and 3Speak. When he is not developing something for Steem he usually either enjoys some nice food, watches a movie or meets friends.
@Theycallmedan
Passion: Technology & Entrepreneurialism. Dan's online presence began as an accomplished professional poker player. Then came the world of Cryptocurrency…
Early in his crypto journey he learned of the world's first fantasy sports cryptocurrency, NoLimitCoin (NLC2). Given Dan's background and business network in the betting community, he was quickly hired as the head of business development for NLC2. Through individual excellence and creating a focused team of experts, NLC2 prospered to new heights.
https://3speak.online/user/theycallmedan
@Bait002:
bait002 is a tech-lover, a developer, content creator and undergraduate of economics. He, through an unending drive for the liberation of the ordinary man worked on himself to develop the skillset to actively contribute to the improvement and publicity of the disruptive blockchain technology. He joined STEEM late in 2017 and since then has been a part of some amazing communities/projects such as @steemexchanger (mysteemx.com), @stach and @promo-steem (as a STEEM ambassador). He is either singing, sewing or writing great speeches when he is not working on the blockchain.
Prashant Bhalla @hungryhustle:
Digital Marketing Freelancer and Content Expert, and a full time content creator on the Steem Blockchain. Prashant is highly adept at creating new ways to develop first class content using various forms of media and strategizing its distribution on the Internet. Key strength includes analysing complex information and converting it into easy-to-understand form for the masses. He has been the part of Oracle-D team since the day one managing content (blogs and graphics) and various tasks across Steem and other social media assets
@Honeybee
Curating on the Steem blockchain for almost 2 years and is a highly respected member of the Oracle-D community.
@sisygoboom
A young professional with 6 years of development experience. Currently studying computer science at University. Began developing on steem two years ago as a hobbyist thanks to utopian-io, created a late upvote detection bot, as well as a bot that detects good actors with low SP who might be worthy of delegations to help with RC.
Previously contracted in various development roles and for several years has been working in sales, gaining additional experience while also raising funds for university. Raised more than £20k for the likes of Barnardos, British heart, Marie Curie, and the RSPCA.
---
Minimum Viable Products
https://3speak.online/
3Speak is an anti censorship, high performance video streaming platform, built on the steem blockchain. After its first 3 months of operation it has reached over 100K views per month and is a quickly growing platform for citizen journalists and the deplatformed. it has bought many content creators back to post on steem after they had left other similar services and is now developing towards becoming a DAO and bringing ad revenue into the steem blockchain in order to become sustainable
https://agfacademy.com/
A football academy where young footballers can receive coaching and join teams in order to compete to be top of the leader boards and receive honors such as player of the month, team of the month and coach of the month. We are affiliated with the premiership footballer Andre Gray who plays for Watford and has social media followings in the hundreds of thousands. we are working on version 2.0 and plan to release in December this year. we will then begin working with Andre gray to begin promoting the platform to his social media followers
https://write4.oracle-d.com/ (Soon to be renamed YooDoo)
The Oracle-D platform is a task setting platform. it has leveraged the talents of the steem community to provided content to multiple large crypto and blockchain projects. We are now developing version 1.8 of this platform in order to make it scalable. Release is due in December 2019
DCO-RE
We have worked with our partners KMG Capital Markets to create the Decentralised Comprehensive Objective Research Engine. The beauty of D-CORE is its ability to leverage the vast well of expertise and enthusiasm within the blockchain community. In return, we can help direct significant investment towards projects that will have real social impact.
We have just finished internal testing of the Beta release which is due in September - October 2019. We will be looking to bring on dozens of capable crypto asset reviewers,
Steem.ninja (https://invite.steem.ninja/ & https://steem.ninja/)
an instant onbaording service for steem accounts. you can pay with fiat, crypto or delegate to mine Invite (INV) tokens to invite friends instantly and cheaply to steem. We are currently working to open source this project in order to allow for anyone with claimed accounts to easily tokenise and sell their accounts to the highest bidder - scheduled release is October 2019.
---
Business Strategy
Fiat Revenue Strategy

3 Speak
revenue generated from: donations commissions, ad rights purchases, ad rights mining, subscription fees, live stream donations, use of platform payments

AGFA
revenue to be generated from national level football funding sponsorship organisations, coaching subscription fees, team joining fees and football scout contracts for the top players

Oracle-D task platform (soon to be YooDoo)
revenue generated by client payments in exchange for content creation services + client delegations in exchange for content creation services + white label versions of the platform for other publishers wanting easy access to the steem blockchain task setting mechanism for their own writers and clients

DCO-RE
each month the hedge fund will purchase steem in order to reward the reviewers based on investment asset performance.

Steem.ninja
Revenue generated from a small cut taken from each steem account purchase in fiat, crypto and from curation rewards via delegations to @steem.ninja in exchange for mined INV account creation tokens

Note: All platforms will burn an amount of steem in order to lock value into the chain. 3speak is already burning 3% of all post rewards posted through the platform
Fiat Revenue Projections in $/user every month: 9

How will your business strategy increase the amount of STEEM being powered up and/or burnt?
Any client that wants to access our platforms for services such as ads on threespeak, sponsorships on AGFAcademy, content creation on our task platform or payments to asset reviewers on Dcore will all have to purchase and power up steem in order to be able to obtain access. All of our platforms will burn a certain % of our profits. 3speak.online has already started to burn 3% of all post rewards on the platform

What financial incentives are you willing to provide to Steemit, Inc.
0.2% of all of our tokens per month of delegation or 4.8% of all tokens based on a 24 month delegation.

Are you or how will you become financially sustainable once the delegation is removed?
The delegation is only to allow us to build our communities and content creator pool. While this is ongoing, once our platforms are completed (between Sept and December 2019) we will be able to sell our revenue generating products to potential clients. We anticipate that by Sept 2020, we will have enough revenue income to replace the delegation support that we currently are privileged to have. additionally, once our hedge fund partner has completed their steem purchase, we will have a total delegation from clients of 963K SP. This will provide almost a complete ROD on our delegation from Steemit Inc. we anticipate that our projects will have a total delegation from external clients of 2M SP by Sept 2020.
KPI Progress Measurement
KPI1 description: Unique users of 3speak platform
KPI1 target: 20K Monthly users on 3Speak by Dec 2019.
KPI2 description: Open source Steem Ninja by November 2019
KPI2 target: October 2019
KPI3 description: Release Beta phase of AGFAcademy and the YooDoo task platform by December 2019.
KPI3 target: December 2019
Token Offering (If Applicable)
Token Launch date:
TBD

Total Token Supply at launch:
TBD - tokenomics still being investigated by team

Fundraising target (in order to fund expansion into the operational / project growth phase / mass market adoption):
Target is above 1M USD but less than 10M usd at release

Yearly inflation:
TBD

Percentage of total token supply that will be airdropped to ALL Steem stakeholders (a/k/a SP holders) in proportion to their SP:
TBD however we guarantee that once token economics is finalised, we will free airdrop a portion of our tokens to the steem community based on stake.

How many tokens and what percentage of your token supply will you offer Steemit Inc. / the Steem Community in exchange for the delegation?
0.2% of all of our tokens per month of delegation or 4.8% of all tokens based on a 24 month delegation.

Do you plan to launch an IEO, ICO, STO or other public token offering?
3 Speak - Utility token - Initial Exchange Offering - Depending on tokenomics, this may be offered as a security token - however this is not yet decided. There will also be a private seed round for this token
AGFA - Utility token - Likely Air drop - There will also be a private seed round for this token offered to national level football sponsors
Oracle-D task platform (soon to be YooDoo) - Utility token - Likely IEO or Airdrop - There will also be a private seed round for this token
DCO-RE - Security token offering - There will also be a private seed round for this token
Steem.ninja account creation tokens "Invite Tokens" (INV) - Utility token
Do you plan to raise money from other investors?
Yes for 3 Speak, AGFA, YooDoo Tasks and DCO-RE

What is the vesting period for the following:
a) Team members: at least 2 years
b) Early / seed round investors: At least 12 months
c) ICO investors: tradeable immediately after ICO completed - possibly during ICO for 3speak, due to potential long term raise process

What is the % token distribution to:
a) Team: TBD - Max 15%
b) Marketing: TBD - Min 15% - Max 40%
If you haven't tokenized, but still provide a service, please describe the service and the amount of that service that you're offering to perform for Steemit and/or the Steem community in exchange for the delegation.
We provide consultation services to Steemit Inc, free of charge as well as providing input to issues about app development and steem blockchain integration with apps. We are a key member in the set up of the Steem Business Alliance @steemba. https://steemba.com We plan to run a full Steem node by October 2019 and already run a Steem witness @YooDoo
---
Delegation Request
How much of a delegation are you requesting?
Top-Tier - 1M

Specify the desired time frame for the delegation
12 Months

How will the delegation will be used to add direct value to Steem:
We can demonstrate with examples that it has already been and will continue to be used for the following:
to create new accounts.
to give new accounts 15 SP to give them the resources needed to use Steem and purchase goods and/or services through our platform.
to incentivize the creation of content that promotes Steem / your project on external platforms.
to provide limited trial or discount services to clients to encourage them to hold Steem and delegate in the future.
to bring back large creators to Steem blockchain who stopped posting previously
to incentivise large creators with significant following on YouTube to post to steem
to reward their followers for posting comments on steem
---
Agreement
We agree that our business will continue to leverage the Steem blockchain as long as we are receiving a delegation and 1 year following the removal of the delegation. During this time we also agree to promote the Steem blockchain as a valuable technological protocol that delivers unique value. We are willing to sign a legally binding contract with Steemit, Inc. to this effect.
---
Renewal Questions: Impact to Date Since the Start of Delegations
Table 1 (Totals)
Quarter
Q2 2018
Q3 2018
Q4 2018
Q1 2019
Q2 2019
July 2019
August 2019
(1) # Users onboarded
0
1
240
1,259
1,551
661
371
_
(2a) Users (Steem)
0
1
1
450
800
1,000
1,270
(2b) Users (non steem)
_
_
_
_
150
500
750
(3) Impressions
3,000
3,500
4,000
5,000
250,000
750,000
916,000
Average Steem Price (USD)
_
1.2
0.55
0.38
0.37
0.25
0.17
_
(4) Value disbursed from delegation (USD)
0
0
46,200
31,920
31,080
7,000
4,760
(5) External Revenue (USD)
_
_
_
_
_
_
_
_
(6) Steem Powered Up (Project Accounts)
15,000
15,000
45,210
54,470
65,626
79,067
95,262
(7a) Steem Powered Up (Clients, Steem)
0
156,000
156,000
636,000
636,000
636,000
636,000
(7b) Steem Powered Up (Clients, USD)
0
187,200
187,200
369,600
369,600
369,600
369,600
(8) Steem Power Delegated (Community)
0
0
0
0
1,118,000
1,118,000
1,118,000
(9a) KPI 1 (unique 3Speak Visitors)
0
0
0
0
12,768
12,852
15,596
(9b) KPI 2 (SteemNinja² MVP)
_
_
_
_
_
35%
50%
(9c) KPI 3 (AGFA MVP V2.0)
_
_
_
50%
100%
100%
30%
(10a) Steem burned
_
_
_
_
_
_
3%
(10b) SBD burned
_
_
_
_
_
_
100
---
Table 2: Steem Power Delegated Per Client
| | Q2 2018 | Q3 2018 | Q4 2018 | Q1 2019 | Q2 2019 | July 2019 | August 2019 |
| --- | --- | --- | --- | --- | --- | --- | --- |
| Client 1 | _ | 156,000 | 156,000 | 156,000 | 156,000 | 156,000 | 156,000 |
| Client 2 | _ | _ | _ | 182,400 | 182,400 | 182,400 | 182,400 |
---
Table 1 Notes:
(1) No Note
(2a) This is a total of all time agfa + estimate of steem ninja + accurate numbers of 3speak + accurate number of Oracle-D Task platform 1.5
(2b) This is using accurate number of 3speak non steem users + estimate of Steem Ninja users
(3) Using Piwik and google analytics of our websites- these numbers are out best estimates
(4) 10 votes at 87% vp at 100% with 2m sp, Steem prices of 0.55 for Q4 2018, 0.38 for Q1 2019, 0.37 for Q2 2019, 0.25 for Jul 2019 and 0.17 for August 2019, Does not include curation rewards
(5) No Note
(6) This is a cumulative estimate for the accounts: oracle-d, oracle-d.tasks, oracle-d.pay, steem.ninja, agfacademy, threespeak
(7a) This is a cumulative amount
(7b) This is a cumulative amount and is more than 3x time more than the project has distributed in rewards
(8) Threespeak Community Delegation + Steem.Ninja INV System
(9a) Number of unique visitors on 3speak Goal is to reach 20K unique visitors per month by end of Q4
(9b) Releasing SteemNinja² Onboarding System by November
(9c) Completing AGFA MVP by December 2019
(10a) We have removed our 10% beneficiary after HF 21 and now have a beneficiary of 3% which we burn. First time this will happen is on 03-Sept-2019
(10b) 100 SBD fee was burned on 01-Sept-2019
---
Table 1 Questions / Definitions:
How many new accounts have been created using your projects' account this quarter?

a) How many Steem accounts are interacting with your project (this includes guest accounts as well as Steem user accounts)

b) How many Guest (non Steem) accounts are interacting with your project

How many impressions is your project getting?

What is the total quarterly (USD) value of rewards disbursed directly tied to the delegation? (can be a negative number of your projects is a flagging project)

How much external revenue have you generated in USD per quarter? Do not count Steem income from curation / voting.

How much revenue have you brought to Steem as measured by total STEEM powered up through your project's Steem accounts

How much Steem is delegated to your project to manage on behalf of your clients? (fill sum in table 1, and show break down by client on table 2)

How much Steem Power is delegated to your project from the Steem community?

For the KPIs listed above, back report progress for the duration of the delegation on a quarter by quarter basis.

How much Steem / SBD has your project burned?

Describe what value the project continues to bring to the Steem community and why the community should continue to support your project?
The 5 applications that we run on steem have allowed us to bring in significant amounts of steem from external fiat purchases. This amount will exceed 1Million steem before Christmas 2019. We have bought several highly influential content creators back to steem who had stopped posting several months ago. We have put the steem blockchain in front of one of the biggest footballers in the world. We have vastly improved the on boarding process making instant accounts easy to access and the ability to on board friends instantly accessible to all. We have bought job opportunities to hundreds of steemians who write great content for our clients. We have funded and supported hundreds of children and young footballers in disadvantaged areas while they have purchased kit with the steem blockchain logo, with the next step being to use our connections in the football world to begin marketing the app and bringing investment in. We have provided asset review jobs to several steemians who tested our DCORE platform this year and will open the platform out to the rest of the community in October 2019. We allow steemians and other deplatformed and demonetised creators with huge external followings to post using blockchain technology with no fear of censorship or demonetisation.
Each of our applications and services are growing and, with the release of the next versions of the platforms in December and November 2019, we have a solid base and community ready to begin the marketing process in Q1 2020. The aim is to replace our Steemit inc Steem delegation with delegations bought in by fiat purchases made by external clients by September 2020. Platforms like 3speak are well into their beta phase and are growing quickly and DCO-RE is about to bring in large scale investments from professional hedge funds. Steem ninja continues to provide a top class on boarding service, especially once it is open sourced and provided to all. Our task platform has established clients and relationships that we have bought in over the previous year, once a saleable version is released we will be able to bring additional business into the chain as well as white label both our task platform for other publishers and the 3 speak platform for content creators

Describe your project roadmap with expected timelines and milestones.
3 Speak
Dec 2019
Reach 20K Monthly users
Complete Beta Phase
Issue White Paper
Bring in first advertiser clients
Ad Mining
March 2020
Decentralise Video Storage
White Label Service
Platform Governance System
Pod Casting
Live Streaming
Verifiction System
July 2020
Implement decentralised marketing incenitve program
Sept 2020
---
Andre Gray Fooball Academy
Dec 2019
March 2020
Marketing campaign with Andre Gray
Sept 2020
---
Oracle-D task platform (soon to be YooDoo)
Dec 2019
V1.8 scaleable MVP release
March 2020
White label Service
Implement decentralised marketing incenitve program
July 2020
---
DCO-RE Asset Review Platform
Nov 2019
Open Fund
release V1.0 or platform
onboard new asset reviewers
bring in new clients
March 2020
Complete initial fund raising
Invest in first assets
July 2020
Sept 2020
---
Steem.ninja
Nov 2019
Open Source Steem Ninja system to whole steem community in order that anyone can tokenize and sell their own instant accounts from their own claimed account balances