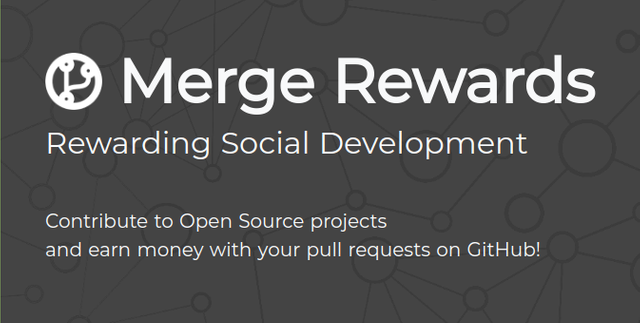 Project Information
Company name: -
Place of Incorporation: Would be Germany
Market
What problem is the product / project solving?
The project provides an easy way for project owners and others to incentivice collaboration on their own or favorite open source projects. It also provides a solution for the onboarding problem of the Steem platform.
(I am now a little bit confused about the meaning of the heading "Market". Sorry if my answer misses the point of the question.)
Core Team Details
The only team member is me. I worked as a software developer for 12 years and I am active on Steem for more than two years. I was leading the moderator team for Utopian's development category for some time. Currently I am working in a free software company of ~25 employees. If this project is successful, making it a half- or even full-time job at some point, seems imaginable.
Minimum Viable Product
The MVP you can see here: https://merge-rewards.com
Even though I strongly emphasize that I consider this to be a prototype, it is running and working. But I'm just a single guy so... #works-on-my-machine
GitHub users can claim rewards and withdraw them in different cryptocurrencies like Bitcoin, Ether or STEEM. The implementation of a bounty system comes next.
Business Strategy
Fiat Revenue Strategy:
The project provides a proper usecase for organizations and individuals to invest in cryptocurrency, especially Steem. Part of this investment can be converted back to fiat. It is also planned to offer a way to purchase increased scores for limited periods of time for a specific repository or to buy Steem Power for a separate account to increase rewards for contributions to a specific repository.
Fiat Revenue Projections in $/user every month: $1-10
How will this increase the amount of STEEM being powered up?
Project owners will be able to invest in STEEM as Steem Power to increase the automatic rewards for contributions to their project.
What financial incentives are you willing to provide to Steemit, Inc.?
Revenue share sounds most straight forward.
How will you become financially sustainable once the delegation is removed?
The SP part of the rewards generated by "GitHub-only" users will go directly to the @merge-rewards account. There will also be regular (100% SP) posts about statistics and promoted projects/bounties.
KPI Progress Measurement
KPI1 description: Numbers of connected GitHub accounts
KPI1 target: 1000
KPI2 description: Number of claimed pull requests
KPI2 target: 1000
KPI3 description: Number of bounties
KPI3 target: 100
Token Offering
There is no own token yet. Once I figured out an applicable usecase for an own token, that does not unnecessarily over-complicate things, an implementation is possible, if the STEEM based model compares bad against it.
Delegation Request
How much of a delegation are you requesting?
Test-Tier
Specify the desired time frame for the delegation in 6 month increments: 6 Month
Which one of the following answers best describes how the delegation will be used to add direct value to Steem:
A. It will be used to create new accounts
B. It will be used to give new accounts 15 SP to give them the resources needed to use Steem and purchase goods and/or services through our platform
C. It will be used to incentivize the creation of content that promotes Steem on external platforms
D. It will be used to provide limited trial or discount services to clients to encourage them to hold Steem and delegate in the future
A
[x] We agree that our business will continue to leverage the Steem blockchain as long as we are receiving a delegation and 1 year following the removal of the delegation. During this time we also agree to promote the Steem blockchain as a valuable technological protocol that delivers unique value. We are willing to sign a legally binding contract with Steemit, Inc. to this effect.