DLIKE Offering 1:1 Daily Return On All Delegations - Delegate To Dlike Earn 100% Daily Tokens
Hello Steemians!
Here is an announcement for all those steemians who are not yet aware of best investment opportunity for their delegations.
DLIKE is offering 1:1 daily return on all delegations
Yes, Its true and this offer by DLIKE is going on right from the start as its time to announce it again for all those steemians who want to delegate their SP, should get benefit from this huge offer.
What is 1:1 Daily Offer?
1:1 offer means, for every 1 SP (or any amount) that you delegate to DLIKE, you get 1 DLIKE token daily for that. Just to say if you delegate 1000 SP, you will get 1000 DLIKE tokens daily.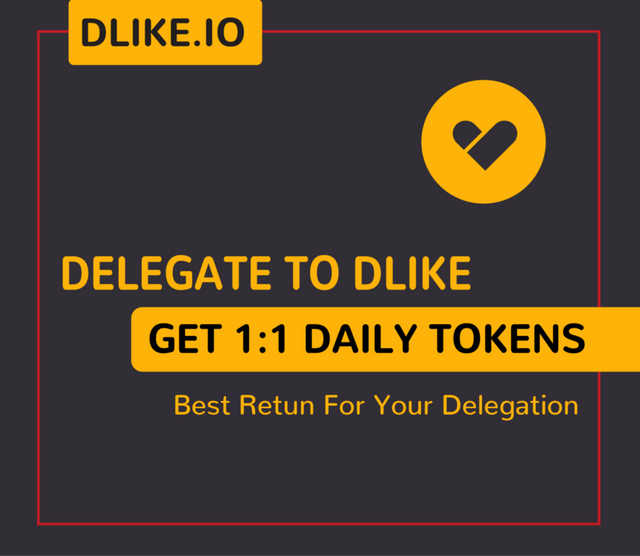 How and When I get Paid?
Dlike tokens are paid weekly into users DLIKE wallet. You can check your token balance by searching your STEEM username on https://dlike.io/explorer
Why You should delegate to DLIKE?
Dlike is one of the fastest growing dApp on steem blockchain which has started its first IEO this week with a token price of 0.025 USD. Dlike will be listed on exchanges by end of May or mid June so all the tokens which you hold will be materialized with a real good value. So its best time to make a good decision and earn DLIKE tokens by delegating to DLIKE.
In addition to DLIKE tokens, we also pay STEEM and SBD which is 5% of the total(9%) beneficiary reward.
DLIKE IEO Ends in 24 Hours - Hurry Up to get Big Bonus
Dlike IEO which was started on Monday 8th, April will end tomorrow 14th, April. Dlike is offering huge bonus for top buyers so hurry up to get $45,000 bonus reward. To participate in IEO, go to IDCM Korea exchange here https://www.idcmkorea.io/coinsale/home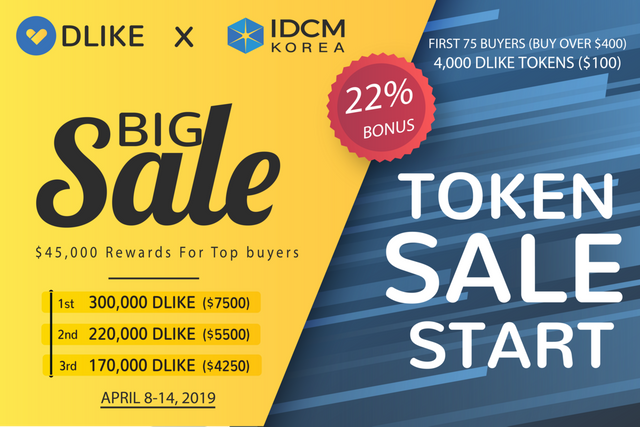 Promote Dlike - Get Free Dlike Tokens
Dlike is offering 3k to 5k Tokens per promotion articles on different crypto related sites including medium. If you are associated with any of the top crypto related websites then get in touch with us to write about dlike and get dlike tokens.
We are thankful to @fundition for all the support of upcoming developments.

 @freedom | @supergiant | @glory7 | @onetin84 | @vimukthi | @shellyduncan | @lukestokes | @steemshiro |@holbein81 | @taskmaster4450 | @bitshares101 | @rosatravels | @michelios | @inertia | @lebin | @freegon

Delegate Your SP to Dlike
We are giving daily tokens equal to amount you delegate to dlike.
If you delegate 1000 SP, you will get daily 1000 dlike tokens (paid weekly on each Monday) plus 5% beneficiary reward plus instant bonus tokens.

Follow @dlike for all future updates!
Join our Discord channel for feedback & questions.
Web: dlike.io | App: Android App
Follow us on
Dlike Twitter | Dlike Instagram | Dlike Telegram