Overview of Zyro's AMA with MXC Exchange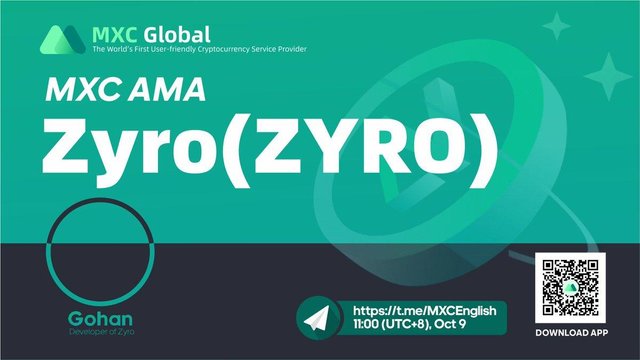 Zyro's developer lead Gohan was invited to the MXC English group for an AMA with the community at 11 am, Oct 9, UTC+8. Zyro received a warm welcome from the MXC community with a high volume of great questions. In total, 10 question raisers and three quiz winners received ZYRO tokens as rewards. Don't worry if you have missed the AMA as you still have the chance to win ZYRO rewards by following these steps:
🔸New Users Airdrop:
Activity period: 00:00 UTC+8, Oct 8 - 00:00 (UTC+8), Oct 10
Register on MXC, KYC verified, trade/net-deposit no less than 100 ZYRO, will be rewarded 30 ZYRO, for first 150 users. Submit
https://forms.gle/PMRwojrKVX2khMN27
🔺All activities end at: 00:00 (UTC+8), Oct 8
To be eligible for the prize:
▫️Join MXC English (https://t.me/MXCEnglish) & Channel
(https://t.me/MXCofficialNews)▫️Follow MXC Twitter (MXC Exchange (https://twitter.com/MXC_Exchange) & MXC Fans (https://twitter.com/MXC_Fans))
▫️KYC is mandatory to claim the rewards, please make sure KYC verified before 24:00 Oct 9 (UTC+8).
Overview of the AMA
We have also made an overview of the AMA, which covered many valuable questions about Zyro.
Project and guest introduction
Gohan: Zyro is a Zilliqa-based decentralized protocol developed by Zilliqa's community members. ZYRO is the governance token of Zyro protocol, with which users are able to participate in the plan and asset management of Zyro. Zyro allows users to mine through providing liquidity and trading on its swap. Meanwhile, users are able to gain ZYRO tokens by inviting others to become nodes or becoming nodes themselves. With Zilliqa as its underlying public chain with higher efficiency, Zyro greatly increased the transaction speed and reduced transaction fees, making frictionless trading a reality. It is also an ideal battlefield for frequent traders.
Zyro has successfully attracted investment from institutional investors like CRC Capital, Consensus Lab, Bkex Capital, Waterdrip Capital, Chain Capital, SNZ Capital, Bitrise Capital, etc. Zyro was also the first project listed on OKEx's Jumpstart program, with 120 million OKB (over $700 million) in TVL during its peak.
I have been a Zilliqa fan the whole time, been in the crypto field for 5,6 yrs ever since eth was around. I am a developer on multiple chains, ethereum, iota, eos, tron, iost, etc, but spent the most time on zilliqa this year.
5 questions from the community
Q1. How does ZSwap deal with other DEXs currently obstacles to accessing DeFi services : high gas cost with on-chain transactions, liquidity being fragmented to various protocols and services, trade fee, subpar UI/UX and lack of efficient market-making mechanisms? What are your competitive advantages that convince users to use ZSwap instead of UniSwap?
Gohan: The uniqueness of Zyro lies in its wide variety of mining methods. Currently, most swaps adopt liquid mining as the main method. In the early stage, it is relatively easy to have beautifully high APYs. However, with the inflow of capital and the declining advantages possessed by early investors, the APY becomes less attractive. Users will inevitably move their money to other swaps with a better APY. This explains why most swaps fail a brief period after the launch.
To tackle this challenge, Zyro designed a three-stage mining model. The first stage is the common liquid mining and when the rewards slowly lower, trading mining will be launched to encourage the generation of transaction fees. Node mining will be open in the third stage. 50% of transaction fees will be distributed among the highest level of nodes and the remaining 50% will be given to successful referees, meaning that 100% of the transaction fee will be returned to users.
This mechanism will create a closed loop of user behavior, namely "buy-deposit-stake", opposite to "mine-withdraw-sell".
At the same time, Zyro won't create direct competition with Uniswap. Their relationship is more like Baidu and Google. Despite similar services, the two have different user bases, forming a complementary relationship.
Q2: How important role play Zilliqa Network for Zyro.Finance Project? By choosing Zilliqa Network, what are the advantages Zyro.Finance especially got?
Gohan: We all know that all the yield farmers are suffering from the high friction/low efficiency of ETH swaps.
The challenges faced by ETH don't end at high Gas fees and low TPS. More importantly, the unpleasant user experience has excluded many users, so that many businesses are not able to be carried out.
With the current transaction fees, the ROI is limited for any single staking investment lower than 10,000 USDT, which means that nearly 99% of the long-tail clients are excluded. The low processing speed is another problem stopping high-frequency traders to get involved.
But zilliqa solved this performance issue. Zilliqa adopts a combined consensus mechanism of PoW and PBFT, instead of PoW alone. It has greatly reduced the resources consumption of mining, making the transaction fees much lower. Currently, the transaction on Zilliqa is about 0.002 ZIL, which is about 0.00004 cent, a nearly neglectable value. With Sharding technology, Zilliqa is able to increase its TPS to more than 2800, making high-frequency trading a possibility.
In fact, high-frequency transactions make up 80% of the entire transaction volume in centralized exchanges. High-frequency trading activities involve cross-exchange arbitrage, options arbitrage, and triangular arbitrage. The inclusion of these high-frequency traders is able to bring disruptive changes to the entire trading ecosystem.
Apart from the performance advantages mentioned above, Zilliqa launched XSGD, which is similar to the DECP for Singapore in collaboration with its eco-partner xfers. Meanwhile, Zilliqa will issue a part of BUSD with Binance. With these original stablecoins, Zyro will have more trading pairs and more arbitrage opportunities. As a result, it will naturally attract more users. Also, ZIlliqa is actively discussing the realization of cross-chain assets with some cross-chain protocols. In the future, more assets like BTC and ETH will be wrapped onto Zilliqa, enriching the trading ecosystem of Zyro and enhancing the Lego attribute of DeFi projects on Zilliqa.
Q3: What are the advantages of ZYRO tokens over other tokens? What benefits can be obtained by holding it?
Gohan: On top of what we've talked about, zyro has a 25% pool for node miners, which means that holders can stake their zyro in zyro wallet and get a 20-50% APY without any impermanent loss, the APY increases while the node level upgrades, and the node level depends on not just the amount of zyro a node stakes but also the number of nodes a user invite to join the ecosystem. Tokens not being mint by node miners will be burnt in a yearly basis.
Q4: Auditing plays an important intermediary role in the development of DeFi projects. What audit methods has Zyro applied in project development? Can you talk more about it?
Gohan: Yes, but zilliqa has a better way of solving the security issue than auditing.
Scilla is a smart contract language developed for the Zilliqa blockchain. Scilla provides a clean separation between communication (asset transfer or call another contract) and computation. Scilla is non-Turing complete, which means that it does not support applications that require certain types of loops or conditional logic. However, its incompleteness makes it subject to formal logic proofs. This is important for security purposes. By proving the contract, users can know that the contract is secure in a verifiable way before using the contract. This is what Ethereum's solidity does not have, and it is also the most direct guarantee of security.
In order to ensure security, zyro will soon conduct a Bug Hunting Bounty on Gitcoin, inviting the whole community to review Zyro's contracts. Engineers who spot bugs will be rewarded with ZYRO token.
Q5: Mainnet launch is one of the many factors affecting the value of a digital asset And this will attract many users to invest in a Blockchain Company What are your plans about that? What are your upgrades and integration of your Mainnet? Can you tell me about your $ZYRO token and utility?
Gohan: Zyro will launch its testnet this week and is planning on an airdrop of its test tokens to the Zilliqa community, which will be migrated to the mainnet in one to two weeks. Meanwhile, the Bug Hunting program will be released. The liquid mining will be open upon the launch of mainnet, which will be followed by trading mining and node mining. Before the launch of mainnet, there will be a portal helping ERC20 token holders to switch their tokens to ZRC2 on Zilliqa. In the future, Zyro will collaborate with other projects in the Zilliqa ecosystem. If anyone is interested in learning the latest development of Zyro, plz join us @zilliqaplanet on telegram.
Free Q&A
Q1: I'm a white hat hacker in internet, do you think #your system is secure enough from hackers? Does your project have a program that rewards individual vulnerability detection of the system?
Gohan: yes, as i mentioned, we are gonna issue a bug bounty on gitcoin.co, feel free to join it, we believe in hackers more than auditors😁
Q2: Are you a global project or local project? Can anybody anywhere use Your project without any restrictions?
Gohan: Zyro is a global project, all languages promoters are welcomed, I believe I've seen YouTubers from Russian, Indian, France, or other countries trying to make videos for Zyro.
Q3: Many new projects made a good impression at first but were suddenly abandoned. How will you manage the project and token to gain a place in the market and become a best token in the blockchain world?
Gohan: that's an interesting one, in fact, Zyro never aimed to be the 'best token' in the world, in contrary, we believe in the composability of the defi world, we've seen a lot of projects trying to pull off dex+stablecoin+lending+insurance, to us thats again the blockchain spirit, we would rather be a piece of lego and connecting to other legos in an open way.
Q4: What is your long-term vision about the industry which #you are working on? Are you afraid some day there will be another project with more innovative technology can replace #your project? Because we can see many crypto projects related with this concept recently.
Gohan: DeFi unquestionably involves bubbles in its first few months. However, most innovative products create bubbles in its early stage. The bubbles are actually attracting more attention and users. The real question is whether the product is able to grow steadily and healthily after the burst of the bubbles.
In economics, a fad describes a business where a peak is not followed by a higher peak, like tulips. In contrast, if a peak is followed by a higher peak and the situation repeats itself again and again, the product is a long-term business, like Bitcoin. DeFi seems to have calmed down for this circle. However, I have high expectations towards Uniswap V3 and Bankor V2. I believe that their launch will inject new energy to the whole DeFi market. Meanwhile, the current upsurge was created by various types of forked projects, which are indeed plagiarism from a traditional perspective. However, I think it is very "blockchain" as all codes are open-source and everyone has the chance to add his or her own ideas on top of existing works to launch a new product.
This forces everyone to consistently make progress, otherwise your project will be abandoned. Uniswap claimed that it wouldn't issue tokens at the beginning of the year but was forced to issue its native token under the pressure imposed by SushiSwap. This is a result of market competition and the results of this kind of competition are normally positive and healthy.
Q5: Although ETH 2.0 is delayed to next year, but it will solve all exist problem of ETH and become the best choise for dApps in future, so do you think this is a threat for Your project and how could you overcome this barrier?
Gohan: Please refert to Q3 in this section.
Follow Zyro
Zyro — A DeFi Project in Zilliqa Ecosystem
Developed by core members from the Zilliqa community, Zyro is a decentralized protocol based on Zilliqa public chain, with ZYRO being its native governance token. ZYRO holders are able to participate in future planning and asset management for Zyro. Users are allowed to mine ZYRO by providing liquidity and trading on DEXes. They can also get ZYRO through successful referrals and becoming nodes. The underlying public chain Zilliqa adopted by Zyro greatly increases the transaction speed and reduces transaction fees, enabling a frictionless trading environment and the best battlefield for frequent traders.
Contact us
Official website: https://zyro.finance
Twitter: https://twitter.com/zyro_finance
Telegram: https://t.me/officialzyro
Contract address: https://viewblock.io/zilliqa/address/zil1ucvrn22x8366vzpw5t7su6eyml2auczu6wnqqg