The Biggest Defi And Swap Exchange Is On Our Way
In the world of crypto things are changing fast especially now the Defi, Farming and Staking project fuel more people to enter and invest in crypto.
Now the biggest Swap Exchange project is on our way, A decentralized exchange (DEX) is a cryptocurrency exchange which operates in a decentralized way, without a central authority. MoonDeFi is a protocol offers token swapping or buying and selling of Erc20 token in fast and easies way because it is decentralize exchange there will be no third party involve. We all know the the congestions of Ethereum network makes transaction fees to high were every one complain. But when the 2.0 Ethereum network will be launch that problem will be solve. By that time Swapping toke using MoonDefi platform will become in demand than using centralize exchange because your token will not leave on your wallet.
MoonDefi Project is built in ethereum network with a Total Supply of 210 000 Token, The MOON token price in the pre - sale is ranging from $0.25 to $0.75 to allow more community members to participate in the sale. This is the best opportunity to fevery one to buy MOON token because this will easily goes to the moon.
If we compare MoonDefi to Uniswap. MOON total supply is 210 000 Token, while Uniswap total supply is 1 000 000 000 Token, Uniswap start only in September 17, 2020 and now the Uniswap token price is already 3$ each. Imagine if MoonDefi is already running on the market with the supply of 210 000 for sure price will easily goes to 10$ in just few months and you will see also how your investment grow fast by holding MOON token or Staking it on there site.
You can visit MoonDefi website in here: https://moondefi.org/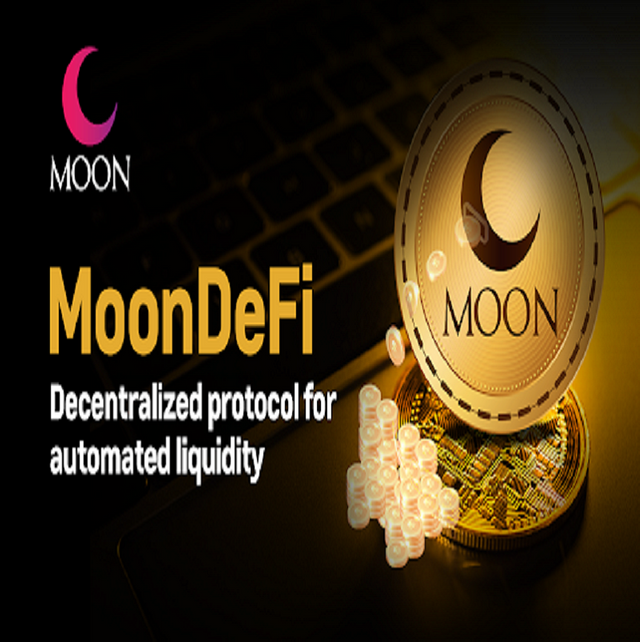 MoonDefi offers a variety of investment products like staking. Staking is the process of actively participating in transaction validation (similar to mining) on a proof-of-stake (PoS) blockchain. On these blockchains, anyone with a minimum-required balance of a specific cryptocurrency can validate transactions and earn staking rewards. You can deposit a pair of Erc20 tokens, Stablecoins, WBTC and other crypto that is listed on there site https://moondefi.org/ that will give investors a good Return Of Investment or ROI as you can see in the picture bellow, If you want to Stake Moon Token in will earn 150% APY , the more you stake the more profit you get and you can un stake it any time you want.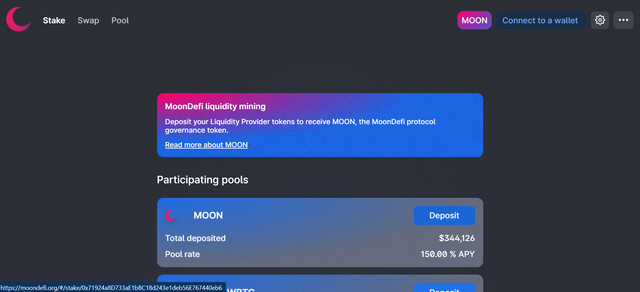 DeFi is short for "decentralized finance," an umbrella term for a variety of financial applications in cryptocurrency or blockchain geared toward disrupting financial intermediaries. Defi is the most talk about project today and it is hot to the eyes of investors because of its high return of investment some defi project offers 100% to 7000% APY%, imagine you money will be double in a short period of time and MoonDefi offers Defi farming with a good ROI with low risk investment. Yield farming is when cryptocurrency holders sock digital assets like bitcoin (BTC) and ether (ETH) or dollar-linked tokens like tether (USDT) and dai (DAI) into blockchain-based, semi-autonomous lending and trading platforms in exchange for additional tokens as rewards. MoonDefi have a lot of pairs that you can chose in there site with a high APY% (Annual Percentage Yield) , In order to farm you need to deposit a pair of crypto, it should be a 50:50 ratio and one of them must be MOON token, in every pairs they have deferent APY% and the profit you will get is in the form of MOON token this are some of pairs that you can see in the MoonDefi site https://moondefi.org/ MOON-USDT, MOON-DAI, MOON-Eth, MOON-WBTC, MOON-UNI, MOON-Link. They have also Liquidity pairs like WBTC-USDC, ETH-DAI, ETH-LINK, ETH-UNI, ETH-WBTC.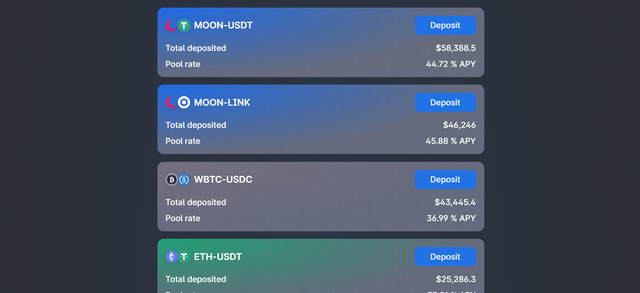 MoonDefi is a decentralize exchange that will able you to exchange any ERC20 token with a small fees and a portion of its trade (0.30%) goes to a liquidity provider as a protocol incentives. So if you want to exchange you token or buy or sell it you can do it in MoonDefi. You can provide a Liquidity Pool in deferent pairs in order to earn incentives and the more invest in the pool the more earning you will get. In Adding Liquidity Pool a pair of token are lock in smart contract and you will earn from the fees when users exchange or swap token the same token pairs that you add in the pool, you need to choose the must tradable or the high volume of pairs so that you will earn a better RIO, pairs like MOON-Eth, MOON-WBTC, Ether-USDT, WBTC-USDT, Ether-WBTC , Ether-DAI, WBTC-DAI.
By adding liquidity you'll earn 0.3% of all trades on this pair proportional to your share of the pool. Fees are added to the pool, accrue in real time and can be claimed by withdrawing your liquidity.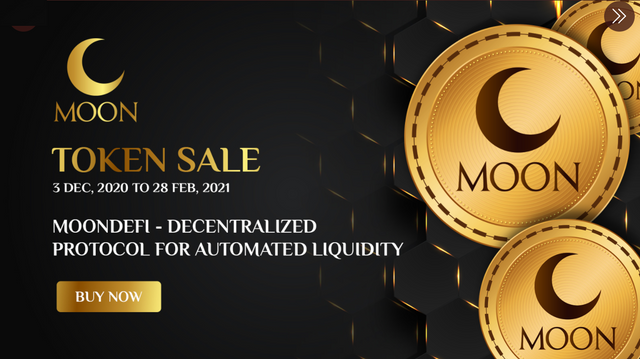 MoonDefi is have a Pre-Sale

🔥MOON DEFI TOKEN SALE🔥
Symbol: MOON
Token type: ERC-20
Total Sale: 32,000,000 MOON

For more Info you can visit there social media
Twitter Page: https://twitter.com/moondefi_info
Telegram Group: https://t.me/moondefiofficialgroup
telegram Channel: https://t.me/moondefiofficial
Medium Page: https://medium.com/@moondefigroup
Reddit: https://www.reddit.com/user/moondefi
MoonDeFi Site: https://moondefi.org

MoonDeFi Contact
[email protected]
[email protected]
MoonDeFi Contract & token addresses
Contract: 0x765b2d50dE69219A418383F79a4973568d537F90
Token: 0x71924a8d733ae1bbc18d243e1deb56e767440eb6
---
---