Defi.trade The world-leading decentralized exchange
Decentralized finance is one of the latest innovative technology that has emerged out of the block-chain-powered decentralized economy. Defi users can borrow, lend, trade, invest, and make the payment without any financial institution's need as a gateway. Precisely, the financial institution is replacing by decentralized smart contract protocols. The fast-growing Defi market is a testament from the block-chain industry, which links a single block of data to the other transaction data block. As transactions continue to be recorded, eventually forming the chain of blocks.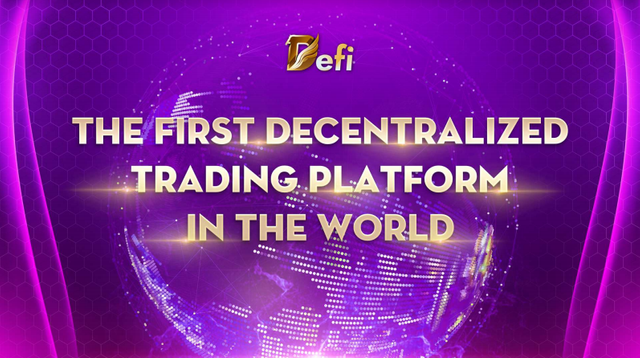 Traditional investment
Defi is the traditional investment platform where you will find various DeFi products, including savings and checking accounts, loans, insurance, and any service that a bank or any financial institute can provide. Investors find DeFi as an appealing platform to lend their crypto assets on their platforms; they will get interested in return.
Some people believe that a decentralized market will diminish because they can not infiltrate using any resource. DeFi is virtual trading and investing market, and there is no physical presence of the administrative finance market. Therefore, investors have the freedom from the middleman or any third party handlers.
A decentralized finance trading platform can handle the absence of gatekeepers and facilitate a whole new virtual finance ecosystem in a permissionless and open way. It is a platform where lending and borrowing are a part of it; moreover, stable coins, derivatives, decentralized exchange, margin trading, and insurance are also part of this financial ecosystem. Having no interference with a third party could bring a low exchange cost than in the gatekeepers' sector.
Defi.trade platform will offer the world's best cryptocurrency trading service. Interoperability is a pillar of the decentralized finance community, and it is critical because it ensures that as more developers enter into the platform, previous data will not be lost.
DeFi Products
Currently, most of the DeFi projects are build on ethereum. It relies heavily on cryptography block-chain and smart contracts. Besides that, the ethereum is the most developed ecosystem across all smart contract platforms. In competition with the thousands of developers building new applications every day.
We can say that Defi is the low-cost, fast, efficient, trustworthy, and completely transparent global financial system that operates without any central authority and is highly accessible to everyone worldwide with a smartphone or internet connection. DeFi enables you to access many financial products or services without getting approval from anyone. It doesn't use credit scores or discriminate based on the location where you live.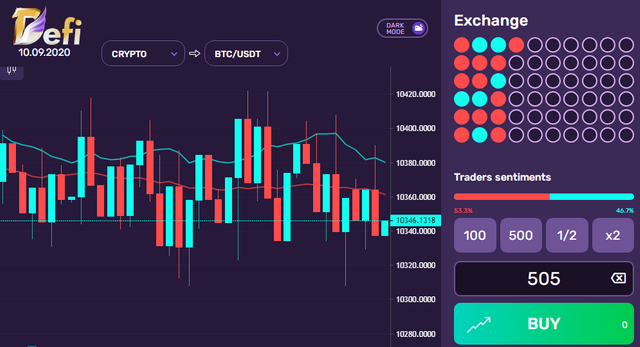 The Optimal Trading Method
Several trading methods are currently in use among traders and investors for trading purposes such as Binary trading, Forex trading, Cryptocurrency, and CFDs. CFD trading is the optimal trading method, an asset-based trading platform, newer in the market than others. A contract for difference, generally known as CFD, is an agreement between an investor and a CFD broker. The deals could be programmed to switch the assets and would execute the trade automatically. The critical factor to keep in mind here is that smart programs receive and redistribute digital assets. At the end of the contract, they exchange the difference between the opening and closing values of a specified financial product, including shares and commodities.
CFD doesn't require a particular marketplace and has several ratio-based aims, plans, risks, or rewards. Usually, it can not be related to currencies only but also stock, shares, commodities, and cryptocurrencies. It provides buying and selling contracts via online providers. Trading CFDs is riskier than traditional share trading. Each time you are taking a risk, you could make a profit. CFDs are used by daily traders to make the price bets as the price of underlying assets will rise or fall. Because there is no expiry on CFDs, they can hold indefinitely as long as you can fund it.
Unfortunately, many of the investors misunderstood the term "get rich quick" and loses a massive amount of money overnight. Since CFD is the difference value, there are some expenses an investor has to bear. However, CFDs can be amazingly risky for new investors. Not every firm is allowed to offer CFD trading. You need to find out a platform that is up for the decentralized trading market.
However, Defi.trade is the CFD trading platform regulated and designed for the decentralized finance trading platform. DeFi trading platform incorporates the latest block-chain and artificial intelligence (AI) technology, highly-professional developers have created a decentralized platform for investors. This platform's design is so simple that everybody can use it to get an advantage from trading without any financial institute. Because of its risky nature, the investor needs to pay attention while investing.
DeFi depends on decentralized applications, which are programs designed to function within the decentralized networks. These protocols are decentralized in nature and have no central authority or agency that monitors these applications. These decentralized applications will soon set new standards for the global economy and provide the world with a more democratic existence.
Every trader will have easy access to the platform as it is very easy to use and will give you very accurate price predictions.
Defi.Trade Team: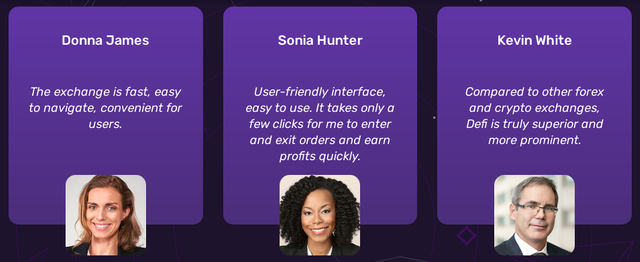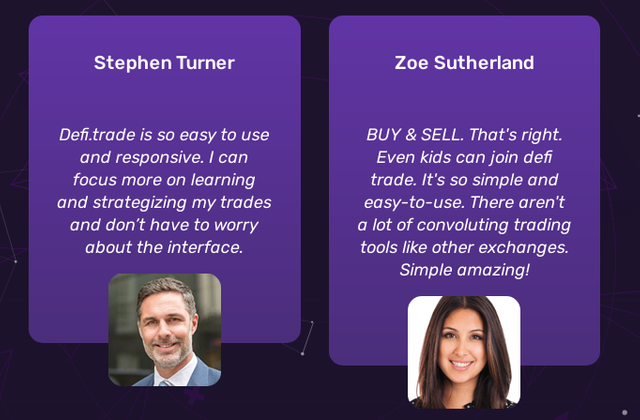 For more detail and news Join Defi.trade all social media channel especially Telegram and twitter as there you will get latest updates and you can ask for any help.
Website: https://defi.trade/
Exchange: https://live.defi.trade/
White Paper: https://drive.google.com/file/d/1_ChG09bl29HTSstIpf_HFOHCeNNf7484/view
Youtube https://www.youtube.com/channel/UCKQ1pUh2yzivLazjLAN03yg
Telegram Channel: https://t.me/defitradeexchange
Telegram Group: https://t.me/defitradegroup
Facebook: https://www.facebook.com/defitrade/
Medium: https://medium.com/@defitrade
Twitter: https://twitter.com/defitrade
WPP DEFI TRADE EN: https://bit.ly/DEFIWPPEN

Authors info
Bitcointalk username: shaheer001
Bitcointalk Profile url: https://bitcointalk.org/index.php?action=profile;u=1039087