I love DeFI. In this world something crazy is going on today. On dydx (https://trade.dydx.exchange/) you can earn 15% interest when supplying DAI at this moment, while loaning cost you about 19% APR.
WOW
Check this out:

Right now you can go to Maker and create DAI at a cost of 12.5 APR and supply it to dydx and make a profit.
How is this possible?
First we have to understand how these service work: In essence these DeFi projects work the way kids think that a bank works. Someone gives the bank some money, the bank lends it out to someone else at a higher interest rate. And some money has to be kept not loaned out so the bank can pay back people that want their money back.
So we have a
supply amount
borrowed amount
liquid amount (the difference between the two)
The interest rates are basically determined by supply and demand to manage liquidity. In other words interest rates are setup in a way that there is a healthy ratio between the supplied money and borrowed money. If lots of people borrow, they have to pay higher prices and if the ratio of borrowed vs supplied money is low than the spread between the two interest rates is high as well.
The most important aspect is the liquidity. If all the money the bank has is loaned out it has a problem, because it promised to pay people back any time. But when it cannot pay people back that is an issue and may cause a bank run.
Currently the liquidity of DAI on dydx is low.

Only about 15% of the supplied DAI is available as liquidity.
The situation is entirely different on compound: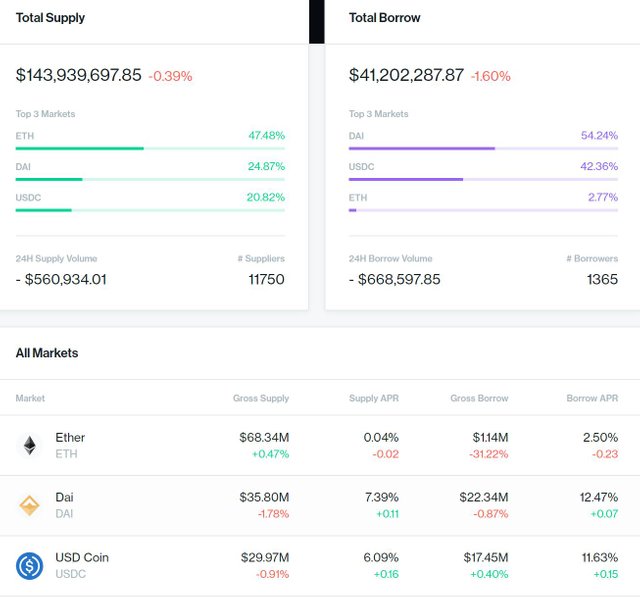 So overall there is a liquidity crunch on dydx and the interest rate is reaction superbly. This is beautiful to see. An interest this high will force smart market participants to move liquidity from compound or other sources to dydx.
Why the difference?
I am surprised that money does not move from compound to dydx more quickly.
I am wondering if the internal market of dydx plays a major role here. Still I would assume that someone just auto moves funds where the yield is best.
I will be watching this and see how it develops.