UNICAP exists to Boost the Crypto Users' Returns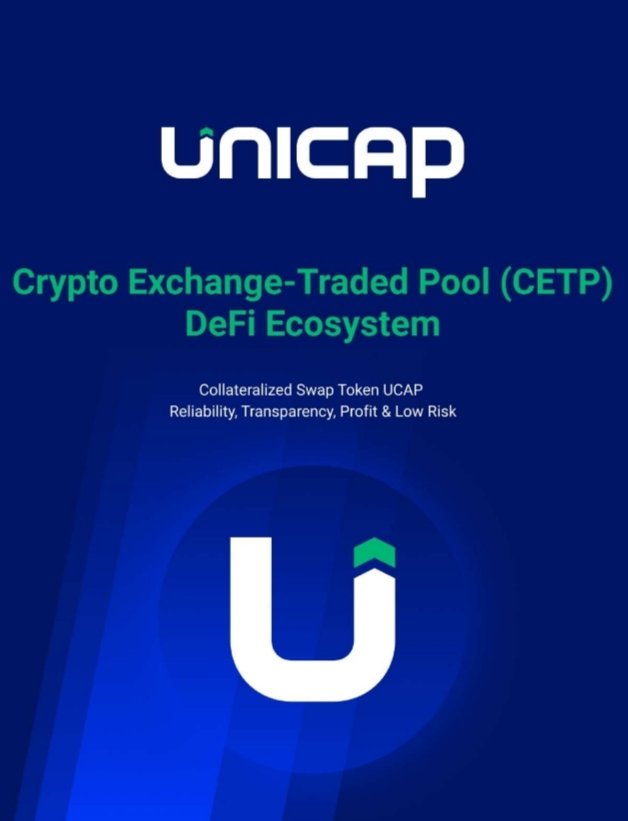 UNICAP exists to Boost the Crypto Users' Returns
Similar to exchange trade for foreign exchange and stocks, cryptocurrency also has the crypto exchange-traded fund (CETF) which opens for 24 hours during a crypto session as the medium for crypto investors. The UNICAP project allows cryptocurrency users to take participate by only swapping their cryptocurrency digital money with UCAP tokens. Those tokens will then be funded for more capitalization by the system. The tokens funded will be supplied to stablecoins AI investment system with 5% share, investment to Cryptocurrency/DeFi startups and new fund with 25% share, stablecoins with 10%, blockchain with 25%, and tokens in any platforms with 25% share. Meanwhile, the other 10% allocation will be used to maintain the project's governance and control. By investing in the fund, investors are saving their time which is usually used to research the market, and the time management system for selling their inactive crypto assents. In other words, users are being given the passive income source through the fund.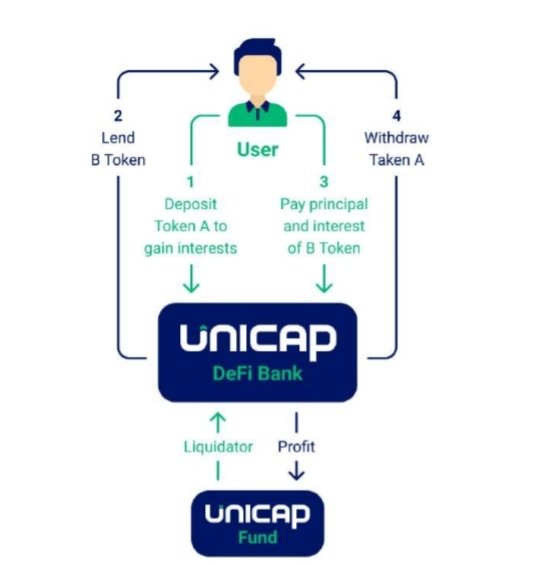 The UNICAP project system is based on the Decentralized Finance (DeFi) protocols, which means that all of the transactions are done within the system and there will be no interference from another financial institution. This protocol allows transparency with the investors for all of their transactions. DeFi protocol also requires the investors to enter the Smart Contract, which allows the full fund managed by the system.
The system also adopts the interest rate model, where it will be automatically adjusted based on the supply and demand. It means that the interest rate will be increased when there is a low supply and vice versa when the supply is high. This algorithm exists to ensure the healthy development of the loan pool. Also, the annual deposit rate is using the interest compounding formula based on per second. Both methods are used to ensure the highest return possible to the investors while achieving a healthy growth of the investment itself.
✅ UNICAP FUND (CETF)
A UCAP CETF divides ownership of itself into tokens that are held by token holders. The token holders indirectly own the assets of the fund. Token Holders are entitled to a share of the profits, and they would be entitled to any residual value if the fund undergoes liquidation.
CETF may be attractive as investments because of their low costs, asset aggregation, and tradability.
✅ DEFI BANK
Cryptocurrency Loan Protocol. UNICAP DeFi Bank is a crypto digital currency deposit and loan protocol that supports deposit, withdrawal, as well as borrowing and paying at any time. Through
automatic procedures (smart contracts) deployed on the blockchain system, investors can quickly obtain returns without any obstacle, and borrowers can quickly and easily obtain financial support after providing appropriate collateral.
❗️ All profits from the DeFi Ecosystem are transferred to the fund and increases the price of the token.
https://invest.unicap.finance/?referral=557:6e27
#ETF #Ethereum #bitcoin #eth #uniswap #defi #gem #investing #altcoins #exchange #money #cryptocurrency #trading #investment #decentralized.