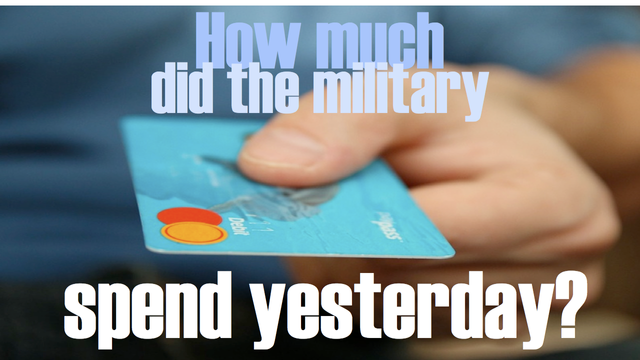 Boeing landed three defense contracts yesterday. The biggest was worth $805 million for providing four MQ-25A unmanned air vehicles to the Navy. The lesser contracts included one for F/A-18 aircraft parts and a modification (increase) to an earlier contract.
Note that in the month of August, Boeing was awarded 21 defense contracts and/or modifications worth a total of $2,040,905,914.
That's $2 billion the federal government has promised a defense contractor in just one month.
---
Below are the contracts awarded by the Defense Department
August 30, 2018
totaling $2,068,194,537
Recent record daily spending: $31.4 billion on August 14, 2018
Navy - $1,401,804,898
Boeing (St. Louis, MO) $805,318,853
Lockheed Martin Aeronautics (Ft. Worth, TX) $250,438,817
United Technologies / Pratt & Whitney Military Engines (E. Hartford, CT) $118,219,503
Lockheed Martin Rotary & Mission Systems (San Diego, CA) $66,602,302
Rockwell Collins Simulation & Training Solutions (Cedar Rapids, IA) $32,883,242
Harper Construction (San Diego, CA) $30,817,653
RQ Construction (Carlsbad, CA) $28,068,000
Whitesell-Green (Pensacola, FL) $17,559,000
SJC-BVIL (Montrose, CO) $15,974,120
Al Larson Boat Shop (San Pedro, CA), Epsilon Systems Solutions (San Diego, CA), Integrated Marine Services (Chula Vista, CA), Marine Group Boat Works (Chula Vista, CA), Miller Marine (San Diego, CA), Nielsen Beaumont Marine (San Diego, CA) $15,000,000
NAVMAR Applied Sciences (Warminster, PA) $13,389,665
Valiant/ALCA JV (Hopkinsville, KY) $7,533,743
Army - $248,986,917
PAE Government Systems (Arlington, VA) $138,516,865
Luhr Bros. (Columbia, IL) $28,117,000
Aecom Technical Services (Los Angeles, CA) $24,000,000
Mike Hooks (Westlake, LA) $24,000,000
BIS Services (Kenner, LA) $14,734,253
Lockheed Martin (Orlando, FL) $12,417,632
Tresco (Las Cruces, NM) $7,201,167
Defense Logistics Agency - $206,286,828
Boeing (St. Louis, MO) $128,865,600
Centron Industries (Gardena, CA) $35,013,825
General Dynamics Land Systems (Sterling Heights, MI) $28,300,000
Real Time Laboratories (Boca Raton, FL) $14,107,403
Air Force - $155,428,436
IKUN (Herndon, VA) $81,955,451
Boeing (Seattle, WA) $61,500,000
Aspen Construction (Hackensack, MN) $11,972,985
Defense Information Systems Agency - $55,687,458
ViaSat (Carlsbad, CA) $55,687,458