Introducing the Defective Chocolate Sphere! Get Yours In a Week!
Hello Steemit!
Greetings from the warm, summer heat of Australia. Do you like chocolate? Do you particularly like it when it arrives as spheres? Well, you've come to the wrong place. We only produce Defective Chocolate Spheres here, and they're a real life Bit Shares asset.
This post serves as the distribution for Defective Chocolate Spheres.
HOW DO I GET DEFECTIVE CHOCOLATE SPHERES?
Open a BitShares account. Feel free to use my referral link.
Upvote this post.
Resteem this post.
Leave a comment with your BitShares account name.
Wait a week (plus maybe a few hours) - and you'll get your defective Chocolate Spheres!
HOW MANY DEFECTIVE CHOCOLATE SPHERES DO I GET?
That depends on how many people take part in this. There will be ONE MILLION DEFECTIVE CHOCOLATE SPHERES issued in total, after a massive manufacturing failure at the chocolate sphere factory. The distribution is as follows: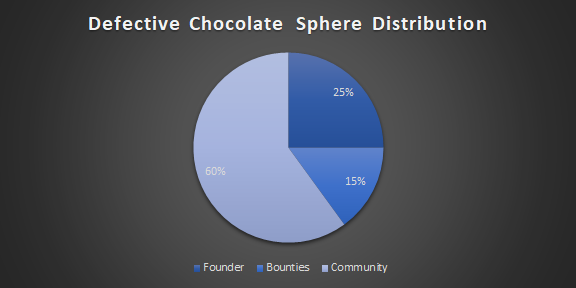 | WHO | PERCENT | TOKENS |
| --- | --- | --- |
| Founder | 25% | 250,000 |
| Bounties | 15% | 150,000 |
| Community | 60% | 600,000 |
| Total | 100% | 1,000,000 |
The distribution will be a manual, arduous labour of love, performed by one @holoz0r on a lonely next Friday night. The distribution for the community will be calculated as follows:
600,000 divided by number of users who upvote + resteem ; rounded down to the nearest whole number.
WHY DO I WANT CHOCOLATE SPHERES?
This is chocolate, on the blockchain. It is proven that things are more successful when combined with the Blockchain technologies of the future.
See this useless, meaningless graphic: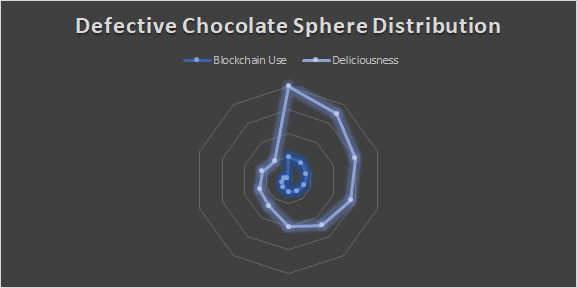 WHAT CAN I DO WITH DEFECTIVE CHOCOLATE SPHERES?
You can hold them. You can pretend that you're eating delicious chocolate. You can trade, or give them to other users on the BitShares DEX. You can use them for giveaways, contests; and prizes. You can make them be part of some demented Easter Egg chocolate hunt.
Realistically, I propose the following:
If you want some no holds barred critique on your content, you can buy my attention by sending me or any ambassadors that choose to nominate themselves Defective Chocolate Spheres on the BitShares DEX with a link to the post in question. The exact amount will be determined post distribution.
They can be traded, like candy; for things and stuff.
IS THIS A SCAM?
No. Look at this screenshot from Bitshares - I've created the asset already.

BUT I LOVE YOU @HOLOZ0R, I WANT MORE!
Recognized early adopters and Steemians of notable repute may receive a comment and early access to DEFECTIVE CHOCOLATE SPHERES via exclusive EARLY DISTRIBUTION in the comments. The number will come from my personal supply of DEFECTIVECS, and will total 1500.
If you want to let your BitShares do the talking, I've put 5000 DEFECTIVECS on the BitShares Dex at a rate of 1:1 BTS/DEFECTIVECS.
BUT I WANT A BOUNTY!
You can't have one, that's probably trademarked. In all seriousness, my first bounty goes to ARTISTS. Here's what you'll need to create.
Each artist that creates a DEFECTIVE CHOCOLATE SPHERE in an illustration format; on a transparent or WHITE background will receive a bounty of 5000 DEFECTIVE CHOCOLATE SPHERES, limited to the best ten entries, as judged by me.
This represents 50,000 DEFECTIVE Chocolate Spheres in prizes for artists. This will be awarded in a week.
To qualify:
Design a Defective Chocolate Sphere on a transparent background.
Make a post with the tag #dcsart as your tag.
Tag me in the post.
YOU HAVEN'T ANSWERED MY QUESTION
Ask it below, in the comments.