BCH gateway on DEEX is ON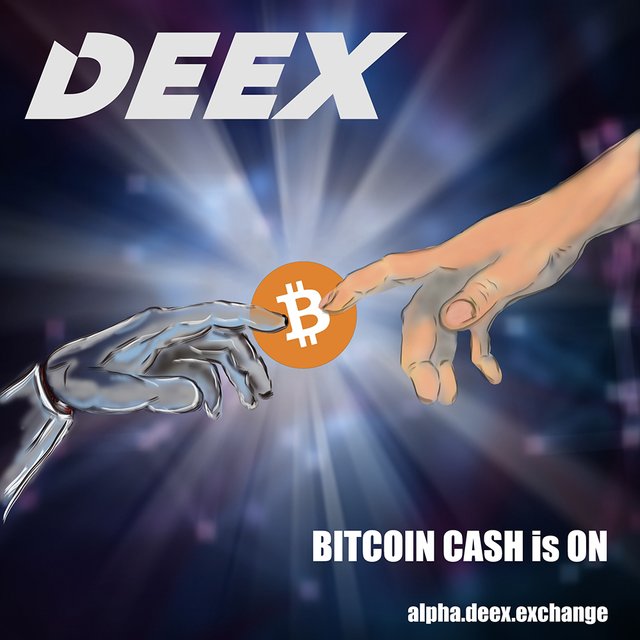 Dear friends and partners!
Today one of the crypto-currency world' guru, Roger Ver, also known as Bitcoin Jesus, once again tried to pay the attention of the crypto-community to Bitcoin Cash and urged those crypto exchanges that have not yet placed trading pairs with BCH on their sites, to do so. We decided to support Roger's initiative and today we are happy to inform you that a gateway for BCH on DEEX is on. "The real Bitcoin" — as some digital finance experts call it, is available for trading.
By the way, the founders of DEEX remember Roger by the first in history of Russia blockchain forums from Smile Expo, which took place in 2014. Then no one imagined that this ordinary-looking guy is the first bitcoin billionaire. And even more, no one could have imagined that he will create a "new Bitcoin." One can endlessly argue about which bitcoin is more "true", cause there are already a lot of them. And this is a normal evolutionary process of development and competition. And only time and community' choice will show which coin has a true value.
https://www.instagram.com/p/BlusyyvgW8I/?taken-by=the_deex
In the nearest future we plan to add several more gateways for popular tokens and crypto currencies, and to remove the withdrawal restrictions for all assets. Against the backdrop of the growing DEEX token, this will further strengthen its market positions, so at the end of this announcement we can add only one thing: "You must buy it!".
https://alpha.deex.exchange/market/DEEX.BCH_DEEX
DEEX operates in alpha-mode, so the replenishment is limited to the amount of 0.01 BCH. The withdraw is also not yet available.
Stay in touch and follow our news via social networks and popular blogs.