The DeepOnion AirDrop on Bitcointalk has been FREAKING INCREDIBLE. It blows my mind why people are NOT doing this. I have made about $5k or so for doing nothing more than signing up, making some forum posts, and making a few tutorials in the past month with DeepOnion. I'm #hodling though, because I feel this coin will be VERY valuable in the future.
This airdrop is STILL AVAILABLE.
Lets break down how to register for the Airdrop:
Must have a bitcointalk profile that's at least a Jr. Member and registered before July 12th 2017
Must add your DeepOnion wallet address and signature to your bitcointalk profile
Must make atleast 10 posts a week on bitcointalk that's over 50 characters in whatever threads
Cannot dump more than 10% of your Airdrop earnings
PRETTY SIMPLE
Register for this seriously once in a lifetime opportunity here
View all details on DeepOnion and the airdrop here
How much can you earn?
Let's take this weeks Airdrop for example.
Today was a special airdrop where DeepOnion forum members that were active got DOUBLE REWARDS. I got 1321.19788608 ONION in this drop.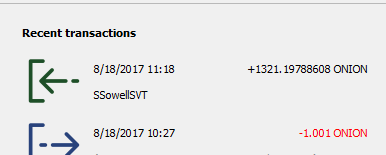 The current price of DeepOnion is 9500 satoshi


Math Time!!
1321.19788608 x .000095 = .12551379
.12551379 x 4265.93 (Current BTC Price) = $535.43
If I sold right now, I'd make $535.43 for not doing very much. And that's just one week. I would like to consider this, supplemental income ;)
Let's grow this community & make ONION a big name in crypto!!
follow, upvote & resteem!! New crypto content almost daily
Since I'm making you free ONIONs, send some to buy me a beer!
DbVBcaeyvbXvoa8sqdXAKQBqDbR42QvViJ