There were many questions regarding the new wallet, the hard fork and the possible chain split. Therefor I wrote this FAQ which I will update with newer questions from time to time. If you don't find an answer to your question, just post it in the comments.
What is a hard fork?
All nodes in a blockchain network follow the same consensus rules. If there is an updated version where these rules have changed and they aren't downward compatible, a possible chain split could occur. The newer nodes would create blocks which are not accepted by the old ones and therefor they create their own. This would result in two different chains.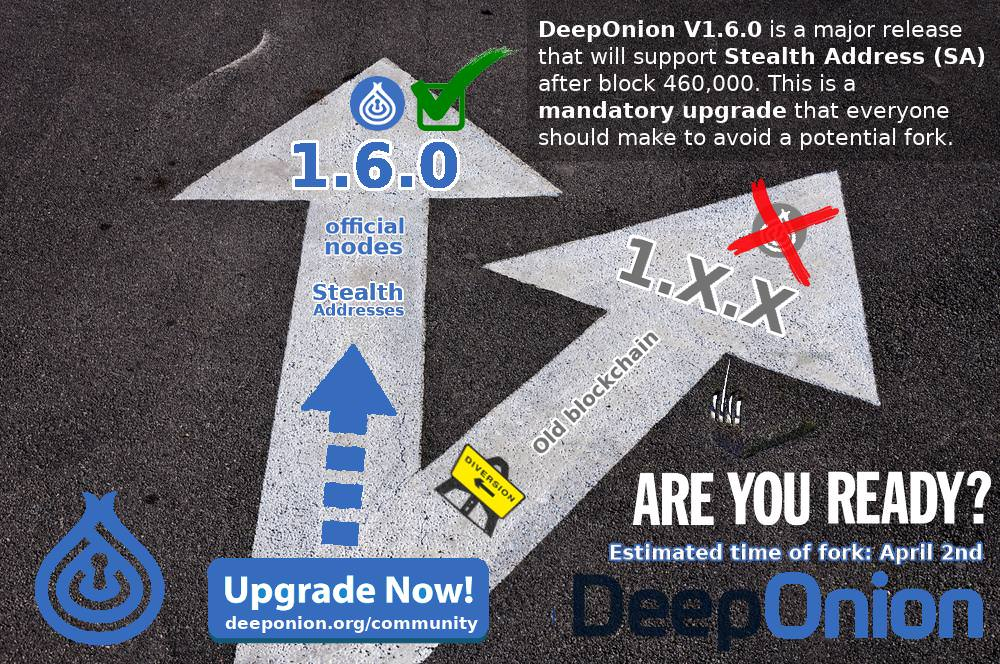 Credits to @dragononcrypto for this beautiful info graphic​

Do I need to upgrade my wallet?
Yes, it's important that all users run the same wallets / nodes to prevent a possible chain split. Please use the latest nodes from here
https://deeponion.org/DeepOnion.conf.php
Will I lose my coins when I not upgrade?
No, you won't lose your coins. If your wallet is not running or you only have paper wallets, you don't have to be concerned. Just make sure to use the newest version when you use them again.
When will the 'stealth address' feature be activated?
At block 460 000, should be on 02.04.2018
What is the current chain split issue?
This issue should be already resolved.
Old answer: A second chain appeared. This is a real issue and be careful when sending onions. So make sure you use this nodes when you are running the newest wallet
https://deeponion.org/community/threads/fork-sync-problems.33061/
How do I check if I am on the correct chain?
Type getblockcount in your console and compare it to the current block of https://prohashing.com/explorer/Deeponion/. If it's nearly the same, everything should be fine. Otherwise resync your wallet with the new nodes (see question 'What should I do if my new wallet has syncing issues?)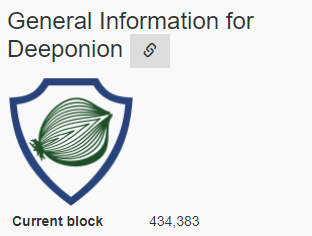 Can I verify If I am on the correct chain?
You can request $onions from the faucet and see whether they arrive in your wallet or not.
http://deeponion.space/
Should I revert to the old wallet?
No, I wouldn't recommend to use the old wallet again. If you need to send onions, I would resync the entire chain. Remove all except your wallet.dat and deeponion.conf from the %appdata%\deeponion and start the old wallet again.
What should I do if my new wallet has syncing issues?
Close your wallet
Open %appdata%\deeponion
Remove everything except wallet.dat and deeponion.conf
Replace the node list in deeponion.conf with this list:
https://deeponion.org/DeepOnion.conf.php
Restart your wallet
If you don't have a deeponion.conf, you can also create one (it is just a textfile, save as conf instead of txt).
Further readings
Wallet announcement:
https://deeponion.org/community/threads/deeponion-v-1-6-0-with-stealth-addresses-mandatory-upgrade.32988/ (DeepOnion V 1.6.0 With Stealth Addresses ( Mandatory Upgrade))
Chain split announcement:
https://deeponion.org/community/threads/fork-sync-problems.33061 (Fork Sync Problems)
DeepOnion Hard Fork Infographic. Thank you @dragononcrypto
https://deeponion.org/community/threads/deeponion-hard-fork-infographic.33225/
DeepOnion faq thread:
https://deeponion.org/community/threads/deeponion-hard-fork-faq.33079/
Changelog
22.03.2018
Removed the chainsplit warning
Added a link to the latest nodes
Updated the answer about the chain split issue
Added the question 'Can I verify If I am on the correct chain?'
Removed the question 'What if I need to send $onions urgently?' - There should no issues anymore
Replaced the node list with https://deeponion.org/DeepOnion.conf.php
Added a link to the infographic