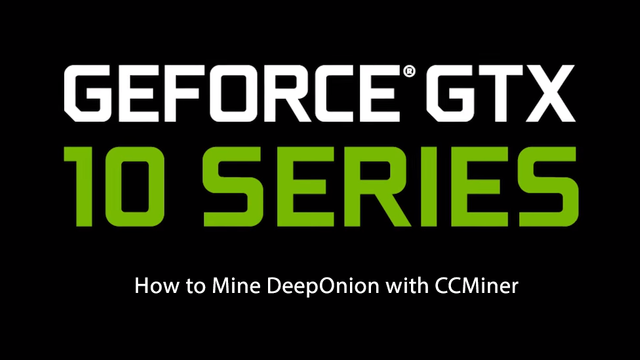 How to Mine DeepOnion with CCMiner
Anyone can start to mine Deeponion through renting hash power. DeepOnion is a hybrid cryptocurrency which uses proof of POS and X13 POW (i.e., Proof of stake and proof of work) algorithm. All the connections and networks are integrated with TOR network technology.  The wallet software connects to this network to send and receive deeponions with a high level of security. The process of mining is through computing hardware by solving the sophisticated algorithm. All algorithms come in the form of blocks. I prefer to use Nvidia GeForce GTX 1080 Ti graphics cards. Any person can start mining, and they will be rewarded with deeponions as tokens, mining of coins depends upon your efficiency of processing power. 
There are a few requirements which you need follow to mine DeepOnion's:
First, you must download the DeepOnion wallet from deeponion.org and get an address to receive your onions.
Install the latest NVIDIA driver (Through drivers list of your GPU)
Also, install OpenCL, this application is fully featured to get you setup and complete your system to use for mining. 
Install CCminer (download at ccminer.org) and chose 32 or 64 bit as per your system; this program is a standalone product. 
After downloading and installing the above drivers and applications, you can now your system is ready to start mining. 
First of all, we have to open the CCminer directory which was installed as per system bit support (32 Bit or 64 Bit).
Now just right click the mouse, choose the option Folder, and then create a new folder and one Text Document.
Open the text document, and copy the scripts from Deeponion websites and paste here, which should look like this: cgminer -o stratum+tcp://onionpool.youngwebsolutions.com:17333 -u Weblogin.WorkerName -p WorkerPassword. Be sure to visit https://onionpool.youngwebsolutions.com and setup your new account.
Now you have to save the text as a .bat file by simply choosing the save as option under the file name just type DeepOnion.bat, in the same menu there is the option of file type, just select ALL FILES and now save it.
Now you need to set up the Mining algorithm (X13), by double-clicking the previously saved BAT file (i.e. "DeepOnion.bat" file).
Now you can start mining DeepOnions.  If you get any errors, this means there must be a driver that was not properly installed. You must ensure that you installed the latest version of the drivers, and make sure the OpenCL application is installed.
You are now able to mine DeepOnion on the x13 algorithm. Simply double click the saved DeepOnion.bat file and get to mining! I will release another article on how you can mine DeepOnions by renting hash power from NiceHash.com and other websites.