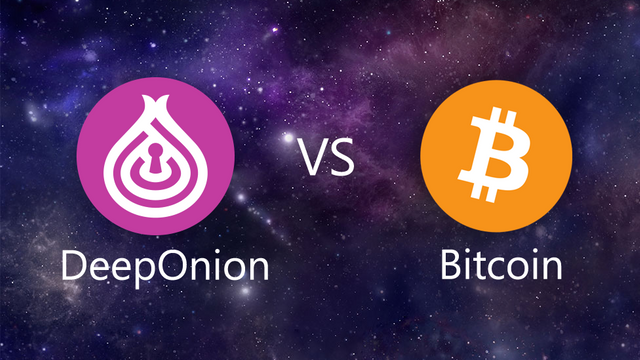 Bitcoin is without a doubt, the pioneer in the digital currency with the most significant market share. It has an advantage of the network effect, but there are certain things that bitcoin lacks and are present in DeepOnion, making it so much better than the bitcoin. 
Anonymity
Perhaps the most significant advantage of DeepOnion is the privacy. Bitcoin is not entirely anonymous because the transaction information can be easily traced. By contrast, DeepOnion is highly secure and anonymous thanks to the safe wallet which connects through the TOR anonymity network. No one will discover your IP address. DeepOnion completely masks the IP address, so whenever you send or receive transactions, you are completely safe from third parties such as hackers or legal bodies. DeepOnion is superior at ensuring that your rights to privacy are protected at all times when compared to bitcoin.
Proof of Work 
The algorithm proof of work used by DeepOnion is much faster and uses a more secure version, and making is less vulnerable to any malicious attacks. Specifically, DeepOnion uses both x13 algorithm and PoS both of which makes any attack too expensive to execute. This is contrary to the bitcoin hashcash Pow that is malicious to many attacks.
DeepOnion is much faster than Bitcoin.
One of the main problems crypto-investors in the bitcoin network face is having to wait for block confirmations. Some people will wait for 10 minutes, but sometimes, this can go on for hours making it quite an issue especially during peak periods. DeepOnion eliminated this problem by offering instant confirmations.
Lower fees than Bitcoin 
One of the main reasons investors looked into the digital currency space is because of the small costs for transactions, but with Bitcoins recent popularity, bitcoin fees have skyrocketed. DeepOnion fees, on the other hand, are ridiculously low. You can send business transactions around the world at a fraction of the time it would take Bitcoin to complete the same operation.
Community Support
If there is one thing that crypto-investors can agree on is that there is a massive disconnection between users and bitcoin developers leaving a considerable space for speculation and suspicion. On the contrary, the Dev team at DeepOnion is working day and night to ensure that DeepOnion is a success to the investor. The newly released DeepVault feature will put them far from their competitors. DeepVault allows DeepOnion users to store file validation credentials (hashes of files) within the blockchain. DeepVault will enable users to verify the file's integrity over time.
Since the launch of the first airdrops, the team has innovatively come up with features; therefore, there is enormous hope that more amazing features will come. 
It is clear that DeepOnion has enormous potential and this is something that crypto-investors should take advantage of. The coin is still in its early stage, and current pace suggests that it will stand the test of times and sooner or later it will take a significant share in the market. It is always good to join a cryptocurrency during its inception stage to get the full benefits in the long run, and with the current DeepOnion record, this is an excellent time to invest. 
You can buy some DeepOnion now at Novaexchange.com: https://novaexchange.com/market/BTC_ONION/