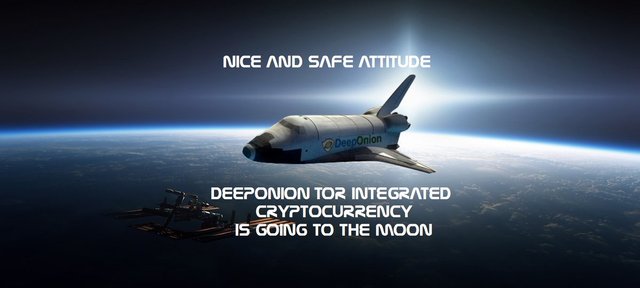 I am Cryptomaster a DeepOnion supporter member and hodler. I am biased and I dont mind saying it and you should be towards a good altcoin and here are my main reasons for supporting DeepOnion from the start.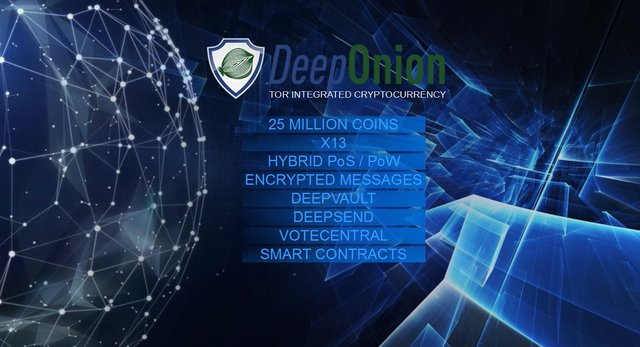 Its Anonymous
When it comes to being anonymous, everyone expects absolute transaction security and privacy in their standard financial purchases so why should it be any different with regards to altcoin transactions, especially in this modern era where banks have failed to protect their clients.
Therefore security and privacy is the true meaning of anonymity and DeepOnion is a highly secure and private cryptocurrency being integrated under the TOR anonymous onion network. Its a natural choice for this future where we must have the ability to totally control our own hard earned assets and with absolute transaction anonymity.
DeepSend is another privacy feature of DeepOnion cryptocurrency which simply put is where the key addresses are stealthed. This is to be implemented shortly as in the roadmap timeline on the https//:deeponion.org home page
Fast Transactions and Confirmations
With its hyrid PoS PoW algorithm and being on the tor network DeepOnion is super fast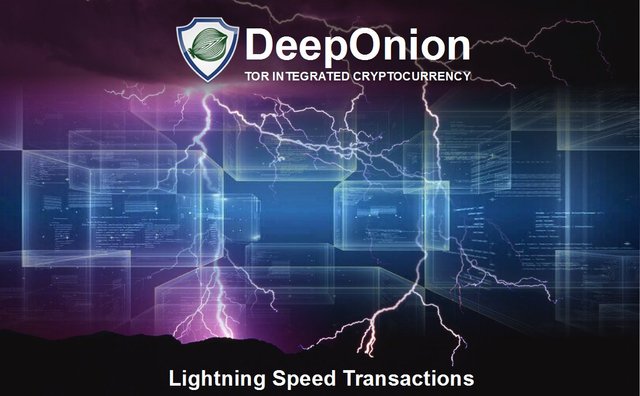 Unique Features
DeepOnion also has unique technology with DeepVault which is a cryptographic file verification application within the wallet. This is a very valuable tool for checking file integrity of your documents which is vital for numerous business sectors patenting to name just one. This makes DeepOnion not just a leading crypto but a great asset for anyone to utilise as a copyrighting application for your digital documents.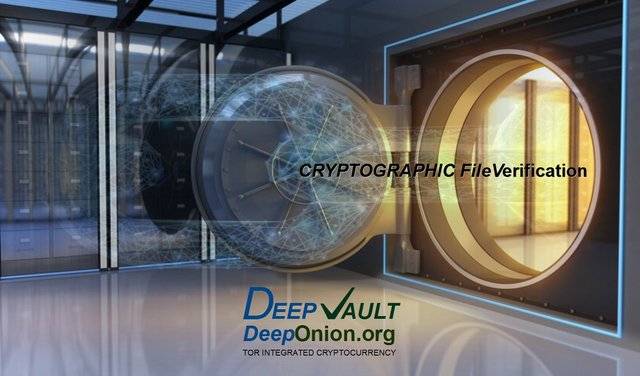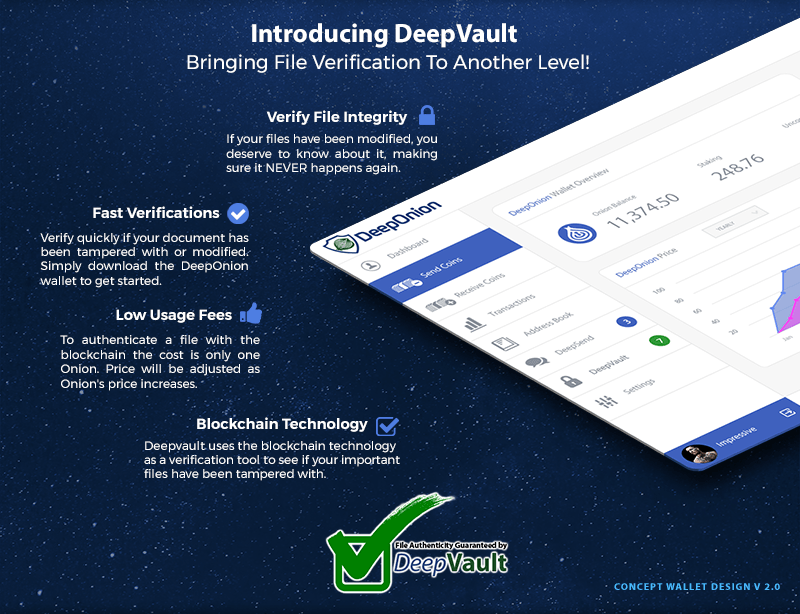 Development Fund
There is also a DeepOnion fund for development of further technologies such as smart contracts similar to Ethereum however DeepOnion's will be under its tor integrated secure blockchain. This is a very interesting feature and when implemented will have great significance and demonstrates that DeepOnion is determined to be ahead of the cryptocurrency curve and the dominant altcoin leader.
Vote Central
Added to this the VoteCentral feature which will empower the DeepOnion community members and give a weighted vote in decisions regarding the future developments of the cryptocurrency helping to ensure DeepOnion is a community driven and democratic altcoin.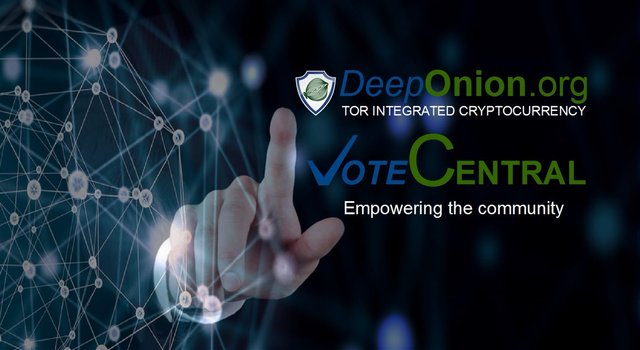 The Community
Which leads me to the unique DeepOnion community who are very creative. You only have to search on youtube and you will see an incredible amount of amazing material made by DeepOnion members and supporters from great intros infomercials and adverts.
Here's one of my newest DeepOnion vids to go with them
You dont need to go to space for anonymous transactions

DeepOnion Website
The spacey and futuristic update to the DeepOnion home page, or mission control as I like referring to it as, is excellent and was well deserved for being the most advanced and futuristic cryptocurrency in the known universe and created by the brilliant DeepOnion moderators Impressive and Doglover.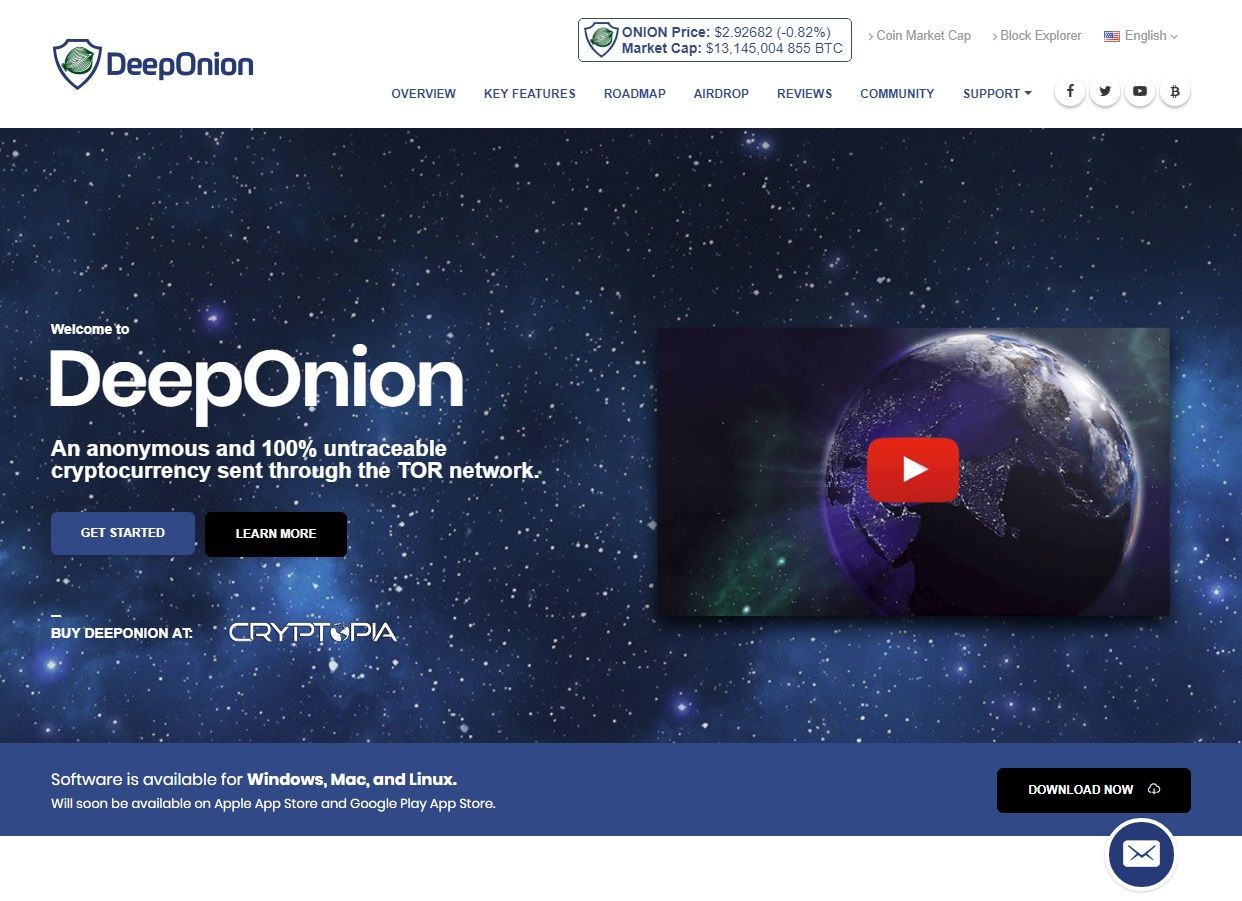 DeepOnion is fast becoming one of the most active forums and an intelligence hub for great content from very interesting articles to posters and brilliant videos but is also a great friendly place where you can make friends, learn but also to earn too.
DeepPoints: Earn as you learn
This gives anyone the ability to register at DeepOnion Community Central https://deeponion.org and simply by posting comments on the forum and by other accomplishments completed DeepPoints are earned converted to Onion$ and then are distributed on a second Sunday airdrop.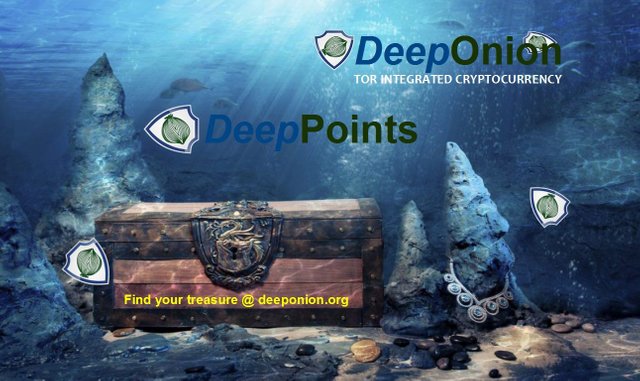 So avast me hearties, you can get your hands on your share of the loot and treasure @ https://deeponion.org but you dont have to talk like a pirate or walk the plank either haha Arrr!!! Plus there are bounties and competitions and rewards for those who help the DeepOnion community grow and be more successful so get on board haha Arrr!!!
DeepOnion Merchandise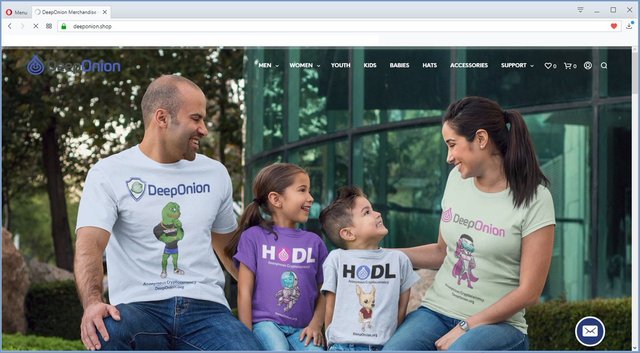 DeepOnion anonymous altcoin also has its own online merchandise store with credits to Impressive and DogLover for creating the very popular https://deeponion.shop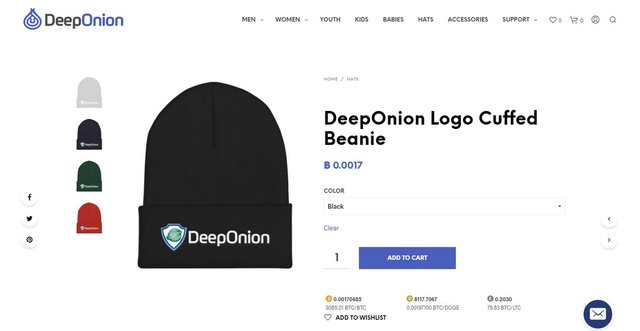 Now you can get very cool designs to keep you warm this winter with beanies, hooded tops as well as caps t-shirts and other great DeepOnion cryptocurrency accessories @ https://deeponion.shop
Cool intro of the DeepOnion Merch store

DeepOnion also produces the most professional advertisements Credits Impressive

Success after Success
All this is contributing to the brilliant success of DeepOnion which has the technology, a developer and dev team who are very active and helpful and community to go behind it which just gives another reason why DeepOnion is such a unique cryptocurrency and also a very exciting cryptocurrency to be part of.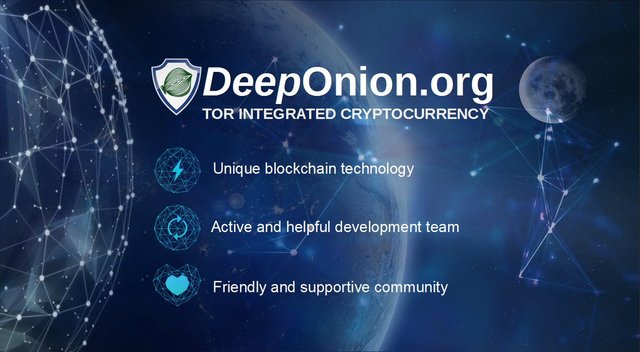 DeepOnion has excellent crypto specifications, with its own great merchandise, a strong and steady development team who continue to introduce enhancements and with the amazing support of a brilliant community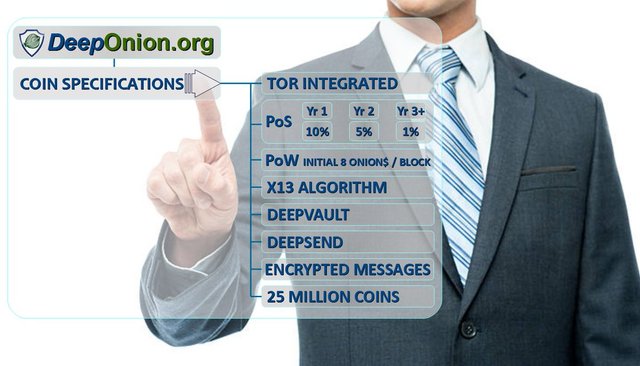 DeepOnion Cryptocurrency is better faster cooler smarter and Deeper so #GetUp #JoinUp #MeetUp & #Hodl #Onion$ @ https://deeponion.org
#KeepUP with all the great things on other social media
@ https://twitter.com/DeepOnionx
@ https://www.youtube.com/channel/UC0CNbGzlI56nl7BJ02BTz8w
For more information regarding DeepOnion Tor Integrated Cryptocurrency visit https://deeponion.org
DeepOnion ANN thread https://bitcointalk.org/index.php?topic=2006010.0
Join the dots....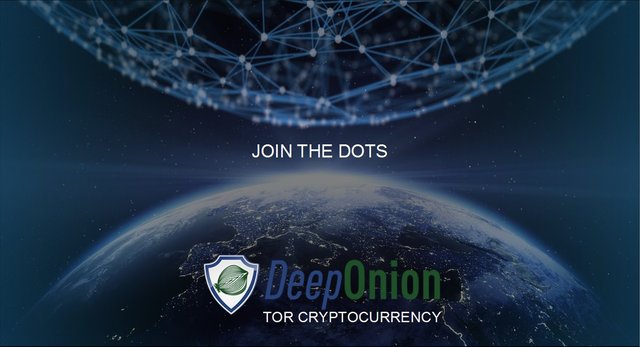 Welcome to the blockchain revolution.