This is no SCAM, Wake Up and Smell the Onions!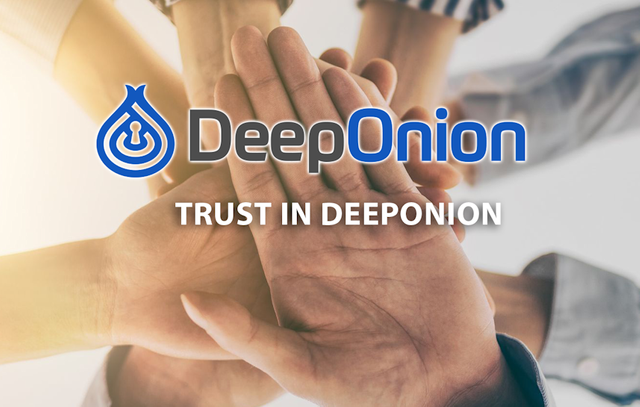 DeepOnion has generated a lot of reports lately. While some are good and have painted this digital asset as the real deal, others have labeled it as one of the big cryptocurrency scams making the rounds. It is quite amazing how both sides of the divide have aired their views on DeepOnion since its launch, making skeptics out of prospective investors.  In spite of all these, it is a fact that DeepOnion is REAL and not a pump and dump coin or a scam to put it straight terms.
While these doubts could indicate due diligence on the part of investors, it could also become a wrong call if the founders of a certain cryptocurrency decide to take a different approach from the status quo as it is with DeepOnion. It is quite sad that DeepOnion is a victim of wrong calls.
DeepOnion is obviously passing through the "doubting phase" which the likes of Bitcoin and Ethereum went through when investment pundits never believed these digital assets were going to lead a revolution in the financial sector. Therefore, as long as a relatively new coin like DeepOnion is involved, the negative media are quite expected; although it is high time crypto-investors realize the truth behind DeepOnion not being a scam as it is being portrayed.
What Is DeepOnion?
DeepOnion is an anonymous cryptocurrency developed to address the security challenges in the crypto-world. It is integrated with the TOR anonymity network, which is non-centralized and enables anonymous interaction among users through direction of traffic in such a way that conceal identities and locations of the parties involved. This increases privacy and reduces the likelihood of hacking which is the major problem facing cryptocurrency investors.
In practical terms, the TOR protocol locates an entry node through which the incoming data joins the TOR network as soon as the connection is initiated. Consequently, a safer version of Secure Sockets Layer (SSL) which is a TLS (Transport Layer Security) cryptographic protocol is created. In all, the data passes through extensions of the entry and subsequent nodes. The new nodes constitute the middle and exit nodes where data leaves the network. These nodes are responsible for the anonymity and security along the data path.
Furthermore, DeepOnion is based on a hybrid framework of proof of stake (PoS) and the X13 proof of work (PoW) algorithm which facilitates a number of upgrades. In addition to its privacy features and highly secure transactions, DeepOnion also guarantees instant payment confirmations. Other features of DeepOnion include the DeepVault, which enables file verification to guide against falsification and malware attack. An online version of DeepVault is also in the works which will be coming by the beginning of next year.
The Journey So Far and the Future
Rather than going by way of ICO or crowd funding, DeepOnion developers created the coin to be an airdrop coin. 90% are pre-mined, leaving 10% to be mined by the public. Up to 70% (12.5million Onions) of the pre-mined Onions will be distributed via airdrops which is absolutely FREE while 20% will be issued out for bounties, rewards and promotions.
Looking at past events, the journey began with a pre-announcement in July 2017 after which DeepOnion was formally launched in the same month and details of the airdrops were made public. The website launch, commencement of mining, forum launch, signature campaign and the first set of airdrops followed successively. Based on the roadmap, DeepOnion was first listed on Nova Exchange with Cryptopia listing following later. Its promotion has also been via Facebook, Twitter and YouTube. Since DeepOnion's launch till date, the development team has shown great commitment by adding several features such as the DeepVault and Paper Wallet. The DeepSend feature will also be released in the near future to further enhance DeepOnion's anonymity. 
DeepPoints for VIP members, a new reward system for members of the community was also recently introduced as well as the upcoming VoteCentral which will enable members to define the course of DeepOnion's future. To advance the course of DeepOnion, an online shop where goods can be purchased with Onions and a new website built by two members of the community was launched. The plugin for WooCommerce is completed but is going through testing phase before being released to public which will be in few days. Additionally, e-commerce payment plugins that will run on Magento, Prestashop, Oscommerce and Opencart platforms are in the pipeline.
DeepOnion also recently made an Official DeepOnion Rap song which looks quite amazing. I personally believe no scam coin would take their time and money to make a professional video of this caliber. This itself proves DeepOnion cares about it's project and is legitimate. You can watch it here:
With respect to upcoming events, DeepOnion will be supporting Smart Contracts by Q2 2018. Mobile wallets for android and iOS devices will also be launched as listings on several other reputable exchanges are expected to be secured. 2018 will also usher in the introduction of more modern features and Onion-enabled online games among other activities.
This is Not a Scam!
DeepOnion has a verifiable market growth record. At the time of writing this piece, the market capitalization is around $16.23million dollars with an Onion trading for $3.54. The market capitalization represents over 400% its value about 3 months ago when it surged by up to 500% after it was listed on Nova Exchange.   Just these past few weeks DeepOnion is now listed on several exchanges including Cryptopia.co.nz, Stocks.Exchange, Kucoin.com, TradeSatoshi.com and the upcoming decentralized exchange Next.Exchange.
Contrary to several opinions about DeepOnion being a shitty coin, its functions and features are not covered in obscurity. It was created to provide transactional privacy which mainstream cryptocurrencies lack. Its roles can also be extended to serve as a file verification tool to ensure the integrity of legal documents using DeepVault, a feature of DeepOnion's wallet. Also, DeepOnion does not offer a guaranteed percent return-on-investment (ROI) over a specified period like most scam ICOs will do, what is on offer is an opportunity to create lasting value from scratch which will yield returns over a long period of time based on the dynamics of investment.
The argument of most cryptocurrency pundits against DeepOnion is usually based on the fact that 90% of DeepOnion is pre-mined and being distributed by airdrops. While airdrop is neither a new concept nor an illegal act, choosing to launch a cryptocurrency by airdrops should not be tagged a scam act. The only way it could have been a scam act is if the airdrop process lacked credibility. In this case, the airdrop rules were made public from the outset. In addition to this, when DeepPoints which is another form of giveaway was introduced, the guiding rules were widely publicized. The development team has been transparent about all regarding DeepOnion.
The founders have also shown commitment to making DeepOnion a sustainable digital asset over time. One of such efforts is the Smart Contracts which will be launched soon. Smart Contracts have been a remarkable selling point of Ethereum which has undoubtedly opened up several opportunities for investors and developers. With DeepOnion supporting Smart Contracts, the digital asset will further solidify its potential as a real investment opportunity. While the features of the oncoming Smart Contracts are not yet clear, it is likely to explore the weakness of existing Smart Contracts in creating a unique product. For instance, a blockchain-based smart contract is visible to other users of the blockchain and this creates a loophole for violations such as the June 2016 attack on The DAO, an Ethereum-based smart contract. This unfortunate incident resulted in losses of up to $50million in Ether. Since DeepOnion is a privacy-based digital asset, one can only think of an oncoming anonymous self-executing contract which will be immune to the prying eyes of third parties, but only visible to the parties involved in the contract. This is something i'm personally looking forward to.
It is good to reiterate at this point that DEEPONION IS NOT A SCAM COIN, but a cryptocurrency with great potentials as earlier hinted. The DeepOnion community is growing in leaps and bounds and the development team has remained focused and motivated in spite of the negative media making the rounds. A combination of the strong community and the four-man development team remains one of the strengths of DeepOnion. Looking at all the positives around DeepOnion including its privacy features and lesser transaction fees, the future is bright. The founders are committed to its growth to make it compete favorably with other altcoins to the extent of attracting institutional investors in the future. It is a great opportunity to invest in.